Seesaw - 2020 - Off-Broadway
From the composing team of Sweet Charity, Seesaw tells the story of Jerry Ryan, a reserved lawyer from Omaha, who has fled to New York City looking for a change in his life. There he meets Gittel Mosca, a single, loveable lunatic who lives life to the fullest. Will their love affair be able to survive the big, noisy, dirty island known as Manhattan? Songs include: "It's Not Where You Start," It's Where You Finish," "Welcome to Holiday Inn," and "Nobody Does It Like Me."
Schedule
Running Time: 2 hours and 15 minutes
(New York, NY)
424 West 42nd St. (9th & 10th)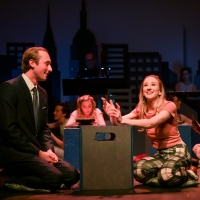 by Michael Dale - February 16, 2020
Back in the days before multiple workshops and lengthy regional runs, the geniuses of musical theatre often had to work miracles during of-of-town previews to quickly revise and rewrite surefire flops like HELLO, DOLLY! and A FUNNY THING HAPPENED ON THE WAY TO THE FORUM into Broadway hits.