Ring of Fire - 2006 - Broadway Tickets, News, Info & More
From the songs and stories of a true legend, comes a theatrical and musical experience that will lift your heart and stir your soul.
Ring of Fire
is a journey into the heart and heartland of America, courtesy of one of our most beloved musical poets -- Johnny Cash.
In
Ring of Fire
, a remarkable cast of performers and musicians take us on a rousing adventure of love and faith, struggle and success -- all with the strength, humor and downright honesty that made Johnny Cash one of the greatest songwriters and most revered storytellers in American music.
Video preview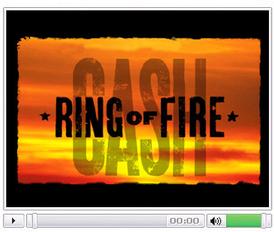 Schedule
Running Time:
2 hours and 15 minutes, with one intermission
Ring of Fire Broadway Cast