Priscilla, Queen of the Desert: The Musical - 2011 - Broadway
PRISCILLA QUEEN OF THE DESERT THE MUSICAL is a heart-warming, uplifting adventure of three friends who hop aboard a battered old bus searching for love and friendship in the middle of the Australian outback and end up finding more than they could ever have dreamed. With a dazzling array of outrageous costumes and featuring a score of dance-floor classics, Priscilla is a sensational journey to the heart of fabulous.
Video preview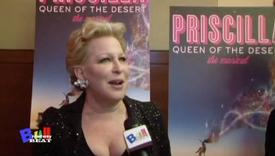 Photo preview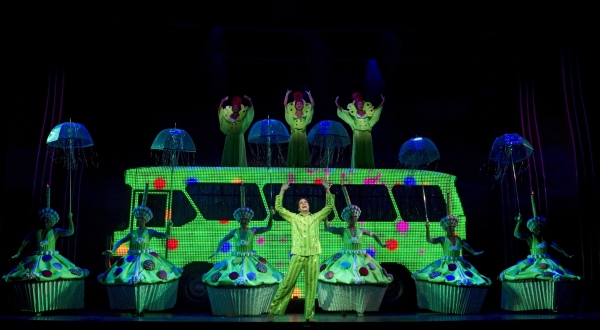 Schedule
Running Time: 2 hours and 30 minutes, with one intermission
Featured Reviews For Priscilla, Queen of the Desert: The Musical
Priscilla Queen of the Desert - Entertainment Weekly
The nylon-thin plot is mostly an excuse to set up the classic tunes on the soundtrack. As fans of Glee know by now, there's a certain pleasure in the truly unlikely segue. It's natural for Tick to begin 'Say a Little Prayer' seated at the mirror: 'The moment I wake up, before I put on my makeup...' But you can imagine the narrative lengths to which the creators must go to introduce Jimmy Webb's 'MacArthur Park,' which memorably begins: 'Someone left the cake out in the rain.' Needless to say, the show is campier than a tentful of Boy Scouts (working on their choreography merit badge). And there's a dance-party atmosphere that helps compensate for the show's plot implausibilities and clunkier moments. Among the three leads, Adams seems the most solid and comfortably over the top as a bratty young provocateur. Sheldon is not the strongest singer, but brings some touching pathos to his role as the aging diva. The weakest element is Swenson, who seems a bit ill at ease as Tick/Mitzi (and the actor's shaky accent often seems closer to Eton than Australia).
'Priscilla' a thrilla that makes it fun to be a drag - New York Post
So confident is "Priscilla, Queen of the Desert" in its ability to ramp up the thrills that it doesn't wait for the finale to drop the confetti — it falls a mere 30 minutes in shamelessly feel-good show won't do to entertain, from bringing theatergoers onstage to dance to lowering its singing divas from the rafters. It may look a bit ramshackle at times, but "Priscilla" has a big, joyous heart.
Priscilla, Queen of the Desert: The Musical Broadway Cast