Outside Mullingar - 2014 - Broadway
Tony winner Brian F. O'Byrne (Frozen, Doubt, Million Dollar Baby) and Emmy winner Debra Messing (Will & Grace, Smash, Collected Stories) play Anthony and Rosemary, two introverted misfits straddling 40. Anthony has spent his entire life on a cattle farm in rural Ireland, a state of affairs that - due to his painful shyness - suits him well. Rosemary lives right next door, determined to have him, watching the years slip away. With Anthony's father threatening to disinherit him and a land feud simmering between their families, Rosemary has every reason to fear romantic catastrophe. But then, in this very Irish story with a surprising depth of poetic passion, these yearning, eccentric souls fight their way towards solid ground and some kind of happiness. Their journey is heartbreaking, funny as hell, and ultimately deeply moving.
Outside Mullingar - Shanley's tenth play at MTC - is a compassionate, delightful play about how it's never too late to take a chance on love. It's kind of an "Irish Moonstruck."
Video preview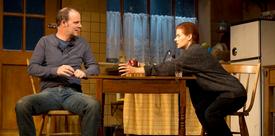 Featured Reviews For Outside Mullingar
Theatre review: 'Outside Mullingar' -- 2.5 stars - amNY
While the play itself is meandering and uneventful, it opens up considerably in the heartwarming final scene where Anthony and Rosemary finally connect in spite of their hesitations and quirks. It serves as a hearty payoff after over an hour of straight boredom. Messing, who is making her Broadway debut, has noticeable difficulty handling an Irish accent but still manages to make her character sympathetic and endearing. Byrne, who originated the role of Father Flynn in "Doubt," foregoes his charismatic intensity and makes for an unexpectedly cute and quirky counterpart to Messing.
Messing is fine but basically miscast in 'Outside Mullingar' - NY Post
Overall, it's as if Shanley, director Doug Hughes and the Manhattan Theatre Club had been afraid to let this play be as small as it needs to be. Even the production overcompensates, with meticulous rotating sets by John Lee Beatty and elaborate water effects. It's never a good sign when you find yourself looking away from actors to watch falling rain.
Outside Mullingar Broadway Cast