Outside Mullingar - 2014 - Broadway
Tony winner Brian F. O'Byrne (Frozen, Doubt, Million Dollar Baby) and Emmy winner Debra Messing (Will & Grace, Smash, Collected Stories) play Anthony and Rosemary, two introverted misfits straddling 40. Anthony has spent his entire life on a cattle farm in rural Ireland, a state of affairs that - due to his painful shyness - suits him well. Rosemary lives right next door, determined to have him, watching the years slip away. With Anthony's father threatening to disinherit him and a land feud simmering between their families, Rosemary has every reason to fear romantic catastrophe. But then, in this very Irish story with a surprising depth of poetic passion, these yearning, eccentric souls fight their way towards solid ground and some kind of happiness. Their journey is heartbreaking, funny as hell, and ultimately deeply moving.
Outside Mullingar - Shanley's tenth play at MTC - is a compassionate, delightful play about how it's never too late to take a chance on love. It's kind of an "Irish Moonstruck."
Video preview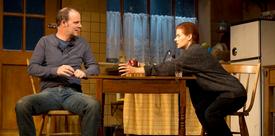 Featured Reviews For Outside Mullingar
Outside Mullingar - Time Out NY
Mullingar is Shanley's best play since Doubt, and like that hit from a decade ago, it's lean, dialectical and packed with wise saws and aphoristic gems. The Irish setting also gives him license to wax lyrical-pastoral-a pleasure if you've no allergy to rants and blarney. "You might as well try to stop the calendar from naming the days," Rosemary loftily informs stubborn Tony. "I've been older than all of you since I was born, and sure I ache for my own youth." If such stuff doesn't cause a wild rose to bloom in your heart, it's turned barren as stone.
Outside Mullingar: Theater Review - Hollywood Reporter
Hitting a sweet spot that recalls his Oscar-winning screenplay for Moonstruck, John Patrick Shanley's Outside Mullingar is a charmer of a play about a hesitant romance stalled by petty grievances and misunderstandings. Unapologetic sentimentality without too much treacle isn't easy to do, but the playwright pulls it off with confidence...While Messing's accent is not the most consistent, she's both feisty and funny here, not to mention the picture of a red-haired Irish country rose. She nails all the contradictions in depressed Rosemary's antagonistic approach to Anthony, while steadily opening a window to the longing that's been simmering inside her for years. O'Byrne is superb as a man imprisoned by his own nervousness and lack of self-worth.
Outside Mullingar Broadway Cast