One Man, Two Guvnors - 2012 - Broadway Tickets, News, Info & More
Always-famished and easily-confused, Francis Henshall agrees to work for a local gangster as well as a criminal in hiding ("TWO GUVNORS"), both of whom are linked in a tangled web of schemes and romantic associations... none of which Francis can keep straight. So he has to do everything in his power to keep his two guvnors from meeting while trying to eat anything in sight along the way. Simple.
Falling trousers, flying fish heads, star-crossed lovers, cross-dressing mobsters and a fabulous on-stage band are just some of what awaits at the most "deliriously funny" (The Daily Telegraph) new play to cross the pond in decades.
Tickets on sale December 1, 2011
Photo preview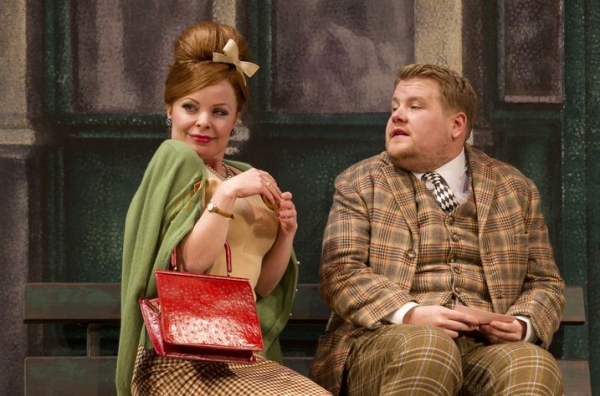 Featured Reviews For One Man, Two Guvnors
'One Man, Two Guvnors' is pure slapstick - Newsday
There's the squeaky dry, silly-smart kind we know from Monty Python, Michael Frayn and Tom Stoppard. I love that kind. Then there is the slapstick, pants-dropping, music-hall, silly-dumb sort that traces its stock-character, low-comedy pedigree back to 16th century Italian commedia dell'arte, English pantomime and, clearly, Laurel (Brit) and Hardy (American). In this, I'm afraid you're on your own. "One Man, Two Guvnors" obviously does what it does deliriously well. More than many trustworthy Londoners declared this among the funniest evenings they've ever had in the theater. On the other hand, there are few experiences lonelier than sitting with a poker face in a hall of laughter.
NY Review: 'One Man, Two Guvnors' - Backstage
But the story is not really the main thing here. That would be Nicholas Hytner's dazzling and delirious staging, which establishes the ingeniously absurd setups and then accelerates them, shifting into higher and higher comic gear. The Music Box management should be required to install restraints for the seats, as you're likely to be falling out of yours from laughing so hard.
One Man, Two Guvnors Broadway Cast