One Man, Two Guvnors - 2012 - Broadway
Always-famished and easily-confused, Francis Henshall agrees to work for a local gangster as well as a criminal in hiding ("TWO GUVNORS"), both of whom are linked in a tangled web of schemes and romantic associations... none of which Francis can keep straight. So he has to do everything in his power to keep his two guvnors from meeting while trying to eat anything in sight along the way. Simple.
Falling trousers, flying fish heads, star-crossed lovers, cross-dressing mobsters and a fabulous on-stage band are just some of what awaits at the most "deliriously funny" (The Daily Telegraph) new play to cross the pond in decades.
Tickets on sale December 1, 2011
Photo preview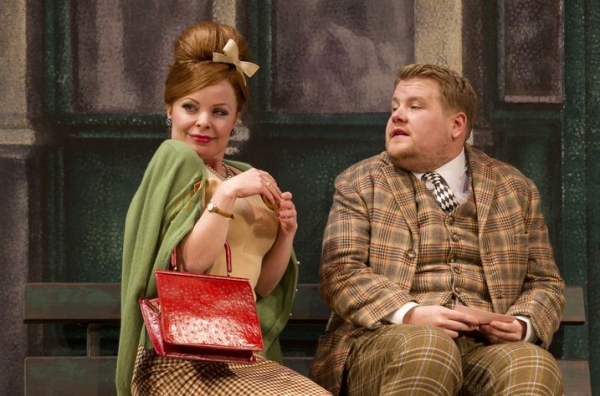 Featured Reviews For One Man, Two Guvnors
One Man, Two Guvnors - Time Out NY
Hunger, like all urgent and uncontrollable bodily functions, is an eternal wellspring of humor. Think of Charlie Chaplin grimly carving up his boot in The Gold Rush, Mr. Creosote's last supper and that old, reliable sight gag, the fellow desert-islander who morphs into a talking turkey leg. Tummy rumbles equal belly laughs, and both abound in the National Theatre's gobsmackingly funny One Man, Two Guvnors. Driven in its first half by the peckish desperation of freelance flunky Francis Henshall (James Corden), this virtuoso banquet of slapstick farce and verbal jousting brings with it a shocking revelation: How starved we were for comedy.
One Man, Two Guvnors, Music Box Theatre, New York - Financial Times
London theatrical commentators have fretted that US audiences wouldn't fully groove to the beat of the play's British and early-Beatles-era references. But physical comedy, in which the evening abounds, tends to transcend cultural difference. Corden is an inspired clown, and as long as he – and Oliver Chris, as his tall, toffee-nosed guvnor, and Tom Edden, as an ancient waiter – are around the mirth is steady.
One Man, Two Guvnors Broadway Cast