On Bear Ridge
In a lost village, blurred by redrawn borders, hidden under a crumb on the map, Bear Ridge Stores still stands.
After a hundred years, the family butchers and grocers – a place for odds and ends, contraband goods, and the last petrol pump for 30 miles – is now silent.
But owners John Daniel and Noni are not leaving.
They are defiantly drinking the remaining whiskey and remembering good times, when everyone was on the same side and the old language shone.
Outside in the dark, a figure is making their way towards them.
A semi-autobiographical story about the places we leave behind, the indelible marks they make on us, and the unreliable memories we hold onto.
Schedule
Mon – Sat: 7.30pm (except 28 Oct 7pm)
Thu & Sat mats: 2.30pm (from 31 Oct)
Royal Court Theatre Jerwood Theatre Downstairs
(London, )
Sloane Square London SW1W 8AS
London,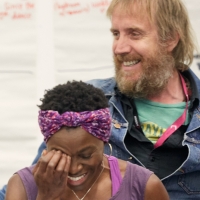 by BWW News Desk - September 11, 2019
With just over a week to go until the production begins previews at the Sherman Theatre, get a peek inside rehearsal for the National Theatre Wales and Royal Court Theatre co-production of On Bear Ridge.