Now. Here. This. - 2012 - Off-Broadway Tickets, News, Info & More
$75 (Premium Tickets Available for $100)
NOW. HERE. THIS. marks the return to The Vineyard of the ultra-talented team behind the Obie Award winning musical [title of show], which premiered at The Vineyard in 2006 and went on to an acclaimed, Tony-nominated Broadway run in 2008. The six original collaborators are back and all delving intolife's big questions with inimitable humor and humanity. The show explores birds, bees, reptiles, early man, ancient civilizations, and outer space. Also, loneliness, friendship, hoarding, hiding, laughing, living and dying. And middle school. And dinosaurs.
Video preview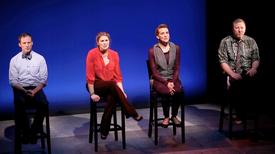 Now. Here. This. Frequently Asked Questions
What productions of Now. Here. This. have their been?
Now. Here. This. has had 1 productions including Off-Broadway which opened in 2012.