Memphis: A New Musical - 2009 - Broadway
From the rockin' dance halls of Memphis, Tennessee comes this hot and bothered new Broadway musical with heart, soul and energy to burn. Set in the turbulent south in the 1950s, it is the story of Huey Calhoun, a white radio DJ whose love of good music transcends race lines and airwaves. Get ready to experience all the exuberance and the emotion... the beauty and the controversy... of a wondrous, defining time in our history. You're tuning in to Memphis, so turn up that dial!
MEMPHIS features a brand new score with music by Bon Jovi's founding member/keyboardist David Bryan and lyrics by Bryan and Joe DiPietro (I Love You, You're Perfect, Now Change), who also pens the musical's book. Bryan and DiPietro also collaborated on the current award-winning off-Broadway hit, The Toxic Avenger. MEMPHIS is based on a concept by the late George W. George (producer of the Tony nominated Bedroom Farce and the film My Dinner With Andre), with direction by Tony nominee Christopher Ashley (Xanadu) and choreography by Sergio Trujillo (Jersey Boys).
Video preview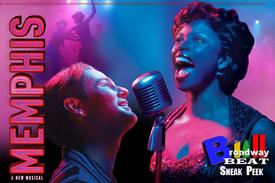 Photo preview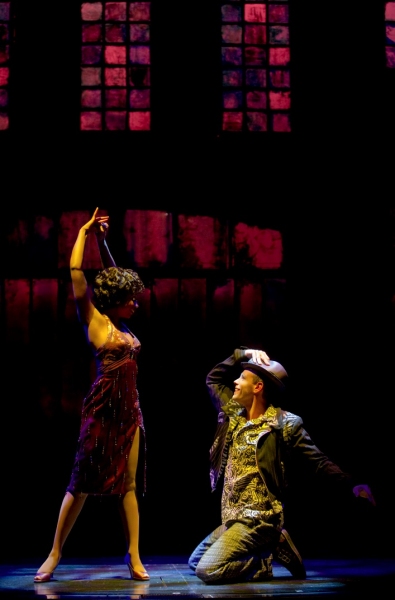 Schedule
Running Time: 2 hours and 30 minutes, with one intermission
Featured Reviews For Memphis: A New Musical
Memphis - On Off Broadway
Occasionally, "Memphis" feels clichéd and reminiscent of storylines already seen in "Hairspray," "Dreamgirls" and "Jersey Boys." But more often than not, its careful balance of pure fun and character drama proves to be irresistible.
'Memphis' exuberantly chronicles the rise of RB - Associated Press
Book writer Joe DiPietro skillfully intertwines these stories. And with composer David Bryan (they co-wrote the lyrics), the two have managed to create a dandy original score that is as tuneful as it is theatrical, the very essence of what a Broadway musical should be. Bryan, keyboard player for Bon Jovi, has a gift for effortless melody and the orchestrations, which he co-wrote with Daryl Waters, makes the music — check out those horns — sound as if it could have first been heard in the '50s.
Memphis: A New Musical Broadway Cast