Memphis: A New Musical - 2009 - Broadway
From the rockin' dance halls of Memphis, Tennessee comes this hot and bothered new Broadway musical with heart, soul and energy to burn. Set in the turbulent south in the 1950s, it is the story of Huey Calhoun, a white radio DJ whose love of good music transcends race lines and airwaves. Get ready to experience all the exuberance and the emotion... the beauty and the controversy... of a wondrous, defining time in our history. You're tuning in to Memphis, so turn up that dial!
MEMPHIS features a brand new score with music by Bon Jovi's founding member/keyboardist David Bryan and lyrics by Bryan and Joe DiPietro (I Love You, You're Perfect, Now Change), who also pens the musical's book. Bryan and DiPietro also collaborated on the current award-winning off-Broadway hit, The Toxic Avenger. MEMPHIS is based on a concept by the late George W. George (producer of the Tony nominated Bedroom Farce and the film My Dinner With Andre), with direction by Tony nominee Christopher Ashley (Xanadu) and choreography by Sergio Trujillo (Jersey Boys).
Video preview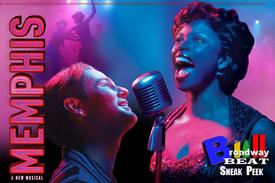 Photo preview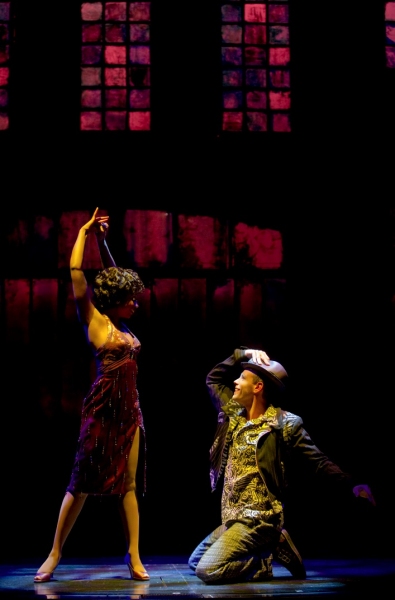 Schedule
Running Time: 2 hours and 30 minutes, with one intermission
Featured Reviews For Memphis: A New Musical
Memphis - Time Out New York
Now that Broadway no longer benefits from Hairspray's retro uplift, space on the Great White Way has been cleared for another musical about the racial integration of a television dance program in the early years of the civil-rights movement. Joe DiPietro and David Bryan's Memphis cannot be faulted for its intentions: Its heart and its soul music are in the right place. The show's assets begin with Chad Kimball's dynamic, courageously outré leading performance as Huey, a Tennessee radio DJ in the 1950s, who champions "race records" and embarks on a risky romance with a black singer (the lovely Montego Glover, an impressive vocalist). The music has laudable drive, which Sergio Trujillo's choreography brings to vibrant life.
Memphis - NY1
The book by Joe DiPietro is missing a strong climax and the end feels tacked on. That aside, "Memphis" is so loaded with talent, it almost seems pointless to criticize. The music by Bon Jovi keyboardist David Bryan with an assist from DiPietro on lyrics is full of the kind of soul Huey sings about. Whether it's R&B, gospel or rock and roll, the songs recall the hits of the era. And Sergio Trujillo adds a powerful visual stimulus with some dazzling choreography.
Memphis: A New Musical Broadway Cast