Update - Broadway Shutdown Extends To September 6 - Click Here
Love Letters - Broadway
LOVE LETTERS is a disarmingly funny and unforgettably emotional portrait about the powerful connection of love. Two friends, rebellious Melissa Gardner and straight-arrow Andrew Makepeace Ladd III have exchanged notes, cards and letters with each other for over 50 years. From second grade, through summer vacations, to college, and well into adulthood, they have spent a lifetime discussing their hopes and ambitions, dreams and disappointments, and victories and defeats. But long after the letters are done, the real question remains: Have they made the right choices or is the love of their life only a letter away?
Directed by Gregory Mosher, LOVE LETTERS will open Thursday, September 18, 2014, at 7pm, starring Brian Dennehy and Mia Farrow, who will be followed by casts of stars in strictly limited engagements that include Alan Alda, Candice Bergen, Carol Burnett, Anjelica Huston, Stacy Keach, Diana Rigg and Martin Sheen. Diana Rigg is appearing with the support of Actors' Equity Association. LOVE LETTERS is produced by Nelle Nugent, Barbara Broccoli, Fredrick Zollo, Olympus Theatricals, Kenneth Teaton and Colleen Camp.
Video preview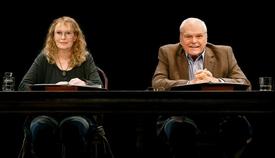 Photo preview
Featured Reviews For Love Letters
The Muted Melancholy Between the Lines - New York Times
I had a suspicion that Mr. Gurney's play, first seen in New York in 1989 and trotted out regularly since then at regional and amateur theaters the world over, might by now feel as dated as the means by which its characters trade their thoughts. I also thought I detected a little cynicism in bringing what is essentially a staged reading to Broadway, sprucing it up with big names, and charging roughly $140 for a top-price ticket. But before long, my qualms began to erode under the sweet, sad spell of Mr. Gurney's deceptively simple and quietly moving play. As performed by a sterling Mr. Dennehy, playing the rock-solid, letter-loving Andrew Makepeace Ladd III, and an utterly extraordinary Ms. Farrow, as the flighty, unstable and writing-averse Melissa Gardner, Mr. Gurney's intimate drama gains steadily in power, as life keeps ripping away at the seams of its characters' well-tailored existences. The play's means may be economical, but it etches a deep portrait of life's painful vicissitudes.
Theater review: 'Love Letters' - Bergen Record
The grip it maintains for much of its 90 minutes is partially due to Gurney's shrewd employment of tried-and-true dramatic elements. The passage of time - people going from youth to late middle age - is always poignant. And so is the notion of two individuals failing to recognize the true love they're meant to share. But the playwright also deserves credit for a crisp, amusing and actor-friendly script. He gives skilled performers such as Farrow and Dennehy the opportunity, under limiting circumstances, to bring characters to vivid life.