Love, Love, Love - 2020 - West End
It's 1967. The Beatles are performing All You Need Is Love on global TV for the very first time. Kenneth and Sandra meet.
Love, Love, Love, charts one couple's journey forty years from the era of free love to the beginning of the 21st Century. Smoking, drinking, affectionate and paranoid, Kenneth and Sandra build their life and family together in a time of increasing national prosperity, when the future is always better than the past.
Now they're retired and their children grown, but why hasn't it all worked out the way they thought?
What happens when the children you think you've done everything for, believe you haven't done enough?
A family go to war over their personal politics in Mike Bartlett's funny and scathing look at the opposing values of two very different generations.
(London, )
Lyric Square, King St, Hammersmith, Lyric W6 0QL
London,
Love, Love, Love West End Cast
by Gary Naylor - March 12, 2020
Mike Bartlett's play has aged not a jot in its analysis of how one generation's freedoms constrains anothers. Funny and clever, it hits hard, even if it ultimately stretches credibility a tad too far.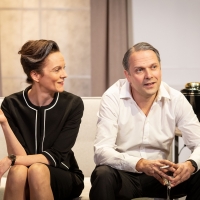 by Eleni Cashell - March 11, 2020
Well known for his roles on both stage and screen, Nicholas Burns has recently starred in Measure for Measure (Donmar Warehouse) and Young Marx (Bridge Theatre). He returns to the Lyric Hammersmith Theatre, where he appeared in the original cast of Ghost Stories, to play Kenneth in a revival of Mike Bartlett's Love, Love Love.