Harry Potter and the Cursed Child - Broadway Tickets, News, Info & More
From page to stage to screen, the magic is real at Harry Potter and the Cursed Child on Broadway.
Prepare to see the characters that you've known and loved your entire life in a thrilling new adventure that begins 19 years after the events of the Deathly Hollows.
The entirety of the Lyric Theatre has been transfigured to immerse you in this magical world where epic duels, extraordinary spells and beloved characters come to life.
Filled with unprecedented stage magic and thrilling storytelling, this Tony Award-winning show is a unforgettable experience unlike anything else you will ever see.
Video preview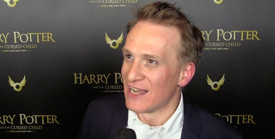 Photo preview
Schedule
Running Time:
Three hours and 30 minutes with one intermission
Tuesdays at 7pm
Wednesdays at 7pm
Thursdays at 7pm
Fridays at 7pm
Saturdays at 1pm and 7pm
Sundays at 1pm
About the Theatre
(New York, NY)
214 W. 43rd St.
Seating Chart
Featured Reviews For Harry Potter and the Cursed Child
Harry Potter and the Cursed Child conjures the impossible on Broadway: EW review - Entertainment Weekly
The show, for its many twisty turns, belongs squarely to its most consistent leads, its equally cursed children: Boyle and Clemmett, two fine English actors who, at 23 and 24, are as exceptional a leading pair as those Mormon boys or Wicked girls. Reprising their West End roles, both young men are formidable individually but meteoric together, specifically in their happy seizure of the central theme of this and Rowling's saga in general: friendship. Good friendship. The kind of friendship that trounces ostracization, that vanquishes evil, that draws power from the triumph of an inside joke as much as a shared tragedy. Boyle plays Scorpius, ostensibly Hogwarts' biggest outcast, with a ferocious nerve and mischievous wit; he's funny and heartbreaking and applies a vexing if effective quantity of outbursts to service his character's epiphanic moments. Clemmett, on the opposite hand, is an understated wonder; as the embittered but well-intentioned Albus, he has the less showy and perhaps more prohibitive role, but with a boyish charm Clemmett adroitly dodges pratfalls of teenage anguish and "Ugh, dad!" resentment to remain hugely likable and empathetic even as he creates disaster after disaster for himself. The sparks the two actors create together are so dynamic, their occasional absence onstage does not go unnoticed.
'Harry Potter and the Cursed Child': Theater Review - The Hollywood Reporter
Is it strictly for Potterheads? Not at all, though anyone going in cold, with no prior knowledge of the stories, will miss much of the clever cross-referencing of characters and events from throughout the series. A detailed recap starting with the key prophecy that propelled the entire saga and continuing with a breakdown of each of the seven novels is provided in the program and will be helpful to the uninitiated. But there's also a universal dimension to the human drama here - the challenges of parenting, the conflict between fathers and teenage sons burdened by intimidating legacies, the sustaining force of love and friendship, the eternal grip of the past - that will prove poignant and meaningful even to audiences unversed in the wizarding wars. I'm by no means a Potter obsessive but I was amazed, watching the plays, at how vividly these characters are embedded in our cultural consciousness. You can feel the electric charge in the theater even before the action begins, and it's highly infectious, whatever your prior exposure.
Harry Potter and the Cursed Child Broadway Cast