Harry Potter and the Cursed Child - Broadway
From page to stage to screen, the magic is real at Harry Potter and the Cursed Child on Broadway.
Prepare to see the characters that you've known and loved your entire life in a thrilling new adventure that begins 19 years after the events of the Deathly Hollows.
The entirety of the Lyric Theatre has been transfigured to immerse you in this magical world where epic duels, extraordinary spells and beloved characters come to life.
Filled with unprecedented stage magic and thrilling storytelling, this Tony Award-winning show is a unforgettable experience unlike anything else you will ever see.
Video preview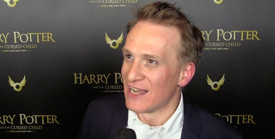 Photo preview
Schedule
Running Time: Part 1: 2 hrs & 40 mins; Part 2: 2 hrs & 35 mins
Wednesdays: 2:00pm (Part 1) and 7:30pm (Part 2)
Thursdays: 7:30pm (Part 1)
Fridays: 7:30pm (Part 2)
Saturdays: 2:00pm (Part 1) and 7:30pm (Part 2)
Sundays: 2:00pm (Part 1) and 7:30pm (Part 2)
(New York, NY)
214 W. 42nd St.
Seating Chart
Featured Reviews For Harry Potter and the Cursed Child
'Harry Potter And The Cursed Child' Review: Broadway's Perfectly Enchanted Evening (Or Two) - Deadline
The production's magic is hardly limited to well-choreographed transitions, though, with illusions ranging from the seemingly high-tech - lightning streams of flame, or a dreamlike effect that has the entire set shimmering with every jump in time - to age-old stage trickery modernized and perfected (unseen hands in black tote levitating actors, while some bat-wing swirls of Hogwarts cloaks all but demand a voila!). In theory, a visit from the wraithlike Dementors - relax, I'm not saying when, how or why - owes a nod to a hoary old Roger Corman gimmick, but the similarity ends with intent: The execution here is genuinely thrilling.
HARRY POTTER AND THE CURSED CHILD: BROADWAY'S ENCHANTED KINGDOM - NY Stage Review
And mind you, the show is all special effects. But while there is a good deal of machinery and a greater deal of millions behind it all, the specialest effect that shines through-and, truly, makes Cursed Child what it is-is high-grade theatrical imagination. We can easily list the admirable production staff: Christine Jones (sets), Katrina Lindsay (costumes), Neil Austin (lighting), Finn Ross and Ash Woodward (video), Gareth Fry (sound), Jamie Harrison (illusions and magic), Carole Hancock (hair, wigs and make-up) and Imogen Heap (composer and arranger). It is not quite so easy, though, to separate their accomplishments: everything blends in to create this wizardrous mélange. Prime among Tiffany's team is "movement director" Steven Hoggett, of both Once and The Curious Incident of the Dog in the Night-Time. Cursed Child is a true collaboration between Tiffany and Hoggett, and quite something to see.
Harry Potter and the Cursed Child Broadway Cast