Gnit - 2020 - Off-Broadway Tickets, News, Info & More
Gnit is the celebrated American playwright Will Eno's acerbically witty adaptation of the Ibsen classic Peer Gynt. Eno has reimagined that sprawling, satirical, 19th-century quest tale as a quick-paced contemporary tragicomedy. Peter Gnit is a feckless, well-meaning sloucher who bounces between glib reactions to Experience and ill-considered efforts at finding his True Self, all the while missing the love, joy, sorrow, goodness and authentic experience that are right in front of his nose. Packed with Eno's signature wordplay, wit, and deflated pretentiousness, Gnit finds hilarity in calamitous self-deception and profundity in a pratfall life.
by Stephi Wild - March 14, 2020
Due to increased concerns regarding COVID-19, effective last night, all remaining performances of Gnit, by Will Eno and directed by Oliver Butler, originally scheduled through March 29, are cancelled.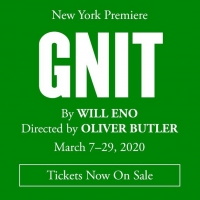 by Chloe Rabinowitz - February 5, 2020
Theatre for a New Audience (TFANA; Jeffrey Horowitz, Founding Artistic Director) will present the New York premiere of celebrated American playwright Will Eno's Gnit, inspired by Henrik Ibsen's Peer Gynt (originally published in 1867). Directed by Eno's frequent collaborator, the Obie and Lortel Award-Winner Oliver Butler (Eno's 2014 The Open House and the 2018 revival of Thom Paine (based on nothing), starring Michael C. Hall, both at Signature Theater, and 2019's The Plot at Yale Rep; Heidi Schreck's Tony Award-nominated What the Constitution Means to Me).