First Date - 2013 - Broadway
First Date is Broadway's new musical comedy about the most dangerous human endeavor in existence, the dreaded blind date. When tightly wound Aaron is set up with cool girl Casey, a quick drink turns into a hilarious dinner served with sides of Google background checks, fake emergency phone calls, a slew of bad boy and uptown girl exes, and some seriously saucy chemistry.
Video preview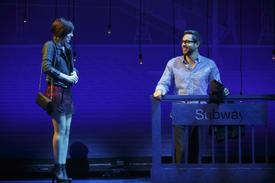 Schedule
Running Time: 1 hour and 30 minutes, with no intermission
Featured Reviews For First Date
Have We Met Before? - Wallstreet Journal
"First Date," a small-cast, small-scale musical (seven actors, one set, 95 minutes, no intermission) that tells the story of a blind date from start to finish, feels at times as though it had been knocked together out of spare parts...This isn't to say that "First Date" is bad. Truth to tell, it's pleasantly fluffy and not without charm, and were it playing in an off-Broadway house, it'd have a better chance of finding its natural audience, which I take to be hopeful millennials who bear the unhealed scars of the online dating wars...It helps, too, that Mr. Levi, a second-tier television star ("Chuck") who is making his Broadway debut, turns out to be a strikingly adept stage comedian who knows how to put the right spin on a good joke, while Ms. Rodriguez is a spunky sasspot with grade-A pipes.
'First Date' review: No second necessary - Newsday
There is no credible reason for these people to belong together, except that author Austin Winsberg and composer-lyricists Alan Zachary and Michael Weiner put them into their well- staged, musically-generic little pop show...Rodriguez has a pingy, lively voice. So does Levi, though first he has to drag out a shameless dead mother story and he doesn't get an edgy song until about 85 minutes into the 90-minute show. Director Bill Berry contributes most of the brightest ideas with a throwaway glance here and a well-timed visual surprise there. The audience at Friday's preview appeared to be having a great time. But, really, if matchmaking is this forced and random, no wonder so many marriages don't last.