First Date - 2013 - Broadway Tickets, News, Info & More
First Date is Broadway's new musical comedy about the most dangerous human endeavor in existence, the dreaded blind date. When tightly wound Aaron is set up with cool girl Casey, a quick drink turns into a hilarious dinner served with sides of Google background checks, fake emergency phone calls, a slew of bad boy and uptown girl exes, and some seriously saucy chemistry.
Video preview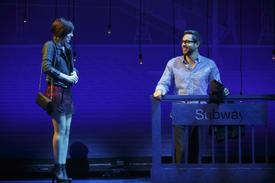 Schedule
Running Time:
1 hour and 30 minutes, with no intermission
Featured Reviews For First Date
Check, please: 'First Date' is a bust - USA Today
The simultaneously dimwitted and hyperactive brainchild of TV scribe Austin Winsberg (Gossip Girl, Jake in Progress) and songwriters Alan Zachary and Michael Weiner, First Date follows Aaron (Zachary Levi) and a gal, Casey (Krysta Rodriguez), as they meet over drinks and dinner. During an encounter that lasts, mercifully, only 95 minutes...And suffice to say that no cliché is left unturned...Levi nonetheless manages to make Aaron likable enough, just as Rodriguez gives Casey an authentic, appealing tartness. And being a romantic comedy, of course, First Date ends on a hopeful note.
It's a mismatch made in heaven - NY Post
But the show really rests on Levi's shoulders - and he carries it effortlessly. The only clue we had that he could carry a tune was from his duet with Mandy Moore in Disney's "Tangled." Here, he turns out to be able to do far more than just sing a song: He can sell it. His 11 o'clock number, "In Love With You," is a tour de force of comic timing, physical clowning and effective interpretation.