Blackbird - 2016 - Broadway
Jeff Daniels and Michelle Williams will return to Broadway this season to star in David Harrower's Olivier Award-winning drama BLACKBIRD. The production, to be directed by Joe Mantello.
BLACKBIRD tells the story of Una and Ray. Fifteen years earlier they had a relationship and haven't set eyes on each other since. Now she's found him again.
Video preview
Photo preview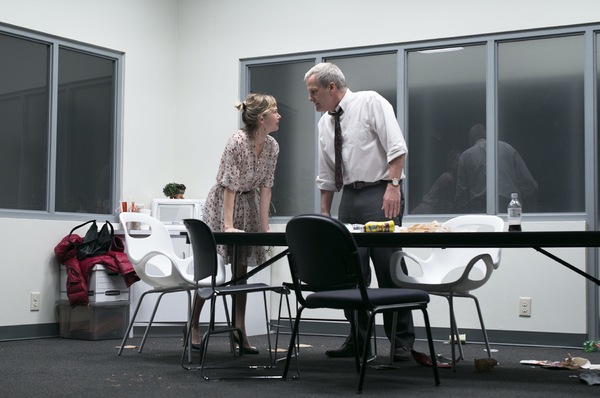 Schedule
Running Time: One hour and 30 minutes, with no intermission
Featured Reviews For Blackbird
Michelle Williams soars in brutal 'Blackbird' on Broadway: review - NJ.com
Michelle Williams tears up the stage, literally and figuratively, in "Blackbird"...the "Brokeback Mountain" actress lurches from defiance to pleading, sputtering rage to romantic desperation, offering up an unforgettable portrait of a doomed soul who has long since lost agency over her own emotions. It's a half-terrifying, half-thrilling high-wire act that leaves the actress visibly exhausted -- and the audience in awe...directed here by Joe Mantello ("The Humans"), "Blackbird" is an unrelenting, unapologetically grim vision. But whether this 90-minute piece is actually saying anything new or original about the human condition -- or simply rubbing our noses in the muck of it all -- is tough to discern.
Review: Difficult 'Blackbird' stars Michelle Williams and Jeff Daniels on Broadway - Chicago Tribune
Even with stars like Michelle Williams and Jeff Daniels in the lead roles, and direction by Joe Mantello, "Blackbird" is far from a typical Broadway drama. For some of those attracted by the bold-face names, it surely will come as a sparse shock, a tough, toxic 80-minute ride into the corporate gray of fear and regret...this drama -- which I regard as one of the best pieces of writing of the last decade -- offers the uncompromising actress Williams the rare opportunity to contort body and soul into a character...What makes Williams' performance so distinctive and, to my mind, remarkable, is the way the corruption in her character's soul seems to occupy the limbs of the actress.