Blackbird - 2016 - Broadway
Jeff Daniels and Michelle Williams will return to Broadway this season to star in David Harrower's Olivier Award-winning drama BLACKBIRD. The production, to be directed by Joe Mantello.
BLACKBIRD tells the story of Una and Ray. Fifteen years earlier they had a relationship and haven't set eyes on each other since. Now she's found him again.
Video preview
Photo preview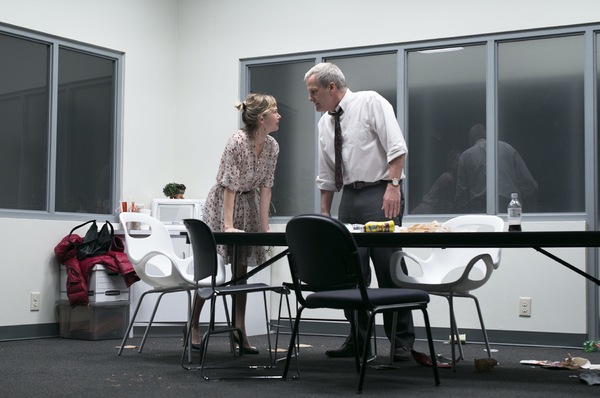 Schedule
Running Time: One hour and 30 minutes, with no intermission
Featured Reviews For Blackbird
'Blackbird': Theater Review - Hollywood Reporter
It was nine years ago when Jeff Daniels first appeared in Joe Mantello's taut production of Scottish playwright David Harrower's volatile two-hander, Blackbird. Revisiting the play with the same director on Broadway opposite a sensational Michelle Williams, the actor now brings a noticeably deepened middle-aged gravitas that adds fascinating layers to his character -- of bitter defensiveness, corrosive dishonesty, subjugated desire, and ultimately, ice-cold fear. Unyielding in its needling focus, this riveting drama is a stark examination of love, pain and loss that's both compassionate and unforgiving, all of which helps it navigate the move to a bigger stage with a corresponding amplification of its emotional power.
Jeff Daniels And Michelle Williams Explode In Dark Sexual Drama 'Blackbird' – Review - Deadline
Broadway loves a fine romance and nowhere are the sparks showering down more heat and crackle than the ones being thrown off by Jeff Daniels and Michelle Williams in Blackbird...Their rapture is murderous. They want to annihilate each other. This is the electrifying production that this season's revival of Sam Shepard's Fool For Love aspired to be...Daniels and Williams are so devastatingly into David Harrower's stem-winding tale of an illicit conjugation, that by the time the lights came up I felt as spent as the actors themselves appeared to be.