Allegiance - 2015 - Broadway
Beloved television star and popular social media icon George Takei (Star Trek, Heroes) stars in this unforgettable new musical alongside Telly Leung (Godspell, "Glee") and Tony Award winner Lea Salonga (Miss Saigon, Aladdin, Mulan) in her highly anticipated Broadway return. Inspired by Takei's true-life experience, Allegiance is an untold American story spanning from the lush California heartland, to the windswept prairies of Wyoming, to the European battlefields of World War II- a multi-generational tale of one Japanese American family's love, optimism and unparalleled heroism in the face of unimaginable circumstances.
Video preview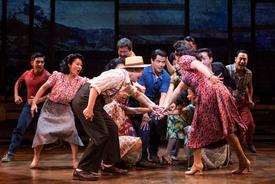 Photo preview
Schedule
Running Time: Two hours and 30 minutes, with one intermission
Featured Reviews For Allegiance
'Allegiance' Broadway Review: George Takei Looks Back at World War II f - The Wrap
Plays and movies about history's most heinous episodes of discrimination are never easy. Too often they collapse under the weight of stereotypes that make the villains all bad and the heroes mere victims. "Allegiance," the new musical that opened Sunday at Broadway's Longacre Theatre, avoids this problem by putting only three guardsmen-soldiers on stage, and in very supporting roles.
'Allegiance': Theater Review - Hollywood Reporter
The knowledge that the story was inspired by Takei's childhood hardships in the Japanese-American "relocation centers" of World War II adds significantly to the emotional impact. But the powerful sentiments involved are too often flattened by the pedestrian lyrics and unmemorable melodies of Jay Kuo's score, making an unconvincing case for this material's suitability to be a musical...Nonetheless, writers Marc Acito, Kuo and Lorenzo Thomas have woven together a plot that's admirable in its bid to shine a light on the injustices committed against 120,000 West Coast Americans of Japanese descent, by focusing on the festering discord within one such family.