Allegiance - 2015 - Broadway
Beloved television star and popular social media icon George Takei (Star Trek, Heroes) stars in this unforgettable new musical alongside Telly Leung (Godspell, "Glee") and Tony Award winner Lea Salonga (Miss Saigon, Aladdin, Mulan) in her highly anticipated Broadway return. Inspired by Takei's true-life experience, Allegiance is an untold American story spanning from the lush California heartland, to the windswept prairies of Wyoming, to the European battlefields of World War II- a multi-generational tale of one Japanese American family's love, optimism and unparalleled heroism in the face of unimaginable circumstances.
Video preview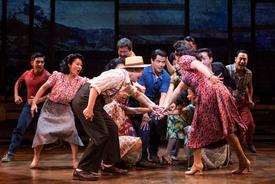 Photo preview
Schedule
Running Time: Two hours and 30 minutes, with one intermission
Featured Reviews For Allegiance
Allegiance review: George Takei can't save Broadway's mediocre pledge - Guardian
George Takei, the original Sulu on Star Trek, was one of those interned. The experiences of his family have now inspired Allegiance, an unexceptional though often affecting new Broadway musical. Allegiance should be better served by its book, score and lyrics, most of which tend toward the generic. Stafford Arima's direction does too. Composer and lyricist Jay Kuo and book writers Marc Acito and Lorenzo Thione are striving so hard for stirring nobility that individuality or particular characterization falls by the wayside. The ballads are all sufficiently ballad-y, but none of the melodies linger once the curtain has fallen and the lyrics pile on platitude and cliché.
Review: Musical 'Allegiance' is heavy-handed missed chance - Associated Press
nternment camps, racial discrimination and an atomic bomb blast are challenging topics to incorporate into a satisfying night of theater. The heavy-handed, cliche-driven "Allegiance" which opened Sunday at the Longacre Theatre tries to take on all three - but does so unsuccessfully in a bombastic and generic Broadway musical. It has an ambitious agenda - touching on pride, citizenship, degradation, interracial romance, bravery and honor - and it's too much. While it's great that an Asian cast is telling a chapter in its own history, it's through an old-fashioned, stereotypical style that's out of touch with where Broadway is going.