Alan Cumming's Macbeth - 2013 - Broadway
Alan Cumming's one-man production of Macbeth lands on Broadway. The National Theatre of Scotland's production of MACBETH was performed last summer at the Lincoln Center Festival. Tony Award-winning actor Alan Cumming's virtuoso performance is a bold reimagining of Shakespeare's chilling tale of desire, ambition, and the supernatural.
The production is set in a psychiatric unit and centers on a patient who is reliving the story of Macbeth. CCTV cameras watch the patient's every move and the clinical walls of the unit come to life in a visually stunning multi-media theatrical experience.
Video preview
Photo preview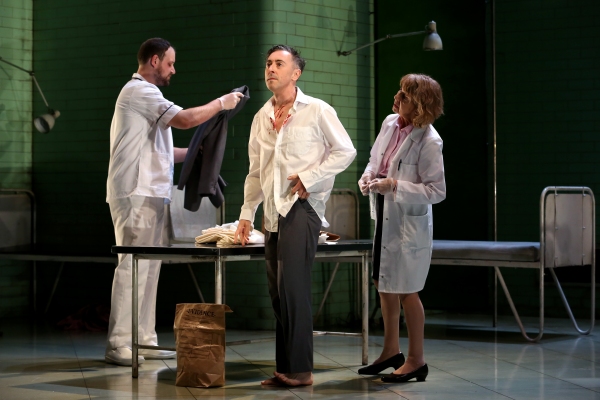 Schedule
Running Time: 1 hour and 45 minutes, with no intermission
Featured Reviews For Alan Cumming's Macbeth
Macbeth: Theater Review - Hollywood Reporter
Alan Cumming puts a daring new spin on Shakespeare's tragedy, shifting its focus from the cost of ambition to the harrowing imprisonment of madness.
Legit Review: 'Macbeth' - Variety
Alan Cumming plays a man possessed by every character in "Macbeth." In a sad, emotionally draining and bravura perf, he makes it seem as if every psychosis and hallucination in the play is an expression of one man's fragile state of mind...It's an interpretation that throws a very particular light on "Macbeth" at the expense of the play's political and social qualities, yet such are Cumming's gifts as an actor, we also get an uncommonly rich reading of the play. Using the most subtle shifts in register, gait and dress, he switches seamlessly from character to character...Tiffany and Goldberg give Cumming the run of the stage, yet are not afraid to slow the production down to give us time to take stock.
Alan Cumming's Macbeth Broadway Cast