Alan Cumming's Macbeth - 2013 - Broadway
Alan Cumming's one-man production of Macbeth lands on Broadway. The National Theatre of Scotland's production of MACBETH was performed last summer at the Lincoln Center Festival. Tony Award-winning actor Alan Cumming's virtuoso performance is a bold reimagining of Shakespeare's chilling tale of desire, ambition, and the supernatural.
The production is set in a psychiatric unit and centers on a patient who is reliving the story of Macbeth. CCTV cameras watch the patient's every move and the clinical walls of the unit come to life in a visually stunning multi-media theatrical experience.
Video preview
Photo preview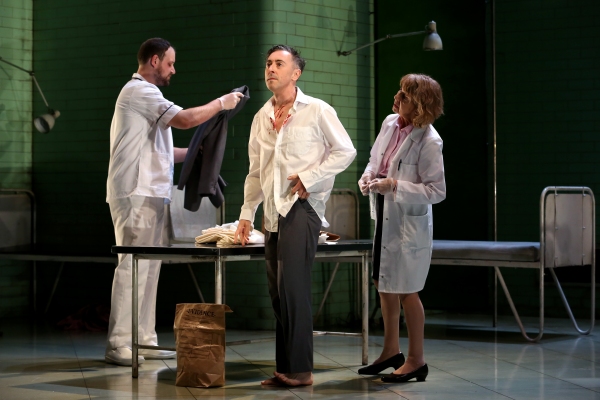 Schedule
Running Time: 1 hour and 45 minutes, with no intermission
Featured Reviews For Alan Cumming's Macbeth
Theater review: 'Macbeth' - NorthJersey.com
Taken in its entirety, this "Macbeth" edges close to being a stunt - a highly artistic one, but still a stunt.
'Macbeth' Broadway Review: Alan Cumming Gets Crazy About Shakepeare - New Jersey Newsroom
Other than providing a tour-de-force challenge for an actor, however, the point of this production escapes me. It sheds no fresh light on the drama...Some people believe that Cumming is an exceptional and magnetic artist. I think that Cumming is an all right actor, but a little bit of him goes a very long way. So for me, at least, watching Cumming doing a lot of crazy Shakespeare was not an edifying experience. Better read somebody else for a more balanced opinion on Cumming's performance, which I certainly admire for its febrile energy.
Alan Cumming's Macbeth Broadway Cast