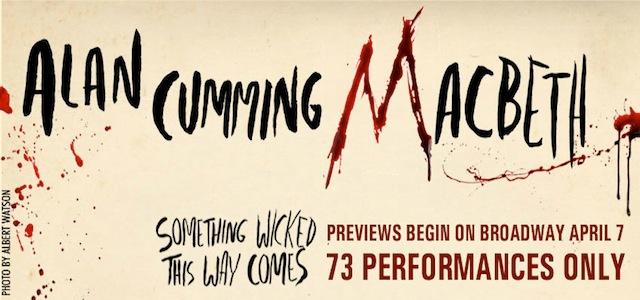 Click Here for More Articles on MACBETH
Review Roundup: MACBETH Opens on Broadway - All the Reviews!
Broadway's powerful new production of Shakespeare's Macbeth, starring Tony and Olivier Award winner and two-time Emmy Award nominee Alan Cumming (Cabaret, "The Good Wife"), opens on Broadway tonight, April 21, 2013. Veteran stage actors Jenny Sterlin and Brendan Titley complete the cast.
Directed by Tony Award winner John Tiffany (Once) and Andrew Goldberg (The Bomb-itty of Errors), The National Theatre of Scotland's Macbeth is set in a clinical room deep within a dark psychiatric unit. Cumming is the lone patient, reliving the infamous story and inhabiting each role himself. Closed circuit television cameras watch the patient's every move as the walls of the psychiatric ward come to life in a visually stunning multi-media theatrical experience of Shakespeare's notorious tale of desire, ambition and the supernatural.
MACBETH features scenic and costume design by Merle Hensel, lighting design by Natasha Chivers, sound design by Fergus O'Hare and video projection design by Ian William Galloway, voice by Ros Steen, movement by Christine Devaney and music by Max Richter.
Let's see what the critics had to say...
Charles Isherwood, The New York Times: Mr. Cumming...is a versatile performer who here gets to indulge in the kind of high-hurdle challenge (or ego trip) that can prove irresistible to actors...Watching him perform this personalized rendition of "Macbeth," I was at times more intrigued by the battle going on between the serious actor and the shameless entertainer than I was by the tense struggles taking place in the divided mind of Macbeth...In terms of stamina and ingenuity, Mr. Cumming's achievement is certainly remarkable. But I came away from my second viewing of this production - I first saw it when it was presented by the Lincoln Center Festival last summer - with the confirmed impression that while Mr. Cumming had persuasively differentiated all the key roles, he had not fully inhabited any one of them.
Mark Kennedy,
Associated Press
: If it's not clear by now, what Cumming is doing at the Ethel Barrymore Theatre is delivering a tour-de-force that redefines the term...While there is no doubt about Cumming's ability - he cowers, he acts menacing, he strips down, he leaps in and out of a full bathtub and smears himself in gore - there is a feeling that while this is an act of Olympic skill, it's also partly a freak show...The original moments of ingenuity are still here and they make this "Macbeth" impossible to stop watching..But while Cumming generates pathos, and even sometimes sharp laughter, from his audience, the staging - no matter how inventive - doesn't always add meaning to Shakespeare's play.
Mark Fisher, Variety: Alan Cumming plays a man possessed by every character in "Macbeth." In a sad, emotionally draining and bravura perf, he makes it seem as if every psychosis and hallucination in the play is an expression of one man's fragile state of mind...It's an interpretation that throws a very particular light on "Macbeth" at the expense of the play's political and social qualities, yet such are Cumming's gifts as an actor, we also get an uncommonly rich reading of the play. Using the most subtle shifts in register, gait and dress, he switches seamlessly from character to character...Tiffany and Goldberg give Cumming the run of the stage, yet are not afraid to slow the production down to give us time to take stock.
Elysa Gardner, USA Today: In general, though, this minimalist Macbeth is more technically impressive than it is emotionally potent.
Matt Windman, AM New York: Alan Cumming's "Macbeth," in which he recites almost the entire Shakespeare text and portrays every major character, falls somewhere between being a fierce, fearless, one-of-a-kind theatrical experience and an incomprehensible vanity project... Considering how Cumming only barely alters his voice or manner of delivery for each specific character, it would probably be impossible for someone unfamiliar with the play to be able to understand it here. 2 stars
Elisabeth Vincentelli, NY Post: A word of warning before you sit down for this latest version of "Macbeth" on Broadway: read or reread Shakespeare's tragedy, or at least the playbill's synopsis. Because if you're not familiar with the plot and characters, the show won't make any sense.
Jesse Green, Vulture: The economy and cleverness of the staging is no less than you might expect from Tiffany especially, whose direction in both downtown and uptown modes (Black Watch at St. Ann's; Once on Broadway) displays an uncommon facility with big but delicate gestures. Every element of the design-set, sound, costume, video, lighting-is ideally tailored to the concept. And Cumming is more disciplined than you might imagine; his delicious sense of camp is confined to the appropriate characterizations, and his voice for verse, with those big Scots vowels, is outstanding. He's tireless and brave in enacting a difficult story.
Jeremy Gerard, Bloomberg: The Scottish actor, now best known as the cunning political operative Eli Gold on TV's "The Good Wife," brings an authentic burr to the role along with several terabytes of memory. The production, which opened last summer's Lincoln Center Festival (where it wasn't eligible for Tony Award nominations) struck me as even more gimmicky on second viewing. It reveals more about the actor than the would-be king.
Entertainment Weekly: ...the Tony-winning Good Wife star acts out a streamlined version of the drama, playing nearly all of the characters himself...The result is mesmerizing theater, aided enormously by Natasha Chivers' lighting and Fergus O'Hare's creepy horror-movie sound design. But as conceived by Cumming with co-directors John Tiffany (Once) and Andrew Goldberg (The Bomb-itty of Errors), it's also less a true revival of Macbeth than a wickedly clever riff on themes from Macbeth...Indeed, the stunt-like nature of the production sometimes muffles the play's emotional impact-we wind up feeling more for Cumming as a performer than we do for the characters he portrays...But what a tour-de-force performance it is. B+
Michael Sommers, NJ Newsroom: Other than providing a tour-de-force challenge for an actor, however, the point of this production escapes me. It sheds no fresh light on the drama...Some people believe that Cumming is an exceptional and magnetic artist. I think that Cumming is an all right actor, but a little bit of him goes a very long way. So for me, at least, watching Cumming doing a lot of crazy Shakespeare was not an edifying experience. Better read somebody else for a more balanced opinion on Cumming's performance, which I certainly admire for its febrile energy.
Joe Dziemianowicz, NY Daily News: In a second viewing of this National Theatre of Scotland production, Cumming is even more verbally dexterous and dynamic...Directors John Tiffany and Andrew Goldberg layer the production with spooky sounds and moody music and keep Cumming on the move...Even with all that, this solo stab at the Bard proves to be a case of diminishing returns. The concept becomes less interesting as it goes on. Shakespeare completists will be intrigued. Audience members unfamiliar with the story and who's who will be lost. All will appreciate the stirring turn by Cumming packing theatrical thunder and lightning. Fitting for the asylum setting of this "Macbeth," Cumming is fully committed.
Linda Winer, Newsday: This is a dark, visceral, altogether lucid bravura showcase for quality showing-off. And Cumming -- speaking in his multicolored Scottish burr -- is dazzling in it. In fact, his characterizations are more clearly delineated than they seemed last summer. Also, the intimate Broadway playhouse brings us closer and deeper into the storytelling. To everyone's enormous credit, Cumming doesn't use high voices for the women or change much more than a gesture as he morphs through the psychological turmoil of Macbeth, his Lady and their massive collateral damage.
David Rooney, Reuters/The Hollywood Reporter: Alan Cumming puts a daring new spin on Shakespeare's tragedy, shifting its focus from the cost of ambition to the harrowing imprisonment of madness.
David Cote, Time Out New York: While this Macbeth has spooky atmosphere and the verse raises gooseflesh, it falls between camps. Veterans of recontextualized Bard may yawn; people who don't know the text may be frightened, but more likely confused.
David Sheward, Backstage: There's plenty of sound and fury in Alan Cumming's near-solo adaptation of "Macbeth," but it signifies a great deal more than nothing. This startlingly fresh approach to one of the Bard's most produced works offers not only a sensational vehicle for the actor but also gives us new perspectives on a familiar classic.
Robert Feldberg, NorthJersey.com: Taken in its entirety, this "Macbeth" edges close to being a stunt - a highly artistic one, but still a stunt.
Related Articles
Check out BroadwayWorld.com's Review Roundups featuring ALL the reviews from Broadway, Off-Broadway, National Tours, the West End and Beyond!