Video: Bainbridge Performing Arts Presents XANADU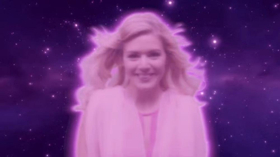 If you loved BPA's Priscilla Queen of the Desert, you won't want to miss XANADU this May. This moving, electrifying tale of endless fun will keep audiences in stitches while the legendary, chart-topping tunes lift them out of their seats. An uproarious, roller skating, musical adventure about following one's dreams despite the limitations others set by others, XANADU rolls along to the original hit score composed by pop-rock legends, Jeff Lynne and John Farrar. An outlandishly-enjoyable musical for adults, children, and anyone who has ever wanted to feel inspired, XANADU is based on the Universal Pictures cult classic movie of the same title, which starred Olivia Newton-John and Gene Kelly.
XANADU is led by the dynamic directing duo that brought A Christmas Story, The Musical, Disney's The Little Mermaid, and The Drowsy Chaperone to life on the BPA stage. Director Joanna Hardie and Musical Director Elizabeth Faye, along with Choreographer Heather Dawson (Big Fish, Mary Poppins) lead a glittering cast of BPA newcomers and favorites, including Justine Stillwell (KIRA), Nate McVicker (SONNY), Matty McCaslin (DANNY), Jessica Robins (MELPOMENE), Barbi-Jo Smith (CALLIOPE), Mariesa Genzale (EUTERPE), Joey Chapman (TERPSICORD), Ania Briggs (EUTERPE), Tori Konig (ERATO), Alex Ung (THALIA), Max VanKnocken-Witmer (YOUNG DANNY), and Nicole Billies and Teagan Howlett (DANCE ENSEMBLE).
"You have to believe we are magic." Join BPA for a 1980's glitter explosion May 4 - 20, with evening shows Fridays and Saturdays at 7:30 p.m. and Sunday matinees at 3:00 p.m. The run includes a Pay-What-You-Can Preview on Thursday, May 3 at 7:30 p.m., and the Opening Night Reception is Friday, May 4 at 6:30 p.m. Tickets, $29 for adults, $24 for seniors, students, youth, military, and teachers, may be purchased online at www.bainbridgeperformingarts.org, by phone at 206.842.8569, or in person at BPA, 200 Madison Avenue North, Bainbridge Island. BPA Box Office hours are 1:00 to 4:00 p.m. Wednesday through Friday, and one hour prior to each performance. XANADU is suitable for fun-loving "kids" of all ages and is presented through special arrangement with Music Theatre International (MTI). All authorized performance materials are also supplied by MTI, www.MTIShows.com.
BPA is supported, in part, by Bainbridge Community Foundation, the City of Bainbridge Island, and One Call for All. Bainbridge Performing Arts is pleased to offer an "Open Doors" program. Free and reduced-cost tickets to most events are available to community members in need through our partner Helpline House thanks to grants from BCF, the Mabee Family Foundation, and the Alder Fund at the Bainbridge Community Foundation. Please contact the BPA Box Office at 206.842.8569 or Helpline House to reserve tickets today.
Find out more about BPA at www.bainbridgeperformingarts.org, or check us out on Facebook (www.facebook.com/BPAonline and www.facebook.com/BainbridgeSymphonyOrchestra), follow BPA and BSO on LinkedIn (www.linkedin.com/in/bpasallyjomartine) and Twitter (@BPAPresents). Check online for the latest on theatre and symphony auditions, complete theatre school and adult class offerings, performance listings, tickets, promos, and more. Go to "About BPA" and click on "Get Our Newsletter" to receive electronic performance announcements and behind-the-scenes news.