Tacoma Little Theatre's 'Off The Shelf' Presents HURLYBURLY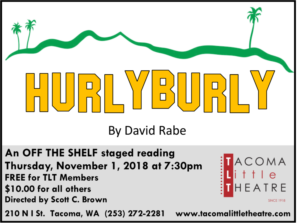 Tacoma Little Theatre presents the dark side of Hollywood with, Hurlyburly by David Rabe and directed by Scott C. Brown. This production will take place on Thursday, November 1, 2018 at 7:30pm.
If Hollywood were a large stone in the middle of a swamp, then David Rabe's Hurlyburly represents all of the creepy crawlers and slimy disgusting gunk you find underneath the rock.
This darkly comic drama is set in the Hollywood Hills. It tells the story of four miserable, self-destructive bachelors, each of whom is pursuing careers in the film industry. They don't seem the ambitious types, however. The bachelors (Eddie, Phil, Mickey, and Artie) spend their time drinking, womanizing, and ingesting a shocking amount of cocaine. All the while, Eddie the central character wonders why his life is slowly rotting away to nothing.
Hurlyburly features the talents of Blake R. York (Eddie), Mark Peterson (Mickey), Russ Coffey (Artie), Jacob Tice (Phil), Jenifer Gillis Rifenbery (Darlene), Cassie Jo Fastabend (Donna), and Brynne Garman (Bonnie).
Tickets for the November 1, 2018 performance at 7:30pm are $10.00 for non TLT Members, and FREE for those who are members. Tickets may be purchased online at www.tacomalittletheatre.com, or by calling our Box Office at (253) 272-2281.
We know that there is a tremendous amount of wonderful theatre that deserves to be heard but sometimes just doesn't get an opportunity. With "Off the Shelf", local directors and actors will be bringing some scripts to life that we hope you will find entertaining, challenging and educational to our stage. We hope that you'll sit back and enjoy an evening of theatre. You never know, you might see one of these shows on our mainstage in the future.
More Hot Stories For You