Tacoma Little Theatre Presents MRS. PACKARD-An Off The Shelf Staged Reading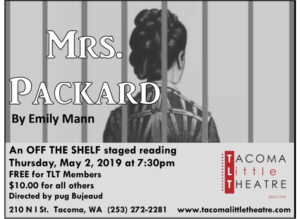 Tacoma Little Theatre's Off the Shelf program is excited to present Emily Mann's, Mrs. Packard, directed by pug Bujeaud and featuring a some of the Pacific Northwest's finest actors. This production will play Thursday, May 2, 2019 at 7:30pm.
Illinois, 1861: Without proof of insanity, Elizabeth Packard is committed by her husband to an asylum. Based on historical events, Emily Mann's play tells of one woman's struggle to right a system gone wrong in this winner of the Kennedy Center Fund for New American Plays Award.
Mrs. Packard features the talents of: Heather R. Christopher (Elizabeth Packard), Brian Jensen (Rev. Packard), MICHAEL CHRISTOPHER (Dr. McFarland), Shannon Olivia Agostinelli (Mrs. Bonner), Ellen Peters (Mrs. Tenny, Sybil Doyle), Kate Ayers (Mrs. Chapman, Mrs. Ramsey), Drew Doyle (Mr. Smith, Mr. Haslet), Rodman Bolek (Dr. Brown, Mr. Dole), Robert McConkey (Judge, Dr, Knott), and Andrea Weston-Smart (Mrs. Stockton, Libby).
Tickets for the May 2, 2019 performance at 7:30pm are $10.00 for non TLT Members, and FREE for those who are members. Tickets may be purchased online at www.tacomalittletheatre.com, or by calling our Box Office at (253) 272-2281.
TLT's OFF THE SHELF
We know that there is a tremendous amount of wonderful theatre that deserves to be heard but sometimes just doesn't get an opportunity. With "Off the Shelf", local directors and actors will be bringing some scripts to life that we hope you will find entertaining, challenging and educational to our stage. We hope that you'll sit back and enjoy an evening of theatre. You never know, you might see one of these shows on our mainstage in the future.