Rebel Kat Productions presents CORIOLANUS: Fight Like A Bitch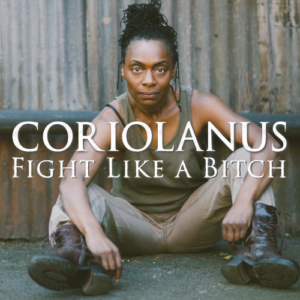 To live like a legend... sometimes you have to fight like a bitch. The country is at war, and the Senate cannot keep the peace within its own walls--- let alone on the battlefield. Enter Coriolanus: the country's most famous badass warrior. She returns home to face the greatest battle yet: to win the love of the people & run for office--- or face the dangerous consequences of defying society's expectations.
CORIOLANUS, the rarely produced play about politics, power, and pride, is packed with daring physical combat and deliciously vicious language, and a top notch all-female cast drives this contemporary adaptation of Shakespeare's dramatic thriller. Featuring Seattle Times' Footlight award-winning British actress, Nike Imoru (Z NATION), as Coriolanus and Wendy Robie (TWIN PEAKS), as her powerful mother, Volumnia. Directed and Fight Choreographed by Emily Penick (acclaimed director of Romeo & Juliet & WORSE THAN TIGERS). With stunning scenic elements by Sound Designer/Composer: Sharath Patel (THE ROYALE, ACT Theatre), Set Designer: Julia Welch (BARBECUE, Intiman Theatre), and Costume Designer: K.D. Schill.
Rebel Kat Productions & the Perseverance Project: Founded by Executive Producer, Rebecca Petriello, Rebel Kat Productions is dedicated to providing financial support to artists with innovative, socially relevant theatre and film projects of artistic excellence, whose vision supports and/or empowers women, persons of color, and members of the LGBTQ community. Lead Producer, Colleen Carey, helms the Perseverance Project - a production entity created to make the performing arts accessible and affordable to financially disadvantaged youth audiences who wish to pursue careers in the arts.
Nike Imoru: Coriolanus Nike Imoru's international acting credits range from The Royal National Theatre Studios in London to the Getty Museum in LA, from BBC Radio 4 to Public Radio; from her seminal one-woman performance of MEDEA in Delphi, Greece; to her recent critically-acclaimed dance theatre ODE: A STAGE SONG. Prior to that she played Warwick in Upstart Crow's HENRY VI (part 1 & 2). She received the Seattle Times Footlight Award for her role as Aaron The Moor in Upstart Crow's TITUS ANDRONICUS. Nike has an array of credits in the entertainment industry covering thirty years and twenty-one countries. As a casting director, she has cast a multitude of films, commercials and theatre in the PNW. She has cast 4 seasons of SyFy Channel's Z NATION and is a member of the CSA. "I LOVE characters who are driven, relentlessly, by a vision and a passion that only they can understand; making them appear 'alien' in the world or epoch in which they live; I love characters who appear to act recklessly and are therefore misunderstood, misrepresented, misinterpreted". -NIKE IMORU
Wendy Robie: Volumnia (Coriolanus' Mother) Wendy Robie is currently appearing on the small screen in David Lynch's TWIN PEAKS: THE RETURN on Showtime, reprising her role as "Nadine Hurley." Regional Stage credits include DANGEROUS LIAISONS (ACT Theatre) CYRANO DE BERGERAC, PRIVATE LIVES, RICHARD III, HAMLET, and HECUBA (Chicago Shakespeare Theatre); MOTHER COURAGE AND HER CHILDREN (Steppenwolf Theatre) and the role of Andromache in an adaptation of Seneca's TROJAN WOMEN. Film credits include Wes Craven's THE PEOPLE UNDER THE STAIRS, VAMPIRE IN BROOKLYN, and THE ATTIC EXPEDITIONS. Robie received the Chicago After Dark Award for Outstanding Season for 2005.
Emily Penick: Director/Choreographer Emily Penick has received acclaim for her work in theaters both nationally and internationally. Regional directing credits include: WORSE THAN TIGERS - World Premiere (RED STAGE, ACTLab), Gregory Award winning Romeo & Juliet (Seattle Immersive Theatre) and PILGRIMS (Forward Flux Productions). This winter, Emily will direct A CHRISTMAS CAROL at (ACT Theatre. Regional choreography credits include: UMO Ensemble's RESISTANCE CABARET, A CHRISTMAS CAROL (ACT Theatre), SLAUGHTERHOUSE FIVE (Book-It Repertory) and DON NORDO DEL NORTHWEST (Cafe Nordo). Emily is the Literary & Artistic Manager at ACT Theatre and the founding Artistic Director of RED STAGE. "I'm fascinated by women in power and by the pressures they experience. As her country's most celebrated military leader, Coriolanus is an unwilling celebrity who is much more comfortable in a war zone than in the Senate." -EMILY PENICK
LINKS: http://coriolanusfightlikeab.bpt.me, facebook.com/RebelKatProductions, twitter.com/SEACoriolanus