Photos: First Look at ROCK OF AGES at Tacoma Little Theatre
ROCK OF AGES will run Friday, March 3, through Sunday, March 23, 2023.
Tacoma Little Theatre and The University of Washington-Tacoma Theatre Department will present the hit musical ROCK OF AGES. This production is directed by Maria-Tania Bandes B. Weingarden, musically directed by Kim Davenport, and choreographed by Ashley Roy.
Check out photos of the production below!
Aqua Net, Lycra, lace, and liquor flow freely at one of the Sunset Strips last legendary venues in the 1980s. A place where sex machine Stacee Jaxx takes the stage and scantily clad groupies line up to turn their fantasies into reality. Amidst the madness, aspiring rock star (and resident toilet cleaner) Drew longs to take the stage as the next big thing (and longs for Sherri, fresh off the bus from Kansas with stars in her eyes). But the fairy-tale is about to end when German developers sweep into town with plans to turn the fabled Strip into just another capitalist strip mall. Can Drew, Sherri, and the gang save the strip, and themselves, before it's too late? Only the music of hit bands Styx, Journey, Bon Jovi, Whitesnake, and more hold the answer.
Tacoma Little Theatre's production of ROCK OF AGES features Keala Milles as Lonny Barnett, Rafe Wadleigh as Dennis Dupree, Michelle Weingarden-Bandes as Justice Charlier, Vinny Contini as Drew Boley, Annelise Martin as Sherrie Christian, Mari Roy as Regina, Eric Strachan as Hertz Klinemann, Camren Bleiler as Franz Klinemann, Ryan Coleman as Stacee Jaxx, Asante Hayes DJ/Ensemble, Wade Hicks as Mayor/Ensemble, Trevor Owens as Ja'Keith/Ensemble, Andrew Taula Father/Ensemble, Christine Dove as Mother/Ensemble, Erin R. Johnson as Constance/Ensemble, Julia Wyman as Waitress/Ensemble, with Bailey Christie, Davey Magno, Haunz Stroschein, Madison Bleiler, Kristina Dustan, Kyleigh Medard, Kelsey Monahan, Keri Peredo Panlasigui, Molly Quinn, and Elisabeth Tena as Ensemble.
ROCK OF AGES will run Friday, March 3, through Sunday, March 23, 2023, for a total of 13 performances. Friday and Saturday showings are at 7:30pm and Sundays at 2:00pm.
The performance on Sunday, March 26, 2023, at 2:00pm will be an ASL interpreted performance.
Tickets are $29.00 (Adults), $27.00 (Seniors 60+/Students/Military), and $22.00 (Children 12 and under). Tickets may be purchased online at www.tacomalittletheatre.com, or by calling our Box Office at (253) 272-2281. Group rates are available for 10 or more, and special FLEX passes for 6 are only $145.00. TLT strongly recommends, but does not require, that patrons wear masks and are vaccinated.
There will be a special "Pay What You Can" performance on Thursday, March 16, 2023 at 7:30pm. Tickets for that performance are available now online, in person, or over the phone.
ROCK OF AGES is recommended for all 12 and over.
Photo Credit: Dennis K Photography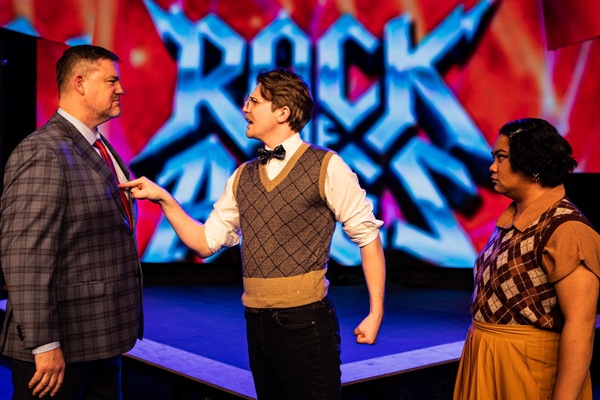 Eric Strachan, Camren Bleiler, and Mari Roy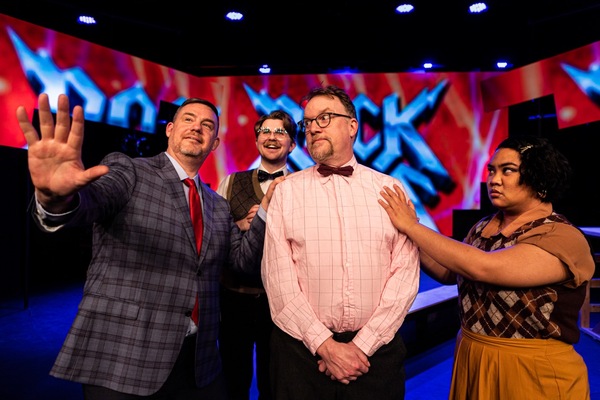 Eric Strachan, Camren Bleiler, Wade Hicks, and Mari Roy

Ryan Coleman and the Rock of Ages ensemble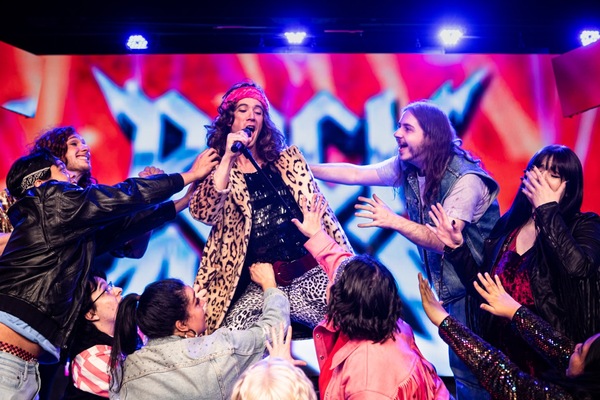 Ryan Coleman and the Rock of Ages ensemble

Ryan Coleman

Vinny Contini & Annelise Martin

Vinny Contini & Annelise Martin

Rafe Wadleigh & Keala Milles

Rafe Wadleigh and Keala Milles