Photo Flash: 'Zanna, Don't!' in Seattle
Due to scheduling conflicts with the previous theatre, the Northwest premiere of ZANNA, DON'T! will now be performing at Seattle Repertory Theatre's PONCHO Forum opening June 27 with a run through July 6. ZANNA runs Wednesday-Monday at 8pm. Tickets purchased for performances June 19-26 and all late night shows may be exchanged for any remaining performance.
ZANNA, DON'T! is a hip musical fairy tale about a matchmaking teen who turns relationships upside down, challenges our point of view, and changes the world forever. In a world where it's normal to be gay and taboo to be straight, Kate and Steve fall in love and it's up to Zanna, the local love fairy, to search for the right spell to make the world safe for the two lovers. But Zanna's spell has a bigger impact than he planned. Is this new world really what he wanted? With a little magic and a fresh pop score, ZANNA celebrates the discovery of love in a world of adversity. ZANNA, DON'T! played Off-Broadway in 2003 and received four Drama Desk Award nominations for Best Musical, Best Book, Best Music and Best Lyrics.The cast includes some of Seattle's best young talent. Leading the cast as the effervescent title character is
Casey Craig
, most recently seen as Baby John in 5th Avenue Theatre's West Side Story. As the distressed lovers,
Sarah Davis
has appeared locally in Village Theatre's Terezin and Piece, and Bill Williams has appeared in Seattle Shakespeare Company's Comedy of Errors and Romeo & Juliet. Cornish grads Don Darryl Rivera (Reefer Madness, SCT's High School Musical), and Diana Huey (5th Avenue's Mame) are also in the cast as well as Arthur Allen (Taproot's Joseph…), Lindsey Hedberg, and Mackenzie Miller.The production team includes Contemporary Classics' artistic director
Brandon Ivie
(A New Brain) as director/choreographer, Mark Rabe (Seattle Children's Theatre's High School Musical and Busytown) as music director, Harmony Arnold (Seattle Rep's My Name is Rachel Corrie) as costume designer, Washington Ensemble Theatre company member Robert J. Aguilar (Crumbs are also Bread, Mr. Marmalade) as lighting designer, recent UW MFA grad Andrea Bush (Seattle Musical Theatre's Annie Get Your Gun) as set designer, and E Sara Barnes (Mr. Marmalade) as stage manager. The production runs Wednesday-Monday at 8pm. Tickets are $20 general admission.Founded in 2003, CONTEMPORARY CLASSICS got its start fundraising through concerts and cabarets. Since producing their first Seattle premiere in 2005 (
Andrew Lippa
's john & jen) they have produced
Jason Robert Brown
's The Last Five Years and
William Finn
's A New Brain, four editions of the popular New Voices songwriter showcase series and The Songs of
David A. Austin
, featuring songs from the author's upcoming Broadway debut, Writing Arthur. The company is currently in the midst of planning their 2008-2009 season of Seattle premieres.

Clockwise from L: Sarah Davis, Mackenzie Miller, Casey Craig, Bill Williams, Arthur Allen, Diana Huey, Don Darryl Rivera

L to R from top: Diana Huey, Sarah Davis, Arthur Allen, Don Darryl Rivera, Mackenzie Miller, Casey Craig, Bill Williams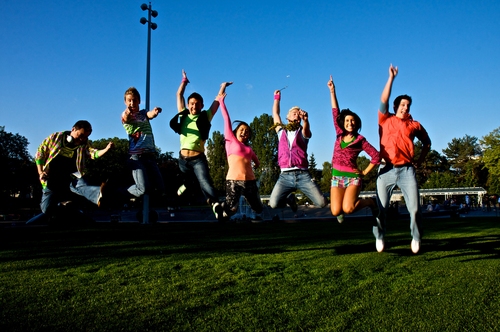 From L to R: Don Darryl Rivera, Mackenzie Miller, Arthur Allen, Diana Huey, Casey Craig, Sarah Davis, Bill Williams

From L to R: Bill Williams, Sarah Davis, Casey Craig, Arthur Allen, Diana Huey, Mackenzie Miller, Don Darryl Rivera

From L to R: Sarah Davis, Don Darryl Rivera, Mackenzie Miller, Casey Craig, Bill Williams, Diana Huey, Arthur Allen
Photos by Mike Jeppeson.