Photo Flash: Tacoma Little Theatre presents CHILDREN OF A LESSER GOD
Tacoma Little Theatre presents the powerful award-winning drama, Children of a Lesser God, directed by Rick Hornor.
After three years in the Peace Corps, James, a young speech therapist, joins the faculty of a school for the deaf, where he is to teach lip-reading. He meets Sarah, a school dropout, totally deaf from birth, and estranged both from the world of hearing and from those who would compromise to enter that world. Fluent in sign language, James tries, with little success, to help Sarah, but gradually the two fall in love and marry. At first their relationship is a happy and glowing one, as the gulf of silence between them seems to be bridged by their desire to understand each other's needs and feelings, but discord soon develops as Sarah becomes militant for the rights of the deaf and rejects any hint that she is being patronized and pitied.
This production stars Jeremy Lynch (James), Michelle Mary Schaefer (Sarah), Madonna Hanna (Edna), Kristen Moriarty (Mrs. Norman), Kai Winchester (Orin), Kerry Bringman (Franklin), and Stephanie Russell (Lydia).
Children of a Lesser God Musical will run Friday, January 19, through Sunday, February 4, 2018. Friday and Saturday showings are at 7:30pm and Sundays at 2:00pm. Children of a Lesser God is recommended for ages 12 and up. Select performances will feature ASL interpreters; exact dates will be posted on the TLT website.
Tickets are $24.00 (Adults). $22.00 (Seniors 60+/Students/Military), and $20.00 (Children 12 and under). Tickets may be purchased online at www.tacomalittletheatre.com, or by calling our Box Office at (253) 272-2281. Group rates are available for 10 or more, and special FLEX passes for 6 are only $130.00.
There will be a special "Pay What You Can" performance on Thursday, February 1, 2018. Tickets for that performance will be available beginning Wednesday, January 25, 2018 in person or over the phone.
Photo credit: Dennis K Photography


Kerry Bringman and Jeremy Lynch

Madonna Hanna and Jeremy Lynch

Jeremy Lynch and Kai Winchester

Kristen Moriarty, Jeremy Lynch, and Michelle Mary Schaeffer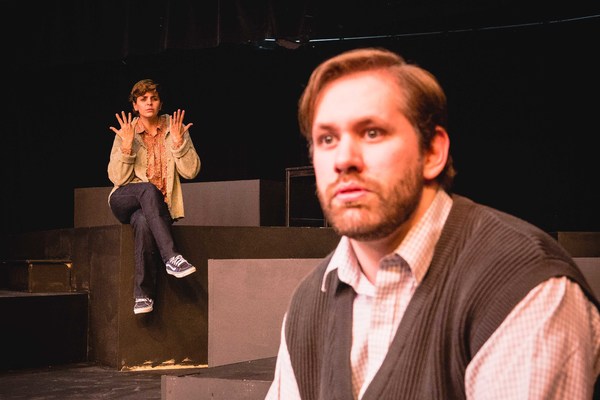 Michelle Mary Schaeffer and Jeremy Lynch

Jeremy Lynch and Michelle Mary Schaeffer

Jeremy Lynch and Michelle Mary Schaeffer