Photos: ROCK OF AGES Rocks 5th Avenue Theatre!
BroadwayWorld has a first look at The 5th Avenue Theatre's new production of Rock of Ages. Rock of Ages is the '80s rock ballad blast that features the music of Styx, Joan Jett, Twisted Sister, and more. With Mickey Thomas as lead vocalist, Starship produced hits including "We Built This City" (which appears in the production), "Nothing's Gonna Stop Us Now," and "Sara."
The 5th's production will feature the previously announced Diana Huey as Sherrie, Galen Disston of Seattle band Pickwick as Drew, and an incomparable group of nationally recognized musicians and Seattle-based actors. Making their 5th Avenue Theatredebuts are Felicia Loud of Seattle performance group Black Stax as Justice/Mother, and Sara Porkalob, the Gregory Award-winning artist activist, as Regina. Returning to The 5th are Brandon O'Neill (The Hunchback of Notre Dame, Carousel, The Pirates of Penzance) as Stacee Jaxx/Father, Nick DeSantis (Sunday in the Park With George, ELF, The Music Man) as Hertz, Dane Stokinger (Annie, The Hunchback of Notre Dame, A Christmas Story) as Lonny, and Nik Hagen (Mamma Mia!, Irving Berlin's Holiday Inn, How to Succeed in Business Without Really Trying) as Franz.
"We are thrilled with the wide range of experience this cast brings to the table," said 5th Avenue Theatre Producing Artistic Director Bill Berry. "It's an eclectic and immensely talented group of some of the best performers and musicians in Seattle and beyond, that will give audiences a chance to see this musical-meets-rock-concert like it's never been done before."
Playing February 1 - 24, 2019, single tickets for Rock of Ages are on sale now and subscriptions are still available online at www.5thavenue.org, by phone at 206.625.1900, or in person at the Box Office at 1308 5th Avenue in Downtown Seattle. Stage side VIP table seating will be available for sale starting on January 11 at 10:00am by calling 206.625.1900
Wonderfully funny, occasionally zany, and riddled with scorching songs, Rock of Ages is an unforgettable, indestructible experience that spent six years on Broadway as well as sold out productions around the world. Rock of Ages is the story of a small town girl and a city boy, who meet on the Sunset Strip while pursuing their Hollywood dreams. Their rock 'n' roll romance is told through the heart-pounding hits of Styx, Whitesnake, Poison, Foreigner, Joan Jett, REO Speedwagon, Pat Benatar, Twisted Sister and more. Lisa Shriver, the acclaimed choreographer known for her work on Broadway in Jesus Christ Superstar, The Story of My Life, and Ring of Fire, among others, makes her 5th Avenue Theatre debut to direct and choreograph.
Photo Credit: Tracy Martin

The cast of Rock of Ages

Sara Porkalob and Nik Hagen

Mickey Thomas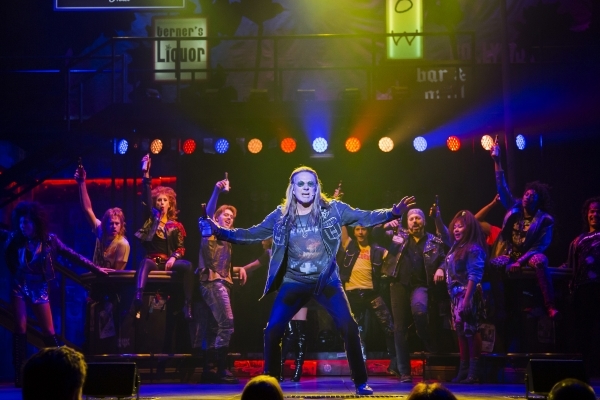 Mickey Thomas and the cast of Rock of Ages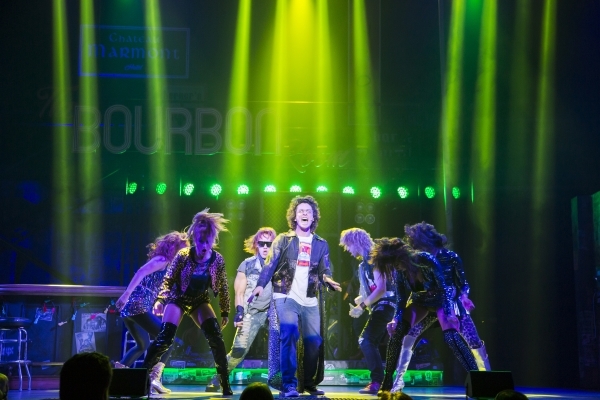 Galen Disston

Felicia Loud

Diana Huey

Diana Huey and Galen Disston

Dane Stokinger and the cast of Rock of Ages

Dane Stokinger (top center) as Lonny and the band (Justin S. Davis, RL Heyer, Andy Stoller)

BranDon O'Neill and Diana Huey