Mikko Juan And Sarah Rose Davis To Lead The Cast Of URINETOWN At 5th Avenue Theatre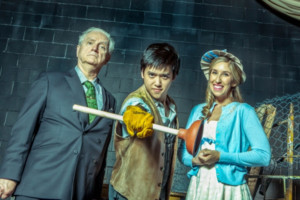 The cast for Urinetown, this season's co-production between The 5th Avenue Theatre and ACT - A Contemporary Theatre, has been announced.
Leading the cast is Mikko Juan (The 5th: Paint Your Wagon; ArtsWest: Peter and the Starcatcher) as Bobby Strong, 5th Avenue Theatre favorite Sarah Rose Davis (The 5th: Irving Berlin's Holiday Inn, How to Succeed in Business Without Really Trying) as Hope Cladwell, ACT's Artistic Director Emeritus Kurt Beattie as Caldwell B Cladwell, 5th Avenue Theatre favorite and ACT Core Company member Brandon O'Neill (The 5th: Rock of Ages, The Hunchback of Notre Dame; ACT: Oslo) as Officer Lockstock, Arika Matoba (Village Theatre: Into the Woods; The 5th's Adventure Musical Theatre: Rosie the Riveter) as Little Sally, and Mari Nelson (Village Theatre: Into the Woods, Billy Elliott; upstart crow collective: Bring Down the House) as Penelope Pennywise. Additional casting features Matthew Posner as Officer Barrel, Leslie Law as Josephine Strong, Brian Lange as Old Man Strong/Hot Blades Harry, Chris Ensweiler as Senator Fipp, Nathaniel Tenenbaum as Mr. McQueen, and an ensemble that includes Andi Alhadeff and Sarah Russell. The 5th Avenue Theatre's Producing Artistic Director Bill Berry will direct this outrageous and unforgettable piece of theatrical satire that's about what happens when the tangle between capitalism and politics gets too complex to unwind.
Playing April 6 - May 26, 2019 (press opening Thursday, April 11) at ACT - A Contemporary Theatre, single tickets for Urinetown are on sale now. They can be purchased online at www.acttheatre.org, by phone at 206.292.1900, or in person at the ACT Box Office at 700 Union Street in Downtown Seattle.
This hilarious multi-Tony Award nominee is an outrageous satire set in a fictional future where a terrible 20-year drought has crippled the city's water supplies. The citizens must now use the public pay-per-use amenities owned and operated by Urine Good Company. Citizens who try to circumvent the peeing fee by relieving themselves in the bushes risk being taken away to "Urinetown," a mysterious place where many have been sent but no one ever returns. With fee increases in the pipeline, the poor rise up to fight the tyrannical to make the public amenities free for all to use. Urinetown is a hilarious tale of greed, corruption, love, and revolution.