Mickey Thomas Of Starship To Star In New Production Of ROCK OF AGES At The 5th Avenue Theatre; Full Casting Announced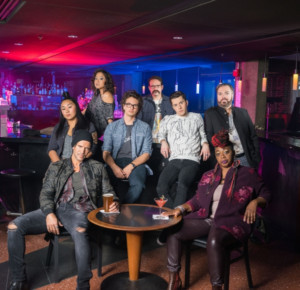 The 5th Avenue Theatre has announced that Mickey Thomas, the lead singer of Starship (formerly Jefferson Starship), will star as Dennis in its sensational new production of Rock of Ages. Rock of Ages is the '80s rock ballad blast that features the music of Styx, Joan Jett, Twisted Sister, and more. With Mickey Thomas as lead vocalist, Starship produced hits including "We Built This City" (which appears in the production), "Nothing's Gonna Stop Us Now," and "Sara."
The 5th's production will feature the previously announced Diana Huey as Sherrie, Galen Disston of Seattle band Pickwick as Drew, and an incomparable group of nationally recognized musicians and Seattle-based actors. Making their 5th Avenue Theatre debuts are Felicia Loud of Seattle performance group Black Stax as Justice/Mother, and Sara Porkalob, the Gregory Award-winning artist activist, as Regina. Returning to The 5th are Brandon O'Neill (The Hunchback of Notre Dame, Carousel, The Pirates of Penzance) as Stacee Jaxx/Father, Nick DeSantis (Sunday in the Park With George, ELF, The Music Man) as Hertz, Dane Stokinger (Annie, The Hunchback of Notre Dame, A Christmas Story) as Lonny, and Nik Hagen (Mamma Mia!, Irving Berlin's Holiday Inn, How to Succeed in Business Without Really Trying) as Franz.
"We are thrilled with the wide range of experience this cast brings to the table," said 5th Avenue Theatre Producing Artistic Director Bill Berry. "It's an eclectic and immensely talented group of some of the best performers and musicians in Seattle and beyond, that will give audiences a chance to see this musical-meets-rock-concert like it's never been done before."
Playing February 1 - 24, 2019 (press opening Friday, February 8), single tickets for Rock of Ages are on sale now and subscriptions are still available online at www.5thavenue.org, by phone at 206.625.1900, or in person at the Box Office at 1308 5th Avenue in Downtown Seattle. Stage side VIP table seating will be available for sale starting on January 11 at 10:00am by calling 206.625.1900
Wonderfully funny, occasionally zany, and riddled with scorching songs, Rock of Ages is an unforgettable, indestructible experience that spent six years on Broadway as well as sold out productions around the world. Rock of Ages is the story of a small town girl and a city boy, who meet on the Sunset Strip while pursuing their Hollywood dreams. Their rock 'n' roll romance is told through the heart-pounding hits of Styx, Whitesnake, Poison, Foreigner, Joan Jett, REO Speedwagon, Pat Benatar, Twisted Sister and more. Lisa Shriver, the acclaimed choreographer known for her work on Broadway in Jesus Christ Superstar, The Story of My Life, and Ring of Fire, among others, makes her 5th Avenue Theatre debut to direct and choreograph.
About the Cast
Mickey Thomas makes his 5th Avenue Theatre debut as Dennis. He is the owner of the soaring voice that propelled Starship through the decades of the '80s and '90s. With his soulful and compelling vocals, Thomas has established himself as one of rock music's most recognizable stars. Thomas made his mark in 1976 as lead vocalist on the mega-hit "Fooled Around and Fell In Love" with The Elvin Bishop Band. In 1979, Thomas joined Jefferson Starship as lead vocalist, after the departure of Grace Slick and Marty Balin. Backed by the power of Thomas's vocals, Jefferson Starship immediately scored a #1 hit with "Jane." With this new sound and powerful new vocals, the group was renamed Starship and continued to record an amazing string of hits including "No Way Out," "We Built This City," "Sara," and an Oscar nomination for the #1 hit "Nothing's Gonna Stop Us Now" from the movie Mannequin.
Diana Huey returns to The 5th Avenue Theatre as Sherrie. Her 5th Avenue Theatre credits include Disney's The Little Mermaid (Ariel, Gregory Award), Jasper in Deadland, RENT, Mame, and Adventure Musical Theatre. Regional credits include Miss Saigon (Helen Hayes Award), ELF (Jovie), Xanadu (Kira), Spring Awakening (Wendla), Avenue Q (Christmas Eve), and James and the Giant Peach (Spider, original cast).
Galen Disston makes his 5th Avenue Theatre debut as Drew. Rock of Ages also marks his theatrical debut. Disston is the lead singer of Seattle's own soulful rock 'n' roll band Pickwick. Pickwick gained national notoriety with their 2013 debut record Can't Talk Medicine. In 2017, Pickwick released their highly-anticipated follow up, Lovejoys.
Felicia Loud makes her debut at The 5th Avenue Theatre as Justice/Mother. Her credits include a nomination for her solo performance in Lady Day at Emerson's Bar and Grill (ArtsWest), Pullman Porter Blues (Seattle Repertory Theatre), and her solo piece Simply Me (Langston Hughes Performing Arts Institute). Music: Ill-Us-Trait Live Sessions coming March 2019.
Sara Porkalob makes her 5th Avenue Theatre debut as Regina. She is an award-winning artist activist and performs, directs, and writes for stages all over Seattle. In March, American Repertory Theatre will produce Dragon Lady and Dragon Mama, two plays in her family trilogy The Dragon Cycle. In July, Nordo's Culinarium will produce her new musical, 7th and Jackson, inspired by the rich history of Seattle's International District.
Brandon O'Neill returns to The 5th Avenue Theatre as Stacee Jaxx/Father. Select 5th Avenue Theatre credits include The Hunchback of Notre Dame, Carousel, Pirates of Penzance, RENT, Guys and Dolls, Candide, and Miss Saigon. He has performed on Broadway in Aladdin (Original Broadway Cast), A Bronx Tale (first replacement), and is the Voice of Cave of Wonders worldwide. Select regional credits include Oslo, Pride & Prejudice, A View from the Bridge, Assassins, Cat on a Hot Tin Roof, Beatsville, Beatrice and Benedict, Sondheim at the Pops, and Peter and the Starcatcher. O'Neill is in the 2018 ACT Theatre Core Company, and Uldren Sov in Bungie's Destiny.
Nick DeSantis returns to The 5th Avenue Theatre as Hertz. He has previously been seen onstage at The 5th in Sunday in the Park With George (Franz), ELF (Mr. Greenway), The Music Man, Cinderella, and Assassins (The Proprietor). Other favorite roles include Hairspray (Edna), Disney's Beauty and the Beast (Lumière), Les Misérables (Thenardier), and Christmas Martian #2 in Mrs. Pope's third grade pageant.
Dane Stokinger returns to The 5th Avenue Theatre as Lonny. At The 5th he has performed in Annie (Rooster), The Hunchback of Notre Dame (Clopin), Disney's The Little Mermaid (Chef Louis), A Christmas Story (Old Man), and Monty Python's Spamalot! (Lancelot). Other regional credits include Wizard of Oz (Tin Man) and Chitty Chitty Bang Bang (Caractacus Potts) at Seattle Children's Theatre, and The Full Monty (Jerry), Trails (Mike), and No Way to Treat a Lady (Morris Brummell) at Village Theatre.
Nik Hagen returns to The 5th as Franz. Previous 5th Avenue Theatre credits include Mamma Mia!, Holiday Inn, and How to Succeed in Business Without Really Trying. He has a BA in Theatre from Whitman College and has performed at Village Theatre, StageRIGHT, Can Can Cabaret, and will be returning to The 5th this summer in West Side Story.
The ensemble features Nicholas Japaul Bernard (Ja'Keith, Lonny Understudy), Kristin Burch (Regina Understudy), Sarah Rose Davis (Waitress, Sherrie Understudy), Eric Dobson (Drew Understudy), Lauren Du Pree (Justice Understudy), Jason Kappus (Joey Primo, Stacee Jaxx Understudy), Trina Mills, and Richard Peacock (Mayor, Hertz Understudy, Dennis Understudy).
About the Director and Choreographer
Lisa Shriver is thrilled to be making her 5th Avenue Theatre debut. Her Broadway credits include Jesus Christ Superstar, The Farnsworth Invention, The Story of My Life, and Ring of Fire. As an assistant choreographer she has worked on 11 Broadway productions including The Producers and Titanic. Off Broadway credits include Into the Woods (Fiasco Theatre/Roundabout, Lucille Lortel Nomination for Outstanding Choreography), Yellow Face (The Public Theatre), and Fetch Clay Make Man (NY Theatre Workshop). Regional (Stratford Shakespeare Festival): Caesar and Cleopatra, The Tempest (both w/Christopher Plummer), Grapes of Wrath, The Scottish Play, and Jesus Christ Superstar. Film: A Beautiful Mind, Hysterical Blindness, and A Christmas Carol w/Jim Carrey and directed by Robert Zemeckis. Assistant Choreographer: The Polar Express, Mixed Nuts w/Steve Martin, and Center Stage. TV: A Very Murray Christmas, directed by Sofia Coppola (starring Bill Murray), Broad City (season three finale), and The Detour. Other: Phish's New Year's Eve concert at Madison Square Garden, Busch Gardens, and Disney Cruise Line. She is grateful for the support of her agent, Max Grossman; her associate, Jesse Robb; and her family: Brian and Viola.
About the Music Director
Matt Perri makes his 5th Avenue Theatre debut with Rock of Ages. Perri is currently the Resident Music Supervisor for The 5th Avenue Theatre. He was recently the conductor for the Broadway musical Bandstand, including the film version. Other Broadway credits include Come From Away; Finding Neverland; Rodgers and Hammerstein's Cinderella; Scandalous; How to Succeed in Business Without Really Trying (2011); Promises, Promises (2010), Rock of Ages; White Christmas; and The Drowsy Chaperone. His Off-Broadway credits include Cagney, for which he also co-produced the original cast recording. Television credits include The Sound of Music Live and Peter Pan Live, both on NBC, Late Night with Jimmy Fallon, The Late Show with David Letterman, and The View. In concert, he has served as music director and performed with Bette Midler, Kristin Chenoweth, and Mario Cantone.
About the Band
The band for this production of Rock of Ages will play onstage. It will feature Andy Stoller of Heart (bass), RL Heyer (guitar), Justin S. Davis (guitar), and Mike Stone (drums).
About the Creative Team
Rock of Ages showcases scenic design by Matt Smucker, costume design by Cathy Meacham Hunt, lighting design by Elizabeth Harper, sound design co-designed by David Partridge and John Shivers, and hair and makeup design by Jason Goldsberry.
Additional staff includes Jesse Robb (associate director and choreographer), Tim Symons (associate music director and conductor), Michael Notestine (assistant costume designer), Chris Reay (assistant lighting designer), JR Welden (production stage manager), and Shellie Stone and Rachel Bury (assistant stage managers).