Billy And Howie Seago To Receive Gregory A. Falls Sustained Achievement Award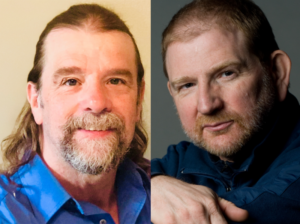 Theatre Puget Sound (TPS) and the Gregory Awards announce today that brothers Billy and Howie Seago will be recognized for their contributions to the Seattle theatre community.
Theatre Puget Sound's Executive Director Ariel Bradler states, "TPS is honored to have these two individuals as our Sustained Achievement Award recipients this year. Billy and Howie Seago have made considerable contributions to our regional and national arts communities. Their dedication to their craft and considerable talents are evident in their long list of accomplishments and acknowledgements. We are excited to honor both their immense talent and the work they have done as educators and advocates for and of the deaf community and culture."
They will be the 21st Recipients of the Gregory A. Falls Sustained Achievement Award at the 10th Annual Gregory Awards, taking place October 22nd, 2018 at McCaw Hall, hosted by Don Darryl Rivera.
About Billy Seago Billy Seago has acted in professional productions across the United States and Europe, including work with Speeltheater in Holland; Seattle Children's Theatre, Seattle Repertory Theatre; Stage One: Louisville, Kentucky; Fulton Opera House: Lancaster, Pennsylvania; the National Theatre of the Deaf; and Deaf Spotlight, Seattle, Washington.
Mr. Seago was a co-founder and director of the Deaf Youth Drama Program at Seattle Children's Theatre in Seattle, Washington. In that capacity, he has been artist-in-residence in dozens of Deaf and hard-of-hearing classrooms and has directed several productions at Seattle Children's Theatre.
He is the featured artist for Sign-A-Vision Institute's 'Stories in the Attic' series and the featured instructor in Sign Enhancer's 'The Bravo Family' ASL video course. He is a nationally renowned master storyteller and has conducted workshops in dramatics, storytelling, creative use of ASL, and Deaf culture and has worked extensively as an ASL Master/Sign Coach for staged production interpreters, regionally (Seattle Repertory, 5th Avenue, ACT, Paramount, Seattle Men's/Women's Chorus) and nationally, including the Oregon Shakespeare Festival.
He is in his 9th year of teaching American Sign Language and is currently teaching at Wilson High School in Tacoma, Washington. He takes joy and pride in being a father to 2 wonderful children, Ruby and Tucker, and loves recreational activities in the outdoors.
Howie's professional credits include acting, directing, producing, and teaching for over 40 years. His film appearances include WONDERSTRUCK, a Todd Haynes film starring Julianne Moore: BEYOND SILENCE, Oscar nomination-Best Foreign Film (Germany); GRISHA in post production. His television credits include STAR TREK: THE NEXT GENERATION, HUNTER, and THE EQUALIZER.
Howie has performed at the Kennedy Center in Washington, D.C., La Jolla Playhouse, Off Broadway, Intiman, Seattle Childrens Theatre, and international tours. He performed leading roles in Peter Sellars's productions of AJAX and THE PERSIANS and with the National Theatre of the Deaf. He worked with Robert Woodruff, Bill Rauch, Bart Sher, Robert Wilson, David Byrne, Phillip Seymour Hoffman, Stephen Adly Guirgis. He appeared in multiple roles in fourteen plays at the Oregon Shakespeare Festival over seven years. He received the Helen Hayes Award for Outstanding Actor; Dramalogue Award; and Joe Velez Memorial Award. He co-produced Rainbow's End, an Emmy award winning PBS television series. In Washington state, he founded: the Deaf Youth Drama Program at Seattle Children's Theatre; The Shared Reading Video Outreach Project, an award winning literacy program delivered to deaf children via videoconferencing; and the Deaf Teen Leadership camp.
He is featured in: ACTORS' LIVES - On and Off The American Stage (Theatre Communications Group); CHRONICLES OF COURAGE: Very Special Artists, Jean Kennedy Smith/George Plimpton (Random House); LIVING LEGENDS: Six Stories About Successful Deaf People (Butte Publications). His article, "In An Alien World of Sound" was published in Theaterschrift, an international theatre magazine.
About the Gregory A. Falls Sustained Achievement Award The Gregory Awards are named in honor of Gregory A. Falls, a former chair of the UW School of Drama, who is credited with creating Seattle's vibrant theater scene. Falls died unexpectedly of pneumonia at age 75 on April 3, 1997. More than any other individual, Falls was "most responsible for the theater boom in this town," said Arne Zaslove, former artistic director of the Bathhouse Theatre at Green Lake. "He was the impresario of bringing it all together." Falls founded one of Seattle's mainstays, ACT - A Contemporary Theatre, more than three decades ago. He was ACT's artistic director for 23 years until his retirement in 1987 due to early indications of Alzheimer's disease.
Previous winners include: Kurt Beattie, Rex Carleton, Timothy McCuen Piggee, R. Hamilton Wright, Joyce Degenfelder, and Kathy Hsieh.

About Theatre Puget Sound Theatre Puget Sound (TPS) is a leadership and service organization founded in 1997 to advocate for the region's growing theatre community's causes and administer much-needed services. TPS is now the Northwest's premiere arts advocacy and leadership organization. TPS provides programming and services that benefit both the theatre community and the larger regional arts community. Among the many resources available, TPS is responsible for producing the Gregory Awards and the Unified General auditions each year.

Related Articles View More Seattle

Stories

Shows
More Hot Stories For You