Bainbridge Symphony Orchestra to Open Season with Mozart and Sibelius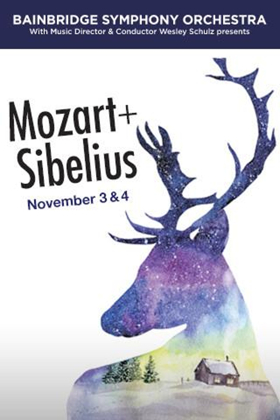 Join us for a fond farewell for Music Director Wesley Schulz! The first concerts of the Bainbridge Symphony Orchestra's 2017-2018 Season explore the music of Missy Mazzoli as well as Mozart and Sibelius, November 3 & 4: Friday at 7:30 p.m. & Saturday @ 3:00 p.m., with a Pre-Concert Chat on Saturday at 2:15 p.m.
Mazzoli was inspired to write River Rouge Transfiguration after visiting the city of Detroit in 2010 and learning about the River Rouge Plant. Mazzoli writes: "This is music about the transformation of grit and noise into something massive, resonant and unexpected. The 'grit' is again and again folded into string and brass chorales that collide with each other, collapse, and rise over and over again."
Oksana Ejokina (piano) will join the orchestra for a performance of Mozart's brilliant Piano Concerto No. 24 in C minor. On the second half of the program the orchestra enters the sonic world of Finnish composer, Jean Sibelius. En saga is one of his earliest tone poems and exhibits many hallmarks of his writing style, including growling brass and scurrying strings. The Finale of Sibelius' Symphony No. 2 will bring the program to a majestic and exhilarating end.
Music Director Wesley Schulz conducts the Bainbridge Symphony Orchestra for the last time this November after leading the orchestra for six seasons. Since the beginning of his tenure in 2011, Schulz has revitalized the Bainbridge Symphony Orchestra by smashing box office records, increasing fundraising, and breaking new ground by every possible artistic measure. Constantly in demand in the Pacific Northwest, Schulz has held conducting posts with the Seattle Symphony Orchestra, University of Puget Sound, Seattle Festival Orchestra, Everett Youth Symphony Orchestras, and Bainbridge Island Youth Orchestras, and he has guest conducted the Auburn Symphony, Juneau Symphony, Oregon East Symphony, and more. Schulz will debut this fall with the Venice Symphony Orchestra (FL) and the North Carolina Symphony as well as make return visits to the Austin, Seattle and Auburn Symphonies. Schulz is a graduate of Ball State University and the University of Texas at Austin.
Russian-born pianist Oksana Ezhokina appears frequently on concert series across the United States and abroad. She has soloed with the Seattle Symphony, Symphony Tacoma and St. Petersburg Philharmonic, and performed at numerous distinguished venues in the US. She has premiered works by Marilyn Shrude, Laura Kaminsky, Wayne Horvitz, Bern Herbolsheimer, and has been featured on multiple live radio broadcasts on WFMT-Chiciago, KUOW and KING FM in Seattle, and Maine Public Radio. Oksana is the pianist of the Volta Piano Trio, whose recordings for Con Brio label received accolades in The Strad, Gramophone, and American Record Guide. She is a sought-after teacher and currently serves as Chair of Piano Studies at PLU. Additionally, she is the Artistic Director of several flagship classical music programs at the Icicle Creek Center for the Arts.
Bainbridge Symphony Orchestra's opening concerts of the season are November 3 and 4, Friday at 7:30 p.m. and Saturday at 3:00 p.m. A pre-concert chat is offered on Saturday, June 4 at 2:15 p.m. Tickets, $21 for adults, and $18 for seniors, students, military, and teachers, may be purchased online at www.bainbridgeperformingarts.org, by phone at 206.842.8569 or in person at BPA, 200 Madison Avenue North, Bainbridge Island. Each youth receives free admission when accompanied by a paying adult thanks to the BSO's "Youth in Music Initiative" funded by Wicklund Dental. BPA Box Office hours are 1:00 to 4:00 p.m. Wednesday through Friday, and one hour prior to each performance.
Bainbridge Performing Arts extends special thanks to Media Sponsor Classical KING FM 98.1, Community Sponsor Carly's Rolling Bay Café, and "Youth in Music Initiative" Sponsor Wicklund Dental. BPA is supported, in part, by Bainbridge Community Foundation and One Call for All. Bainbridge Performing Arts is pleased to offer an "Open Doors" program. Free and reduced-cost tickets to most events are available to community members in need through our partner Helpline House thanks to grants from BCF, the Mabee Family Foundation, and the Alder Fund at the Bainbridge Community Foundation.
Find out more about BPA at www.bainbridgeperformingarts.org, or check us out on Facebook (www.facebook.com/BPAonline and www.facebook.com/BainbridgeSymphonyOrchestra), follow Bainbridge Performing Arts on LinkedIn (www.linkedin.com/company/bainbridge-performing-arts) and Twitter (@BPAPresents). Check online for the latest on theatre and symphony auditions, complete theatre school and adult class offerings, performance listings, tickets, promos, and more. Go to "About BPA" and click on "Get Our Newsletter" to receive electronic performance announcements and behind-the-scenes news.