BWW Review: Village's HAIRSPRAY is a Triple Threat of a Show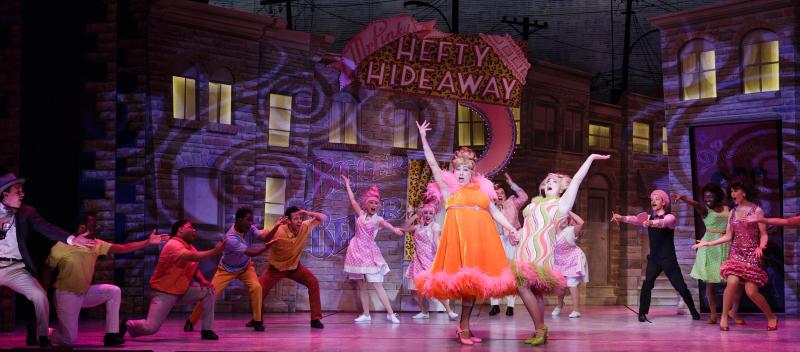 Once again, Dear Readers, we've ventured into the realm of one of my favorites. We recently had my all-time number one in town, but I'd have to say Marc Shaiman and Scott Wittman's "Hairspray", is certainly in the top five with its infectious and rousing score and incredible book from Mark O'Donnell and Thomas Meehan. I've seen countless productions including the original cast and even had the honor of being in the show. And now Village Theatre has thrown their wig in the ring with their own production and I have to say in some ways it surpasses all those others. With its Beat, Power, and Humor it's a true show triple threat.
The show is certainly not bulletproof as it's got many layers going on. We've got Tracy Turnblad (Callie Williams), a big girl in the 60's who loves nothing more than to dance and sing and dreams of one day being on the Corny Collins Show, the local teen dance show. But her Mother Edna (Nick DeSantis) tries to keep her feet on the ground while her Father Wilbur (Peter Crook) tells her to shoot for the stars. Well her big break comes, and she manages to get on the show alongside the dreamy Link Larkin (Ethan Carpenter) but her world is soon opened up wide when she learns how her new friend Seaweed (Charles Simmons) and the other black teens are segregated to one day a month on the show, "Negro Day", by the station manager Velma Von Tussle (Beth DeVries) and her daughter Amber (Tori Gresham). Can Tracy help integrate the show for her friends, win the guy, and keep her hair up?
Directors Steve Tompkins and Timothy McCuen Piggee think so. But we'll get to them. Let's start with the first threat, The Beat. Music Director R.J. Tancioco elicits a pitch perfect sound from the orchestra and this cast complete with some stunning vocal trills I've never heard in the show before many of which were supplied by the amazing Alexandra J. Henderson. Yes, I saw and heard you and you need to be noted. But then vocally everyone is on point here. Williams brings in Tracy lower vocally than I've heard before, but it works and gives her tons of sass. Carpenter is a totally swoon worthy Link. Becca Orts as Penny, Tracy awkward best friend, has a beautiful vocal build throughout letting it fly at the end. Simmons kills during his "Run and Tell That" number. Belle Pugh as Seaweed's little sister, Little Inez, only gets that one solo and makes everything out of it. And Shaunyce Omar puts it all out there behind her numbers making them tear the roof off. Add to that the fantastic choreography from Crystal Dawn Munkers with the best "I Can Hear the Bells" I've ever seen and the beat cannot be stopped.
The Power of the story, as crafted by Tomkins and Piggee is certainly there and still resonates with what's happening today. And the way they unfold it is brilliant as we begin with a lighthearted romp and segue into something much more serious without ever knowing we went there. Even amidst all the jokes and dances and songs we never once lose the import of what's happening.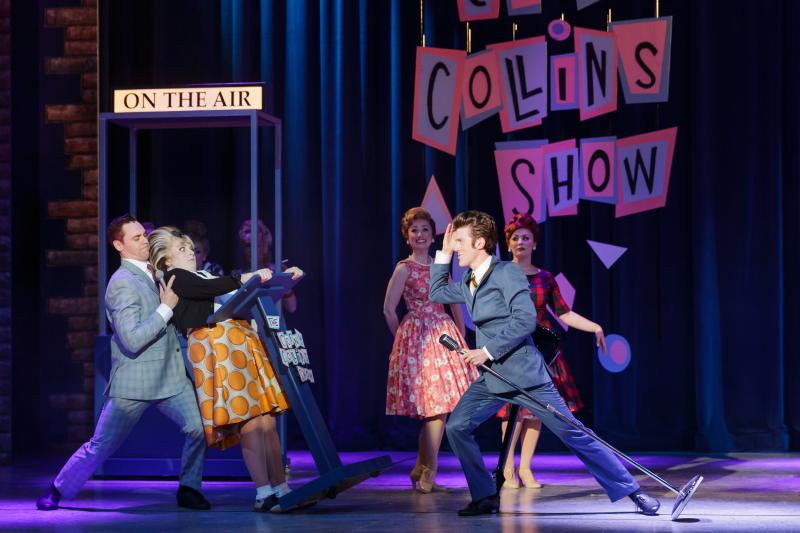 And speaking of the jokes, The Humor of the show has been amped up to 11. They've not changed it but introduced little bits of business or character choices that never distract but certainly level up the laughs. DeSantis and Crook as Tracy's crazy parents are equal parts sweet and insane (but in the best way) making them a delight. DeVries and Gresham take the Von Tussels to a place of snark beyond the usual "mean girl" making us love to hate them and the super expressive Jason Kappus as Corny Collins makes for an excellent foil for them both. Orts' awkward, repressed attraction to Seaweed literally shaking to the surface slayed. Williams and Carpenter play off each other's comedic timing beautifully and Williams repeatedly losing it during Carpenter's "It Takes Two" is worth the price of admission. And I have to mention the funny being brought in from Christine Riippi in multiple roles as she kept appearing to gleefully dole out the laughs like a kid in a candy store and then disappear.
If you have or have not seen a stage production of "Hairspray" then you don't want to let this one pass you by. Everything I already mentioned plus a fantastic set from Carey Wong, and of course stunning costumes from Alex Jaeger and they have a winner. And so, with my three-letter rating system, I give Village Theatre's production of "Hairspray" a Triple Threat of a YAY+. You can't stop this beat, and I wouldn't want to.
"Hairspray" from
Village Theatre
performs in Issaquah through July 1st and then moves over to their Everett location from July 6th through the 29th. For tickets or information contact the Issaquah box office at 425-392-2292 or the Everett box office at 425-257-8600 or visit them online at www.villagetheatre.org.
Related Articles View More Seattle

Stories

Shows
Born and raised in Seattle, WA, Jay has been a theater geek for years. He attends as many shows as he can around the country (read more...)