BWW Review: TWO MILE HOLLOW from Intiman Theatre
A raucous comedy that lacked coherence or subtlety.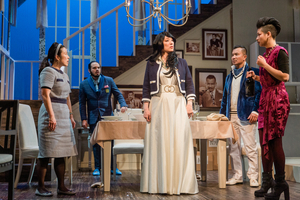 Dear Readers, if you too are sick of the dysfunctional white family play then you're not alone. Leah Nanako Winkler, author of "Two Mile Hollow", currently being offered from Intiman Theatre, has certainly had enough of them. So much so that she wrote her own version of one. And while I appreciate the dissection of the trope, her play as well as the Intiman production did so in such an incoherent, over the top, muddled way, that I failed to find it all that funny, just loud.
It's a fairly straight forward trope as The Donnellys, a wealthy white family, have journeyed to their home in the Hamptons for one last hurrah before the house is sold. The movie star father has died and now his wife Blythe (Naho Shioya) and the kids, the twice divorced Mary (Annie Yim), the insecure wanderer with multiple MFAs Joshua (M. Keala Milles, Jr.) and the TV star Christopher (Ray Tagavilla), along with Christopher's assistant Charlotte (MJ Daly), have gathered to divide things up, lay ghosts to rest and spill all the secrets.
It's been done many times but here, Winkler makes fun of the genre by picking them apart and casting with an all POC cast, in our case, all Asian American Pacific Islanders. And the central conceit of the show is that white people suck, a sentiment that's screamed at us in the final moments of the show. And yes, white people do suck, I just wish Winkler had found a more clever and clear way to share that sentiment. The show starts off with and continues with some severely heavy-handed expository dialog that takes bad writing to a whole new level. I assume it was on purpose, but I don't really find the repetition of it that funny. Then the show takes off at an 11 and stays there as the direction from Jesse Jou has the entire cast taking every moment so completely manic and over the top. Actors find new ways to say "no" for several minutes or flail on the ground over minor discrepancies so much that the humor got lost on me. To make matters worse, the show kept shifting gears to insane levels. One moment their manic and the next moment they're breaking into a musical number and then back to manic. Then in act two they suddenly decide to have introspective quiet moments, but the characters had done nothing in act one to earn those moments, so I found it difficult to care. And then right back to manic with some interpretive dance, reminiscent of "Grey Gardens" thrown in for good measure. The piece is so all over the place that I felt the message, if there was one, got lost as the show didn't know what it wanted to be.
The cast seems to have taken to this direction well and had a few funny moments for me. Especially Tagavilla who manages a brilliant narcissistic man-child and can convey oodles of hilarity with a simple side glance. Daly, as the lone Asian character in the piece, also managed the crazy fairly well, although I question why the one POC character would fall into the manic trap. Wouldn't they be the voice of reason? Either way, they also have a killer singing voice. I actually wanted more of the musical. And Yim has a quite funny scene with a bowl of bread that I identified with a little too much.
The remaining cast I didn't gravitate toward as much as both Milles and Shioya had some enunciation and timing problems that threw me off. Not all the time but enough that I kept missing the punchlines they were trying to deliver.
All told I found this to be a train of chaos that blows past the station of clever comedy and rams right into the wall of "louder, faster, funnier". And so, with my three-letter rating system I give Intiman Theatre's production of "Two Mile Hollow" a disappointed MEH-. Sure, dissect the tropes to show how overplayed they are. But do it in a fresh and witty way and not just loud.
"Two Mile Hollow" from Intiman Theatre performs at the Broadway Performance Hall through May 14th. For tickets or information visit them online at www.intiman.org.