BWW Review: SELLING KABUL at The Seattle Rep
A slow burn of an intense, culled from reality, tale.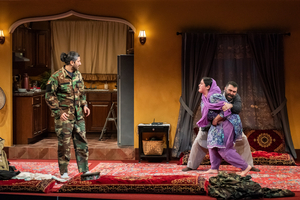 The lies we tell ourselves and each other, Dear Readers, and the information we choose to divulge and that which we choose to keep to ourselves, those choices are at the heart of "Selling Kabul", the current show playing at the Seattle Rep. But those choices of what to disseminate also make the structure of the play how amazing it is, as playwright Sylvia Khoury manages an intense evening that sneaks up on you and before you know it has ahold of your heart.
The choices within the story are made by Taroon, Afiya, Jawid, and Layla (Yousof Sultani, Susaan Jamshidi, Barzin Akhavan, and Fatima Wardak), the four lone and horrifyingly isolated characters in the piece. Taroon has spent the last several years as a translator for the Americans in Afghanistan. But now that the Americans have left, Taroon is left as a fugitive from the Taliban, desperately trying to contact anyone in the US who can help him get his family a visa and to safety. While he waits for the email that may never come, he also awaits news on the birth of his first child. He's in hiding in the home of his sister Afiya and her husband Jawid. A dangerous situation to say the least as any amount of noise or indication he's there could put them all at risk. And to make matters worse, Leyla, the next door neighbor and friend to Afiya keeps coming by. But no one can know Taroon is there, not even friends. But Taroon is growing impatient, doubly so now that his son has been born and he's determined to leave the apartment and see his wife and child.
Khoury creates a deceptively banal, almost commonplace world at the start especially as no words are spoken for several minutes. But even so you can feel the tension of something wrong. Even once the dialog starts flowing, the information contained is doled out in a meticulously slow and thoughtful fashion creating a deliciously layered story. As each layer is pulled away, the tensions rise and rise to a boiling point and even then, it's not all revealed. But by the time the show is at full boil it's less about the secrets still in play and more about the choices we make to protect the ones we love. And that, is the crux of this completely heart wrenching play.
Director Valerie Curtis-Newton beautifully allows that intensity to trickle over us, so we don't even know it's there like a knife ever so slowly inching its way into our hearts. Aided in no small part by the seemingly simplistic lighting and sound design from Geoff Korf and D.R. Amromin as they continuously remind us of the potentially life threatening fifth character looming outside the apartment. Even something as simple as a light turning on in the building across the way managed to amp up the already insane levels of anxiety.
This fantastic ensemble manages a stunning portrayal with not a weak link in the group. Sultani brings in a stunningly heartfelt character desperate to get to his family and we fall in love with him right from the top. And speaking of desperation, Wardak brings in a complex and utterly engaging character as her own desperation mounts and her final moments will leave you gasping. And Jamshidi and Akhavan give us a stirring portrayal of the only people with all the information and frantically trying to keep all the lies from leaking out. In another show they'd be keeping the farcical nature going as they attempt to juggle all the lies but here that farce is more deadly than humorous and the two of them manage it with complete commitment and solemnity.
What seems like a simple story becomes so much more especially when grounded in the all too real situation. And so, with my three-letter rating system, I give "Selling Kabul" at the Seattle Rep a well earned YAY. Just go see it.
"Selling Kabul" performs at the Seattle Rep through May 22nd. For tickets or information visit them online at www.seattlerep.org.