BWW Review: Can Can's Sexy European Cabaret BONBON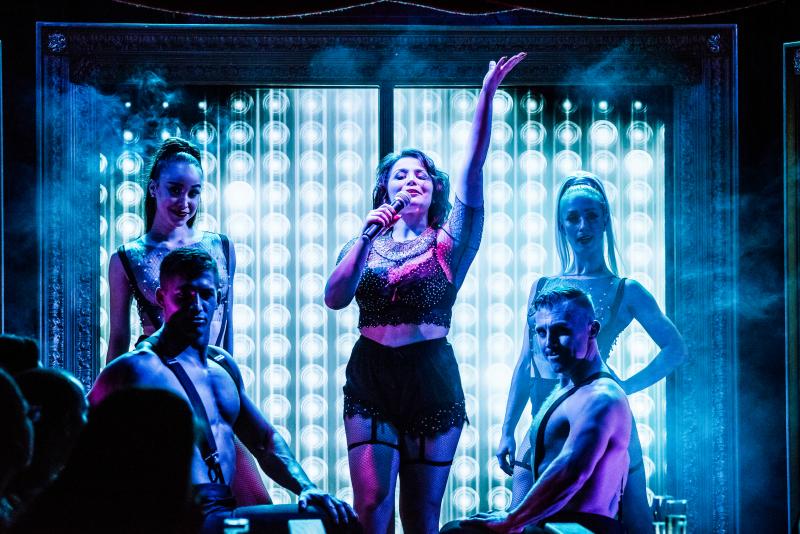 Dear Readers, if you deem to venture into the sultry world of Can Can's newest show, "Bonbon", you may walk away with several feelings. First, you'll probably have a need to hit the gym more because, well, damn! Second, there's the impetus to slink and sashay down the street afterward humming a sexy torch song (and since you may have had a few drinks while there, this may actually happen). And finally, you may come to the strange realization that you've never wanted to be a suspender or garter (or possibly both) so much in your entire life. But whichever of those feelings you let overtake you, what you will have is a kick ass evening filled with song, dance, and enough finely toned skin to give the peep show across the street a run for its money. But, of course, all in the best of taste.
You're greeted by their ever present, vibrant host Johnny (Jonathan Betchtel) who works a crowd and a G-string like nobody's business. Johnny would be the perfect emcee for your wedding except that you'd be afraid he'd run off with the Bride ... or the Groom ... or both! He somehow manages to have an air of innocence and a devilish twinkle in his eye all at the same time. A deadly combo.
And then he introduces the delicious chanteuse, Bonbon (Jasmine Sim in her first appearance at Can Can) who opens the show by "Bringing on the Men" (well men and women). Sim is who the term "buxom beauty" was made for. Think Mae West for the modern age. With killer pipes, this curvaceous siren can bend any torch song to her will. I've seen Sim in many shows around town and she's played the temptress in a few but here she looks as though she's having a blast being able to let it all go.
But lest you think all the singing is coming from Sim, there's also Jordan Taylor. How can I describe Taylor? Great voice, sure, and of course amazing moves. But also, well, you know those marble statues of Greek Gods? Well take the hunkiest one of those, bring it to life, give him deeply tanned skin, soulful eyes and a killer smile, and then put him on stage in next to nothing where he delights in teasing the audience with his bouncing pecs and you'll have Taylor. And Jordan, in response to your musical query, no one would walk right by you and never even know you're there.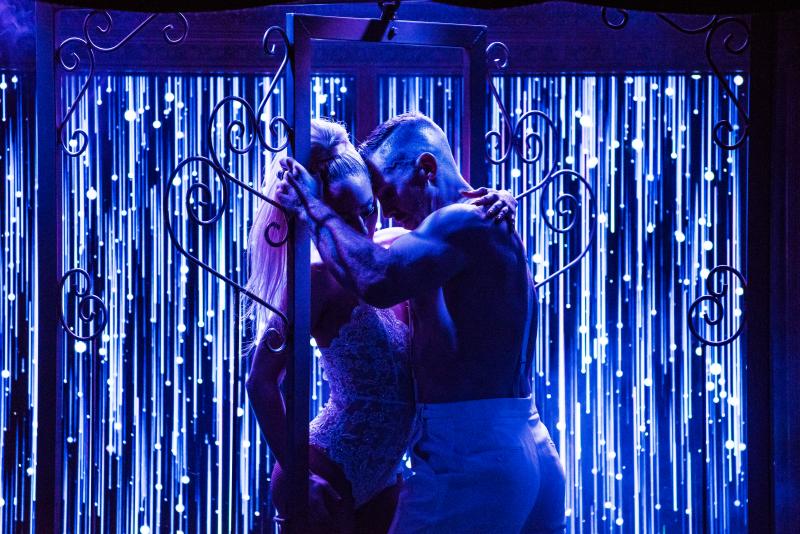 And of course, I must mention Shadou Mintrone and Madison Oliver, two of the most limber, and delightfully sexy dancers ever. They leap and swing about the entire Can Can space contorting their lithe bodies into shapes that modern science hasn't figured out yet. Oliver with her incredible fan dance will blow you away (see what I did there?). And Mintrone wowed with her oh so sensual spinning door dance with Johnny and will leave you breathless. I think it may have left me pregnant.
And all that's just a taste of what's in store for you as they've captured the perfect tone of a risqué burlesque cabaret without ever becoming seedy. With incredible choreography from Fae Phalen Pink and stunning scenic projections from TJ Davis on their brand spankin' new 4K UltraHD LED video walls the show goes into the realm of spectacle. Artistic director Chris Pink has yet another hit on his hands and just in time for Valentine's Day (and believe me, this would make one hell of a V-Day date). And so, with my three-letter rating system, I give Can Can's "Bonbon" an erotically ecstatic YAY. Now if you'll excuse me, I have to get back to wishing that I were a suspender or garter at the Can Can.
"Bonbon" performs at the Can Can through April 21st. For tickets or information visit them online at www.thecancan.com.
Related Articles View More Seattle

Stories

Shows
Born and raised in Seattle, WA, Jay has been a theater geek for years. He attends as many shows as he can around the country (read more...)