BWW Review: ACT and 5th Ave's RIDE THE CYCLONE - A Haunting Thrill Ride You Must Take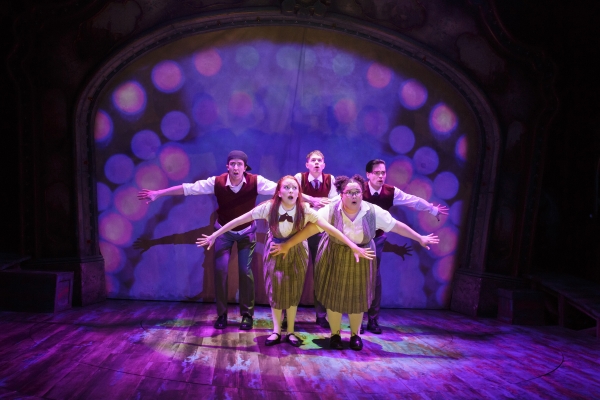 ACT and The 5th Avenue Theatre's current joint production, "Ride the Cyclone", now playing at ACT, is one of those quirky little musicals that on the surface should not work. I didn't really know what to expect going in but based on what it is, it's problematic at best. Fortunately for us the brilliant writing team of Brooke Maxwell and Jacob Richmond have done it in such a way that it definitely does work and then some. Allow me to explain.
Why it probably shouldn't work: It's a list show. The show follows six high school students, all members of the Saint Cassian High School Cham­ber Choir and all of whom board the Cyclone roller coaster at 8:17PM. At 8:19PM the front axle of the ride breaks sending all of them to their death. What follows is a journey through a fantastical purgatory like realm as each of them must defend their existence to the realm's caretaker, the mysterious and powerful fortune telling machine, The Amazing Karnak (Karl Hamilton). So, each of them must take turns to tell their tales. The ambitious Ocean O'Connell Rosenberg (Tiffany Tatreau), the flamboyant Noel Gruber (Kholby Wardell), the Ukrainian bad boy Mischa Bachinski (Adam Standley), the handicapped Ricky Potts (Connor Russell), the meek people pleaser Constance Blackwood (Lillian Castillo), and finally the girl no one remembers, and no one knows who she is since she was decapitated in the accident Jane Doe (Emily Rohm). See, it's a list show as it's set up for each one to come up and give their story. Their "I want" song. And while every show needs an "I want" song, a show filled with them can be deadly (no pun intended).
Then why does it work? There are so many reasons for this. Let's start with the incredible writing. Maxwell and Richmond have taken what could have been a list show and, in some sense, still is and turned it on its head. Very few of the songs go in any direction you expect them to go, none of them are in the same style or tell a similar story and each and every one of them moves the teller's story along in its own way and thoroughly engages. They've pulled off quite an amazing feat going from a sultry torch song to hip hop to a haunting lullaby and they do it without us ever noticing the shift in gears.
Then there's the technical aspect that only accentuates the feeling that we're in a magical or otherworldly realm. Scott Davis' superbly dilapidated set creates the perfect scene for the creep show complimented by the ethereal nature of Gregory Hofmann's lights. Theresa Ham's costumes put the "fun" in functional as they switch from morose to hilarious on a dime. I must mention the incredibly designed projections from Mike Tutaj as they didn't just shine on a screen but danced about the stage. And all of this is brought alive by Doug Peck's amazing music direction with the show's super diverse score and Rachel Rockwell's fantastic staging and choreography. And I'd be remiss if I didn't give extra kudos to Stage Manger Rachel Bury and her entire backstage crew as they repeatedly pulled off all this technical wizardry that caused my jaw to drop without me ever seeing it coming. And as a theater nerd, that's something I geek out over so I'm looking for it.
But this show, as brilliant as it is, couldn't happen without this super tight ensemble many of whom have been with earlier incarnations of the piece as it's been developed over the years. The two local folks, Russell and Standley, fit right in to this creepy troupe and don't seem like outsiders at all. Russell sells adorable like nobody and watching him break out into his own big moment is a joy. And Standley is hilarious as the bad boy gangster who just wants to get back to his girl. Tatreau slays as the eager, straight A, do anything to win student and her journey is a stunner. Castillo spends most of the show teasing us with how meek she is while we know eventually she'll break free and she does with the power of 10 divas with an astounding build for her song. Wardell owns the audience from early on with his number that I refuse to spoil for you but suffice to say his final rolls downstage are worth the price of admission. Rohm is difficult to keep your eyes off with the eeriest yet most delightful character skulking about stage and even without the aforementioned jaw-dropping technical wizardly in her number, her song would still have invaded my soul. And Hamilton, while only really heard during the show, carries it hysterically as he provides much of the exposition without us ever knowing it's happening.
I can't stress how much you all need to get out to ACT and "Ride the Cyclone"! This thrill ride will take you through all the feels and have you rockin' out while you do it. Which is why, with my three-letter rating system, I give ACT and The 5th Avenue Theatre's production of "Ride the Cyclone" an exuberant WOW (my highest rating). This is one ride you don't want to miss, broken axle and all.
"Ride the Cyclone" from ACT and The 5th Avenue Theatre performs at ACT through May 20th. For tickets or information contact the ACT box office at 206-292-7676 or visit them online at www.acttheatre.org.