BWW Review: A VERY DIE HARD CHRISTMAS at Seattle Public Theater - Come Out to the Bathhouse, Have a Few Laughs
Dear Readers, I need you to stop what you're doing right now (including reading this review) and go to www.seattlepublictheater.org and get your tickets to the most ridiculous fun you'll have this holiday season, "A Very Die Hard Christmas". Seriously tickets are going fast so do it now and then come back and read the rest of this. I'll wait here and sing softly to myself while you're gone. ("If you like Pina Coladas, getting' caught in the rain. If you're not into yoga. If you have half a brain...") Oh, you're back? Did you do it? Good. Now let me tell you about the glorious show you just bought tickets to from the brilliance of Mark Siano, John Kranz, Jeff Schell, and the deliciously demented minds of The Habit.
We all know that classic Christmas movie from the 80's (yes, it IS a Christmas movie!) where New York cop John McClane travels to Los Angeles to visit his estranged wife Holly during her company's Christmas party only to get caught up in a terrorist invasion of the company at the hands of the maniacal Hans Gruber. Well, haven't you ever thought to yourself, "This would make one hell of a musical!"? Of course you have, I mean you have a brain. Good news cowboys because now it is ... kind of. It's mostly the story we know and love but told through the lens of the boys at The Habit, so you have to know it'll be a little off kilter and a lot funnier. For example, they can't really have bullets flying and blood splattering all around the intimate Bathhouse Theatre for logistical and cost reasons so instead we get nerf guns and squirt guns and a lengthy explanation of those very things as someone is dying. And that's just one of the outrageous moments of the show. I really don't want to spoil any more for you as I want them to hit you as they did me. Suffice to say, I had tears streaming down my face from laughing so hard by the end.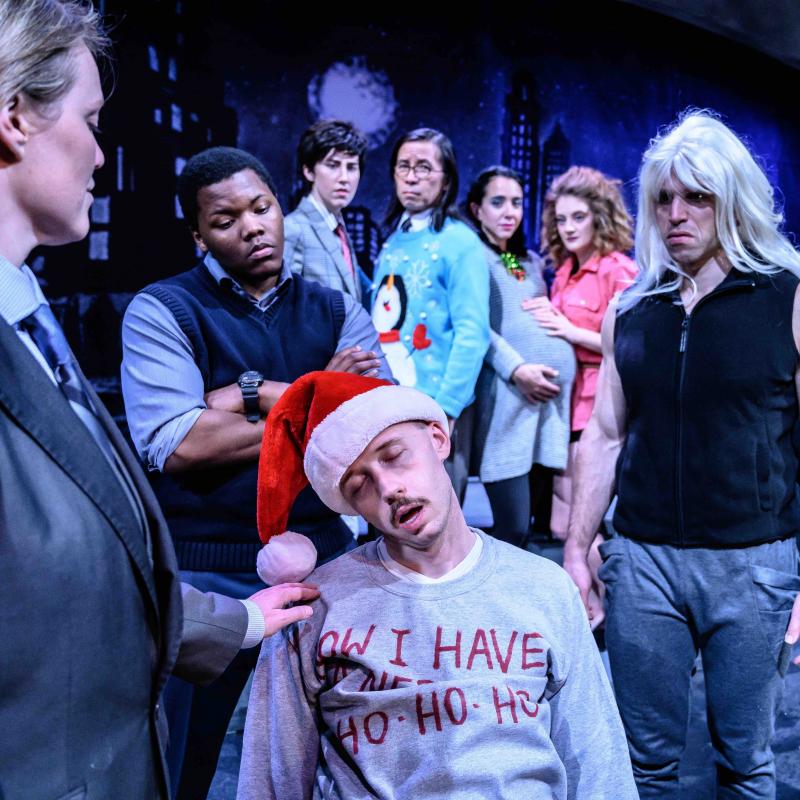 Siano not only wrote and directed the show but also serves as the oh so intrusive narrator of the piece with commentary and musical underscoring for practically everything and he's brilliant. I want him to narrate my life just to piss everyone around me off. As our hero McClane, Jason Marr captures perfectly the swagger and grit of the role while completely embracing the ridiculousness of the entire situation with glee. But what makes him so funny is he never makes or comments on the jokes, he owns them and moves on. Helen Roundhill brings in a sultry noir torch vibe to Holly especially in her number, "Come to the Coast, Have a Few Laughs" and never once waivers on her character or gives up ownership of the stage. That is when she can wrestle it away from the other outstanding actors who all own every moment. Rebecca Olson gives a spot-on Alan Rickman ... er ... I mean Hans Gruber impression but never takes him over the top and her take on the scene where Hans pretends to be American and one of the hostages was priceless. Hisam Goueli plays the most delightfully dimwitted Karl in the worst blonde wig that he embraces with all is heart and soul. Kat Schelonka brings in a beautifully smarmy Ellis with a kick ass ode to himself saving everyone. And I have to mention Sue Slakter who barely says a word all night as the FX of the story but steals the show.
When I heard this show announced I was excited and as opening night approached I was even more so as I kept hearing buzz on it and I can tell you it did not disappoint. And so, with my three-letter rating system, and considering the show, I have no choice but to give The Habit Comedy and Seattle Public Theater's production of "A Very Die Hard Christmas" a Yippee Kai YAY+. Oh screw it, it gets a WOW! (I just really wanted to make that joke.) This is the most fun you'll have all year and you'll kick yourself for missing it. It's a must see. If you can get a ticket. You already got one, right?
"A Very Die Hard Christmas" performs at Seattle Public Theater through December 23rd. For tickets or information contact the Seattle Public Theater box office at 206-524-1300 or visit them online at www.seattlepublictheater.org.