ArtsWest To Stage M. BUTTERFLY Revival's West Coast Premiere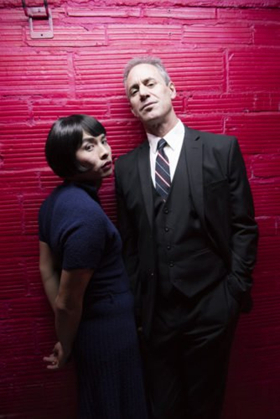 In a revival version never before staged on the West Coast, David Henry Hwang's audacious, Tony Award-winning M. BUTTERFLY - inspired by a bizarre true story of illusion, obsession and betrayal - will open at ArtsWest on January 24. Performances will run Thursday through Sunday until February 17.
Brilliantly transforming a true life story into cutting satire, M. BUTTERFLY has electrified audiences and scored countless accolades since its 1988 Broadway premiere. Clever parallels to the famous opera Madame Butterfly abound in the story of a French diplomat who falls for a Chinese opera star - the ideal, exotic woman in his mind, but the truth lies beyond his imagination. Hailed as a modern classic, M. BUTTERFLY deftly skewers the perception of Eastern culture by the West and the persistent objectification that clouds it.
ArtsWest will stage the West Coast premiere of the revival version - from an updated text by playwright David Henry Hwang, staged on Broadway in 2017 in a production directed by Julie Taymor - giving Seattle audiences one of the first opportunities to experience this revisited classic.
"M. BUTTERFLY anticipates intersectionality in its examination of racism, sexism, classism, and homophobia, among other things," said ArtsWest Artistic Director Mathew Wright.
"One of the things that makes M. BUTTERFLY a truly extraordinary play is its fusion of theatricality, political theater and intense psychological realism to tell a vitally important story," added Wright. "It's also deceptively funny. David Henry Hwang is sly and intelligent, and so are his characters."
Directing M. BUTTERFLY is Samip Raval, who returns to ArtsWest after directing the 2017 production of Ayad Akhtar's THE WHO & THE WHAT. "It's rare to work on a play that dives into deeply complex socio-political themes that seamlessly manifest in human character as in David Henry Hwang's M. Butterfly," said Raval. "Cultural misconceptions are born when we are fooled into believing a surface-level idea about someone we don't know. Similarly, I knew this play would 'fool' unless we could stay open to the words and different points of view. I couldn't miss out on such a juicy and daunting challenge."
About ArtsWest, Raval added, "It's no secret that in the last few years, ArtsWest has consistently and intentionally programmed plays that bring diverse stories that are conscious, thought-provoking, and surprising."
Making their ArtsWest debuts in the lead roles are David Quicksall (VANYA AND SONIA AND MASHA AND SPIKE, Tacoma Arts Live) and Rene Gallimard and Tom Dang (HOTEL ON THE CORNER OF BITTER AND SWEET, Book-It Repertory Theatre) as Song Liling. Joining them in the ensemble are Jason Marr (KING LEAR, Wooden O.), Rachel Guyer-Mafune (A CHRISTMAL CAROL, ACT), Kathy Hsieh (CHINGLISH, ArtsWest), Marianna de Fazio (PRELUDE TO A KISS, Strawberry Theatre Workshop) and Mark Waldstein (THE FOREIGNER, Sound Theatre Company).
Rounding out the Creative Team are Stage Manager David Hsieh (CHINGLISH, ArtsWest), Lighting Designer Emily Leong (PEERLESS, ArtsWest), Costume Designer Natalie Shih (PERSIMMON NIGHTS AND THE KIMCHI KITTENS, Café Nordo), Scenic Designer Lex Marcos (JANE EYRE, ArtsWest), Sound Designer Brian Murphy (THE WHO & THE WHAT, ArtsWest), Properties Designer Andrea Spraycar (SWEENEY TODD, ArtsWest), Dramaturg Kathy Hsieh (CHINGLISH, ArtsWest), Choreographer Alyza DelPan-Monley (TEH INTERNET IS SERIOUS BUSINESS, Washington Ensemble Theatre).
M. BUTTERFLY plays January 24 - February 17, 2019 at ArtsWest, 4711 California Ave SW, Seattle WA 98116. Tickets ($20-$42) available online at www.artswest.org, by phone at 206-938-0339, or at the box office Thursday through Saturday, 2-7:30 p.m.
Related Articles View More Seattle

Stories

Shows
More Hot Stories For You