Announcing The Nominees For The 2017 GYPSY ROSE LEE AWARDS By The Seattle Theater Writers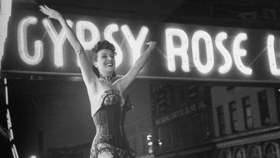 Seattle's critics announce the Nominees of Excellence in Seattle theatrical productions. Spanning dozens of theater companies and productions, from large and prominent to small and humble, the Gypsy Rose Lee Awards honor the excellence found in as much professional theater as we reviewers can attend in a year. Named in honor of the famed theater entrepreneur and Seattle native, Gypsy Rose Lee, and in a nod to the vast numbers or theater practitioners forced to travel the country to earn their living, the Gypsys seek to acknowledge the excellence of the Seattle theater community.
Our aim in developing the awards is to entice the general public to consider seeing excellent theatrical events at myriad venues they may never have entered before! Try it, we suggest, and you might find it excellent!
The winners will be announced January 26, 2018.
And without further ado, arranged in 33 categories in two divisions (Large Theaters and Small Theaters). the 2017 Gypsy Rose Lee Award Nominees are (by category, in alpha order by name):
Excellence in Production of a Play:
(Large ?Theaters):
Barbecue - Intiman Theatre
Bring Down The House Parts 1 & 2 - Seattle Shakespeare Company/upstart crow collective
Blues for Mister Charlie - The Williams Project
Lydia - Strawberry Theatre Workshop
The Crucible - ACT Theatre
(Small? Theaters):
Downstairs - Theatre22
Greensward - MAP Theatre
Hoodoo Love - Sound Theatre Company/The Hansberry Project
Scary Mary and the Nightmare Nine - Annex Theatre
Teh Internet Is Serious Business - Washington Ensemble Theatre
Excellence in Production of a Musical:
Dreamgirls - Village Theatre
Newsies - Village Theatre
Persuasion - Taproot Theatre
Ragtime - 5th Avenue Theatre
The Pajama Game - 5th Avenue Theatre
Excellence in Direction of a Play:
(Large? Theaters):
Sheila Daniels - Lydia (Strawberry Theatre Workshop)
Rosa Joshi - Bring Down the House Parts 1 & 2 (Seattle Shakespeare Company/upstart crow collective)
John Langs - The Crucible (ACT Theatre)
Malika Oyetimein - Barbecue (Intiman Theatre)
Ryan Purcell - Blues for Mr. Charlie (The Williams Project)
(Small Theaters):
Julie Beckman - Downstairs (Theatre22)
Eddie DeHais - Scary Mary and the Nightmare Nine (Annex Theatre)
Malika Oyetimein - Hoodoo Love (Sound Theatre Company/The Hansberry Project)
Bobbin Ramsey - Wellesley Girl (The Horse in Motion)
Wayne Rawley - Teh Internet Is Serious Business (Washington Ensemble Theatre)
Excellence in Direction of a Musical:
Bill Berry - The Pajama Game (5th Avenue Theatre)
Peter Rothstein - Ragtime (5th Avenue Theatre)
Steve Tomkins - Dreamgirls (Village Theatre)
Excellence in Performance in a Play as a Lead Actor (Male):
(Large Theaters):
Joshua Castille - Tribes (ACT Theatre)
Craig MacArthur - (IM)Pulse (Spectrum Dance Theater)
Timothy McCuen Piggee - The Legend of Georgia McBride (ACT Theatre)
Brandon J. Simmons - The Cherry Orchard (The Seagull Project)
Michael Winters - Evidence of Things Unseen (Taproot Theatre)
(Small Theaters):
Peter Crook - Frozen (ArtsWest)
Tim Gouran - Building the Wall (Azeotrope)
Tim Gouran - Burn This (Theatre22)
Richard Gray - The Nance (ArtsWest)
Brandon Ryan - Downstairs (Theatre22)
Excellence in Performance in a Musical as a Lead Actor (Male):
Joey Barriero - Newsies (Village Theatre)
Joshua Carter - Ragtime (5th Avenue Theatre)
John Devereaux - Dreamgirls (Village Theatre)
Richard Gray - Murder for Two (5th AvenueTheatre/ACT Theatre)
Douglas Lyons - Ragtime (5th Avenue Theatre)
Excellence in Performance in a Play as a Lead Actor (Female):
(Large Theaters):
Lindsay W. Evans - Tribes (ACT Theatre)
Anastasia Higham - Proof (Strawberry Theatre Workshop)
Nike Imoru - Coriolanus: Fight Like a Bitch (Rebel Kat Prods.)
Aishé Keita - I Know Why The Caged Bird Sings (Book-It Repertory Theatre)
Mari Nelson - Bring Down The House Parts 1 & 2 (Seattle Shakespeare Company/upstart crow collective)
Sofía Raquel Sánchez - Lydia (Strawberry Theatre Workshop)
(Small Theaters):
Kiki Abba - No More Sad Things (Forward Flux Prods.)
Christine Marie Brown - Downstairs (Theatre22)
Demene E. Hall - Sycorax (Snowflake Avalanche)
Jody Kuehner - Cherdonna's Doll's House (Washington Ensemble Theatre)
Porscha Shaw - Hoodoo Love (Sound Theatre Company/The Hansberry Project)
Excellence in Performance in a Musical as a Lead Actor (Female):
Kendra Kassebaum - Ragtime (5th Avenue Theatre)
Corinna Lapid Munter - Sweeney Todd (ArtsWest)
Mari Nelson - Into the Woods (Village Theatre)
Sara Porkalob - Howl's Moving Castle (Book-It Repertory Theatre)
Sara Porkalob - Madame Dragon's 60th Birthday (Cafe Nordo/Sara Porkalob)
Excellence in Performance of a Play as a Supporting Actor (Male) - any non-lead:
(Large Theaters):
Ronnie Hill - I Know Why The Caged Bird Sings (Book-It Repertory Theatre)
Charles Leggett - Proof (Strawberry Theatre Workshop)
Christopher Morson -Room Service (Taproot Theatre)
Brandon O'Neill - Pride and Prejudice (Seattle Repertory Theatre)
Andrew Pryor-Ramírez - Lydia (Strawberry Theatre Workshop)
(Small Theaters):
André G. Brown - Hoodoo Love (Sound Theatre Company/The Hansberry Project)
Daniel Christensen - The Secret & Impossible League of the Noösphere in the Baltimore Plot (Live Girls! Theater)
Drew Highlands - The Nance (ArtsWest)
John Q. Smith - Downstairs (Theatre22)
Corey Spruill - Hoodoo Love (Sound Theatre Company/The Hansberry Project)
Excellence in Performance of a Musical as a Supporting Actor (Male) - any non-lead:
Greg McCormick Allen - The Pajama Game (5th Avenue Theatre)
Guthrie Bettinger - Newsies (Village Theatre)
John Coons - Howl's Moving Castle (Book-It Repertory Theatre)
Michael Krenning - Newsies (Village Theatre)
Nathaniel Tenenbaum - Dreamgirls (Village Theatre)
Excellence in Performance of a Play as a Supporting Actor (Female) - any non-lead:
(Large Theaters):
Sunam Ellis - The Realistic Joneses (New Century Theatre Company)
Peggy Gannon - Bring Down The House Parts 1 & 2 (Seattle Shakespeare Company/upstart crow collective)
Kamaria Harris - Barbecue (Intiman Theatre)
Shaunyce Omar - I Know Why The Caged Bird Sings (Book-It Repertory Theatre)
Wendy Robie - Coriolanus: Fight Like A Bitch (Rebel Kat Prods.)
(Small Theaters):
Eva Abram - Hoodoo Love (Sound Theatre Company/The Hansberry Project)
Megan Ahiers - Money, Take Run (Theater Schmeater)
Nabilah Ahmed - No More Sad Things (Forward Flux Prods.)
Rachel Guyer-Mafune - Teh Internet Is Serious Business (Washington Ensemble Theatre)
Jay O'Leary - Milk Like Sugar (ArtsWest)
Excellence in Performance of a Musical as a Supporting Actor (Female) - any non-lead:
Danyel Fulton - Ragtime (5th Avenue Theatre)
Alexandria Henderson - Dreamgirls (Village Theatre)
Kate Jaeger - Howl's Moving Castle (Book-It Repertory Theatre)
Lorna Luft - Holiday Inn (5th Avenue Theatre)
Arika Matoba - Into the Woods (Village Theatre)
Excellence in Performance as an Ensemble:
(Large Theaters):
Barbecue - Intiman Theatre (Angel Brice, Macall Gordon, Kamaria Harris, Eryn Joslyn, Lamar Legend, Charles Leggett, Shaunyce Omar, Rachel Pate, Carol Roscoe, Cynthia Lauren Tewes)
Blues for Mister Charlie - The Williams Project (Grant Chapman, Ryan Williams French, Alexis Green, Rafael Jordan, Brenda Joyner, Leicester Landon, Elise LeBreton, Nancy Moricette, Max Rosenak, Reggie D. White)
I Know Why The Caged Bird Sings - Book-It Repertory Theatre (Ronnie Hill, Aishé Keita, Lamar Legend, Shaunyce Omar, Chip Sherman, Anthony Lee Simmons, Lindsay Zae Summers, Brennie Tellu, Dedra D. Woods)
Lydia - Strawberry Theatre Workshop (Yadira Duarte, Ray González, Pablo López, Rafael Molina, Carolyn Marie Monroe, Andrew Pryor-Ramírez, Sofía Raquel Sánchez)
The Legend of Georgia McBride - ACT Theatre (Adam Standley, Nastacia Guimont, Timothy McCuen Piggee, Jeff Steitzer, Charles Smith)
(Small Theaters):
Downstairs - Theatre22 (Christine Marie Brown, Brandon Ryan, John Q. Smith)
Hoodoo Love - Sound Theatre Company/The Hansberry Project (Eva Abram, André G. Brown, Porscha Shaw, Corey Spruill)
Milk Like Sugar - ArtsWest (Allyson Lee Brown, Andre G. Brown, Marlette Buchannan, Nastacia Guimont, Jay O'Leary, Lindsay Zae Summers, Dimitri Woods)
Scary Mary and the Nightmare Nine - Annex Theatre (Kiki Abba, Kai Curtis, Kelly Johnson, Corinne Magin, Jordan Moeller, Emily Pike, Carter Rodriquez, Jenn Ruzumna, Cody Smith, Raymond Williams, Sarah Winsor)
Teh Internet Is Serious Business - Washington Ensemble Theatre (Megan Ahiers, Jeffrey Azevedo, Ian Bond, Stanley Dang, Samie Spring Detzer, Nick Edwards, Rachel Guyer-Mafune, Kevin Kelly, Arjun Pande, Ryan Sanders, Zenaida Smith, Jessie Underhill, Lisa Viertel, Jordan-Michael Whidbey)
Excellence in Set Design:
(Large Theaters):
Andrea Bryn Bush - The Realistic Joneses (New Century Theatre Company)
Shawn Ketchum Johnson - Bring Down The House Parts 1 & 2 (Seattle Shakespeare Company/upstart crow collective)
Matthew Smucker - Dry Powder (Seattle Repertory Theatre)
Julia Welch - Coriolanus: Fight Like A Bitch (Rebel Kat Prods.)
Carey Wong - Murder for Two (5th Ave Theatre/ACT Theatre)
(Small Theaters):
Eddie DeHais - Scary Mary and the Nightmare Nine (Annex Theatre)
Brandon Estrella - Greensward (MAP Theatre)
Robin Macartney - Downstairs (Theatre22)
Tristan Roberson - Teh Internet Is Serious Business (Washington Ensemble Theatre)
Margaret Toomey - Hoodoo Love (Sound Theatre Company/The Hansberry Project)
Excellence in Costume Design:
(Large Theaters):
Karen Ann Ledger - Dreamgirls (Village Theatre)
Rose Pederson - The Pajama Game (5th Avenue Theatre)
Pete Rush - The Government Inspector (Seattle Shakespeare Company)
Pete Rush - The Legend of Georgia McBride (ACT Theatre)
Christine Tschirgi - Bring Down The House Parts 1 & 2 (Seattle Shakespeare Company/upstart crow collective)
(Small Theaters):
Jordan Emery Fell - Hoodoo Love (Sound Theatre Company/The Hansberry Project)
Michael Notestine & Danial Hellman - Cherdonna's Doll's House (Washington Ensemble Theatre)
Jennifer Oaster - Teh Internet Is Serious Business (Washington Ensemble Theatre)
Fantasia Oslund & Sydney Tucker - Scary Mary and the Nightmare Nine (Annex Theatre)
Kelsey Rogers - Milk Like Sugar (ArtsWest)
Excellence in Lighting Design:
(Large Theaters):
Evan Christian Anderson - The Realistic Joneses (New Century Theatre Company)
Jack Mehler - (IM)Pulse (Spectrum Dance Theater)
Reed Nakayama - Lydia (Strawberry Theatre Workshop)
Duane Schuler - Ragtime (5th Avenue Theatre)
Tom Sturge - Dreamgirls (Village Theatre)
(Small Theaters):
Ahren Buhmann - Burn This (Theatre22)
Emily Leong - Scary Mary and the Nightmare Nine (Annex Theatre)
Tess Malone - Greensward (MAP Theatre)
Alyssa Millione - Milk Like Sugar (ArtsWest)
Tristan Roberson - Teh Internet Is Serious Business (Washington Ensemble Theatre)
Related Articles View More Seattle

Stories

Shows
More Hot Stories For You