theSpaceUK Brings Cabaret, Magic and Mayhem to The Edinburgh Fringe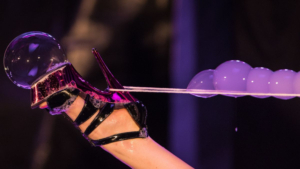 From a huge eyeball doing magic, to bubbles covering less than they need to, there's plenty of sensational publicity shots to go along with these sensational shows.
Starring Porscha Jean from the award-winning FlashMob and Natalie Walmsley from CBBC's BAFTA winning Secret Life of Boys, Brother Sun and Sister Moon is a visual and sensual treat every evening in the Gardens of Symposium Hall.
One of the top ten weirdest theatre shows at the Edinburgh Fringe (not our words, the words of Time Out), the Bubble Show for Adults Only is a raucous and raunchy late-night affair.
Superb publicity shots from Cabaret of Curiosities by Tatwood Puppets in their modern reimagining of the traditional puppet show booth. It's their second show after the viral puppet show, Microbodyssey.
Expect some modern twists to traditional magic in Craig's Magic Show from Craig Stephenson who's bringing a brand new show, with brand new tricks to the Fringe. Craig also returns with Magic, Mind Reading and Telerabbitry, an hour of his most popular tricks.
Aussie singer, producer, talent coach and ex kids' TV star John Rowe is hosting The John Rowe Show. A mix of live music, surprise guests all tied together in a chatshow format.
Polly Clamorous, the all-female musical group hailing from Zimbabwe, Australia, Austria and the crummier parts of Essex has a new show, Herstory, a bold & bodacious cabaret show chronicling the tales of some of the most enigmatic and misunderstood woman throughout history. If you've ever been made to feel ashamed for the colour of your hair, or ever been asked if your carpet matches the curtains, then Ginger Monologues could be the show for you as it explores the darker sides of being a redhead.
Dragtime! Is the University of Cambridge's premiere drag performance group and have recently supported artists such as Conchita Wurst and Courtney Act. Cirque de Slay is a boundary pushing show from some of the UK's brightest rising stars of drag.
Starring 14-year-old Anatol Felsen, a Los Angeles actor and music prodigy; transgender writer Darling Fitch; former sex-worker Polly Trope; drag persona #Sergina; composer Brian Felsen; and novelist Jacinta Nan, Late Night Ceremony features embodied performance, storytelling, experimental musical and a secret midnight ritual
Better known for scaring children in The I Hate Children, Children's Show (or should that be scarring). Paul Nathan is absolutely wasted on children. A hugely entertaining performer who makes any event go with a bang (quite literally), his Magic Hour show is in the Garden at Symposium. Full of Gershwin, Mercer, Ellington and Fred Astaire this is a gentle humour journey through Love, Loss and Cake.
Get ready for a rollercoaster ride that will leave you feeling motivated, inspired and ready to achieve you dreams. Bold claims from a bold magician, Mason King - Sleight of Mind is a brand-new show from masterful magician Mason King. Oracle is the brand-new original show from magician and playwright, Lorenzo Novani. His previous work 'Poet of the Impossible' has been, and is still, touring the UK, garnering glowing reviews.