Farquhar Links Up With BBC Poet In Residence Stuart Paterson for A PLAY, A POET & A PASTRY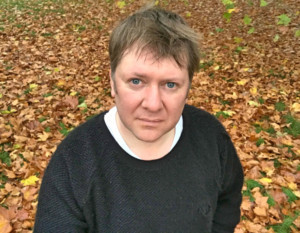 Acclaimed playwright Simon Farquhar and BBC Scotland's Poet in Residence Stuart Paterson are joining forces on a project bringing world premiere drama to Scotland's oldest Working Theatre.
The pair are teaming up for A Play, A Poet & A Pastry - an initiative by Bunbury Banter Theatre Company in partnership with the Theatre Royal, Dumfries, which takes place on Friday, 24 November.
It will see the first ever staging of a work called Wassail Play which is currently being completed by Farquhar. Casting is underway for the women who will take both roles in the Christmas-themed two-hander.
What makes A Play, A Poet & A Pastry so exciting is that it is designed to encourage spontaneity and freshness. There are just two rehearsals and a single performance - with Paterson, who lives in Dumfries and Galloway, then presenting the audience with his own poetic response to the work.
This is all followed by a discussion in the theatre's studio over pastries.
Farquhar, whose career began in Aberdeen and now lives in London, praised the initiative, saying: "How refreshing it is that a theatre in Dumfries is hosting such an original and exciting idea, stealing a march on the big cities.
"Regional theatre has been undervalued for so long, but an idea like this brings it back to its roots, rather like the magnificent work the 7:84 theatre company did so brilliantly in the 70s, blending plays, music and dance in village halls and regional theatres all over Scotland. I'm very proud to have been asked to be involved."
Explaining how he is approaching the project Farquhar added: "Writing a short play which you then get different reactions to is fascinating. There's a lovely immediacy about the idea. Usually with a play, it's there on the stage and then everyone quietly files out and goes their separate ways.
"In the theatre, the audience is the last member of the cast, so the idea of holding a discussion with them is a very warm and enriching idea, very civilised, and feels very natural. And to hear a new poem that has been created in response to it will be fascinating. How many writers get that privilege?"
His play Rainbow Kiss was staged at the Royal Court and Dream Me a Winter was at the Old Vic. Farquhar is also an author and a journalist, regularly writing for The Times and The Guardian.
The new work will address some themes of loss and longing that are well suited to the season and the turning of the year.
Paterson, who is BBC Scotland's 2017-18 Poet in Residence, said: "I'm delighted to be involved in such an honest and emotional play by Simon Farquhar. It really does, as a poet, ask me questions around so many issues such as belonging, acceptance and resistance.
"Answering these questions is a challenge, creatively and personally. I look forward to an evening where drama meets poetry and audience, and engages us all in a discussion which, I hope, helps us get to the very heart of word, character and self."
His Indigo Dreams pamphlet Border Lines won the 2016 Saboteur Awards Best Pamphlet category. His latest collection, Looking South, was published by Indigo Dreams in 2017.
Wassail Party is part of the second of four bi-monthly events which kicked off in September when Andrew Byatt and Gavin Jon Wright performed The Square Mile/Y Filltir Sgwar by award-winning Glasgow-based playwright Andrew Edwards.
Ali Anderson-Dyer, Director and co-founder of the event's producers Bunbury Banter, said: "We are presenting playwrights, poets and actors with a huge challenge - to stage a brand new piece of theatre with just two rehearsals while the poet works in parallel, coming up with their own response.
"It has a potent mix of freshness and spontaneity and which everyone really enjoys.
"What's particularly rewarding is that we are getting so much interest from such a talented range of playwrights, poets and actors. To be working with people of the calibre of Simon and Stuart is a great pleasure and we are sure the end result is going to be superb."
A Play, A Poet & A Pastry is a collaboration between Dumfries and Galloway's Bunbury Banter Theatre Company and the Theatre Royal, with four bi-monthly events planned between September and the end of March.
Bunbury Banter, based in Thornhill, are specialists in new and experimental theatre. They have recently produced Blackout to much acclaim, worked with the National Theatre of Scotland on the Five-Minute Festival, and a web-based audio production called Mortar which starred Timothy West, Prunella Scales and Nichola McAuliffe.
Lyndsay Walker, Marketing and Communications Officer for the Theatre Royal, said: "We are delighted to be, once again, the host for A Play, A Poet & A Pastry.
"The first event in September was well attended, with the audience providing excellent feedback. The format that Bunbury Banter have chosen works really well in our Studio Theatre and ensures that the audience is engaging with both the actors, the play and the subsequent poem. We are looking forward to the next event."
A Play, A Poet & A Pastry involves the semi-staging of the plays. It is being supported by the Holywood Trust, DGU's Regional Arts Fund and Dumfries and Galloway Arts Live. The pastries are provided by the Marchbank Bakery.
Tickets: £12 (£10 concessions). Book online at theatreroyaldumfries.co.uk, and at Midsteeple Box Office on 01387 253383.
Ali Anderson-Dyer has directed Blackout (Theatre Royal, Dumfries), Ego et Al (Hidden Door Festival 2017), Freedoms Cut (National Theatre of Scotland's five Minute Festival), Moon On A Stick & Fancy Meeting You Here by Lisa Fulthorpe (Bunbury Banter), Rain Stops Play (Bunbury Banter, starring Timothy West and Prunella Scales) The Bonk (Bunbury Banter, starring Nichola McAuliffe), Handmaidens of Death (University of Hertfordshire), Memories of Loss (Riverside Studios), The Fastest Clock in the Universe by Philip Ridley (Battersea Arts Centre), Stiff (Rosemary Branch Theatre), Settled (Rosemary Branch Theatre) and Gaelic Storytelling; The Bravery of Love (St Mary's University College).
Simon's first plays, presented at the Aberdeen Arts Centre, included Childhood Haunts, which won the 1998 Alastair Selway Quaiche for "Best Moment of Theatre". For BBC Radio 4 he has written Candy Floss Kisses and Elevenses With Twiggy, and also wrote and presented the documentary A Sympathetic Eye for the Archive on 4 series.
His play Rainbow Kiss was runner-up for the 2005 George Devine Award and ran at London's Royal Court Theatre and 59E59, New York. Other work includes Dream Me A Winterat the Old Vic 24 Hour Plays. His recent book A Dangerous Place was shortlisted for the CWA Gold Dagger Award for Non-Fiction.
He writes regularly for The Times and The Independent, and has a blog, https://dreamsgatheringdust.wordpress.com
Stuart A. Paterson is a widely published and anthologised Scottish poet living by the Solway coast in Galloway. He writes in English and his native Scots, and is a past recipient of an Eric Gregory Award and a Robert Louis Stevenson Fellowship. His poem 'Dream State' was the title poem of the influential 1993 Polygon anthology 'Dream State: The New Scottish Poets'. His Indigo Dreams pamphlet 'Border Lines' won the 2016 Saboteur Awards Best Pamphlet category. In July 2017. Stuart was appointed BBC Scotland Poet in Residence for 2017 - 2018. 'Looking South' was published by Indigo Dreams in 2017.
Bunbury Banter's artistic work combines the dynamic intensity of audio with the theatrical traditions and excitement, found in performance. Often working with new writing, the company also experiments with other forms of drama and storytelling, outside the realms of a theatre space. Recent work includes Blackout, by Davey Anderson, Freedoms' Cut, a verbatim theatre piece for the National Theatre of Scotland Five Minute Festival; Mortar, a web-based audio experience which peaks behind the curtains of a shared townhouse in modern day Britain and shines a light on each inhabitant's existence, starring Timothy West, Prunella Scales and Nichola McAuliffe; The Dark Outside, a site-specific transmission of select pieces of their past audio work in the UK's first dark sky forest.