EDINBURGH 2019: BWW Review: IF YOU'RE FEELING SINISTER, Gilded Balloon Patter Hoose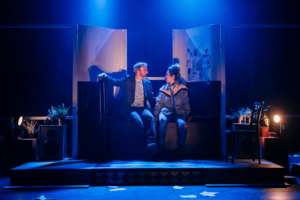 Kid and Boss are bored, have been bored of life, but now they're on an adventure together, high on the adrenaline of a successful art heist conducted on Kelvingrove Museum.
If You're Feeling Sinister is a play with songs, specifically the songs of Belle and Sebastian, from writer Eve Nicol. It is a love letter to the City of Glasgow: its music and its art, its people and its buildings, its rivers and their many bridges and its other city, the city of the dead, Glasgow Necropolis. Though it is not always flattering in its descriptions, Nicol's script insults in ways only a local can.
Nicol does a good job to weave together her story with the already narrative-heavy Belle and Sebastian songs. The musical numbers often break us out of the story as set-pieces themselves, but they add further depth, meaning and explanation. Especially to Kid's character, and her performance of "If You're Feeling Sinister" is an emotional centrepiece of the show. There is an undercurrent of depression, of loneliness, of a need for direction. Something Boss gives her, though maybe not in the healthiest way.
The relationship is tricky. It is nothing new to present a Professor, turning 50 and feeling bored with life, beginning a relationship with a student and walking out on his family while still keeping Kid as his shameful secret. In 2019, it would have been nice to see a different dynamic on stage, though it's clear what Nicol was going for in this age gap. A man who needs excitement, a girl who needs direction. The characters say as much themselves.
The show's climax is its greatest moment, building the excitement and returning to the scene of the crime, no one sure what's going to happen next. Whatever else, both Boss and Kid have grown from their adventure with great music to help them along the way. Though the play slows in the middle, it begins and ends with a palpable, infectious and enjoyable energy.
https://gildedballoon.co.uk/programme/if-youre-feeling-sinister/
Photo credit: Mihaela Bodlovic
Related Articles