EDINBURGH 2017: BWW Q&A- Pike St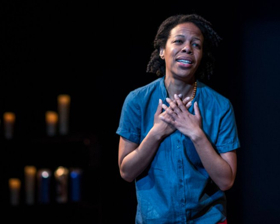 Tell us a bit about your show.
Pike St. follows a family in the Lower East Side of New York City during a day when a massive hurricane barrels up the East Coast. During the 75 minute show, the audience gets to meet 10 people in this neighborhood under the shadow of the Manhattan Bridge. One of the first characters is Candi, a teenager with dreams, sass and musicality who lives on life support, aided by the help of machines, her chair, and her doting mother, Evelyn. Evelyn, whose only child Candi suffered a brain aneurysm several years ago, has quit her job to take care of her. Taking care of Candi unfortunately also means living with her gambling father and decorated Navy Seal brother just home from war. As the hurricane nears, it brings with it the promise of excitement, fear and memory (for better or for worse) in a fifth floor tenement walk-up on Pike St.
Why bring it to Edinburgh?
Bringing my last solo piece No Child... to Edinburgh in 2010 was such a life changing event for me that I had to add the Fringe to my dream list for Pike St. I am also blessed to be continuing my decade long relationship with Scott Morfee and the Barrow St. Theatre, who produced No Child... at the Fringe and internationally. They have always been the greatest supporters of my work and vision and have brought several well-loved pieces to the Fringe.
I also have a deep love for the audiences at the Fringe. They are an absolute dream to perform for and make any actors' work easy by bringing their dedicated artistic-focused A game to every performance. I've never met an audience at the Fringe that I didn't like!
What sets it apart from other shows at the Fringe?
Though I have yet to see the other shows at the Fringe this year, I will be performing this solo piece in the round, which was how I originally envisioned sharing it. It will be a great challenge that I've been hungry to attempt. The audience will get a chance to witness a very physically passionate performer giving her all in every show in the round, as the threat of a hurricane encircles the characters she is playing.
Who would you recommend comes to see your show?
Any audience member who is interested in witnessing a dynamic solo piece about the highs and lows of living with family, caring for disabled loved ones, ethnic diversity and understanding in neighborhoods, soldiers coming back from war, the experiences of people of colour in New York City, energy healing work and redemption might love Pike St. Also, anyone who loves solo work, physical theatre, physical comedy, theatre in the round and passionate story telling should buy a ticket to Pike St.
Are there any other performances you're hoping to catch at the festival?
I'd love to catch as many shows as I can while at the Fringe.
Timings and ticket information for Pike St are available on the edfringe website.
Photo Credit: Teresa Castracane
Related Articles
Natalie has been an avid theatre goer since her first London production of Blood Brothers when she was 12. Based in Glasgow, she also reviews (read more about this author...)