The Players Catches Will-a-Mania with The Season Opener THE WILL ROGERS FOLLIES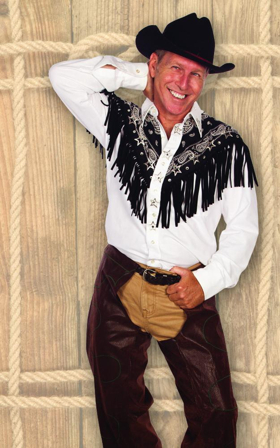 From Sept. 27 through Oct. 15, catch Will-a-Mania with the Wilde Broadway Season opener "The Will Rogers Follies." This first show in this fall series at The Players Centre for Performing Arts is a toe-tapping, dance-filled journey through the life of Will Rogers. Rogers is famous for saying, "I never met a man I didn't like," and anyone who has ever seen the show will agree that there has never been a man - or woman - who did not like it. Subtitled "A Life in Revue," "The Will Rogers Follies" stands out among musicals because of the magic of its protagonist. Everyone's "everyman," Rogers transcended decades to the level of legend because of his accomplishments, and his philosophy, which espouses respect and confidence in the goodness of his fellow man.
Story: "The Will Rogers Follies" focuses on the life and career of famed humorist and performer Will Rogers, the first international multimedia sensation whose wit and homespun wisdom went straight to the nation's heart. Taking home the Tony Award for Best Musical, Best Score, and Best Choreography since its Broadway debut, join us as we travel through this "Life in Revue" from the Wild West to Hollywood, from vaudeville to film. The character of Will Rogers narrates his life story through a series of spectacular Ziegfeld Follies production numbers which come to life with help from the Ziegfeld Girls, Ziegfeld's Favorite, and wranglers. Delightful musical numbers by Cy Colman include "Will-a-Mania," "It's a Boy," "My Unknown Someone," and "Marry Me Now."
Directed and choreographed by Cory Boyas, with help from Stage Manager Alyssa Goudy, costumes by Tim Beltley, lighting design by Michael Pasquini and set design by Jeff Weber, you'll laugh and sing along to this heartfelt musical that's fun for the whole family!
Performance Dates:
Sept. 28 - Oct. 15, 2017
September 27 at 7:30pm - Preview Night
September 28 at 7:30pm - Opening Night
September 27, 28, 30, Oct. 3-7 and 12-14 at 7:30pm
October. 1, 7, 8 and 15 at 2pm
Tickets:
$32 Premium
$27 Regular
$14 Students 24 and under with valid ID
Group rates:
Groups of 10 - 24 25% off ($20.25 each)
Groups of 25 - 74 30% off ($18.90 each)
Groups of 75 or more 35% off ($17.55 each)
Cast:
Steve McAllister as Will Rogers
Melissa Ingrisano as Betty Blake
Bill Sarazen as Clem Rogers/Hastings/Ranch Pianist
Belle Babcock as Ziegfeld's Favorite
David Floyd as Wiley Post
Ricky Bizzaro as Peter the Stage Manager
Nick Quinn as Will Rogers Jr.
Jackie Galvano as Mary Rogers
Tyler Gevas as James Rogers
Follies Girls:
Sami Wilde
Christina Brush
Abigail Holdway
Siobhan Boyle
Olivia Yagy
Kristina Marier
Elicia Sacco
Tessa Dykes
Laura Swartzendruber
Cowboy Chorus:
Stevie Romero
Daniel Espinal
Ricky Bizzaro
Casey Berkery
Crew:
Artistic Director - Jeffery Kin
Director/Choreographer - Cory Boyas
Production Manager - Alyssa Goudy
Musical Director - Alan Corey
Costumes - Tim Beltley
Set Design - Jeff Weber
Lighting Design - Michael Pasquini
Lighting Engineer - Patrick Bedell
Stage Manager - Alyssa Goudy
Props - Martha Kesler
Technical Director - Ken Junkins
Asst. Tech Director - Matt Neier
AVE - Josh Linderman
Stage Crew:
Debbi White
Cori Wilde
Rebekah Steinback
Diane Cepeda
More Hot Stories For You