Photo Flash: The Theatre Group at SBCC Continues 2016/17 Season with OTHER DESERT CITIES
The Theatre Group at SBCC will continue the 16/17 season with the compelling drama, OTHER DESERT CITIES by Jon Robin Baitz, directed by R. Michael Gros, October 12-29, 2016 in the Garvin Theatre
THE PLAY
Brooke Wyeth returns home to Palm Springs after a six-year absence to celebrate Christmas with her parents, her brother, and her aunt. Brooke announces that she is about to publish a memoir dredging up a pivotal and tragic event in the family's history-a wound they don't want reopened.
High anxiety, of that virulent strain that erupts at Christmas when grown children visit their parents, is what fuels "Cities," which is set in the desert-toned, tastelessly tasteful digs of Lyman and Polly Wyeth in Palm Springs, Calif., in 2004.
Lyman, a former movie star and former United States ambassador (during the presidency of a kindred spirit, Ronald Reagan), and Polly (who shares the behind-the-velvet-curtains powerfulness of Nancy Reagan) have chosen to live here in luxurious exile. There are aspects of their past they would rather not be reminded of, though it is hard to forget them with Silda Grauman, Polly's sharp-tongued sister, in residence.
And now, as a special holiday treat, here comes Brooke, the Wyeth's daughter, a depressive writer bearing the manuscript of a memoir about what Mom and Dad don't want to remember. Though their youngest child, Trip, a television producer, is present, it's their absent son - a Weather Underground-style political revolutionary who killed himself decades earlier - who looms largest at this gathering.
Mr. Baitz has always specialized in demon parents (The Substance of Fire, A Fair Country), and at first it appears that Lyman and Polly are but the latest additions to that gallery. But Mr. Baitz is looking deeper and more clearly into Mom and Dad than he did before. He's not just giving The Devils their due; he's also suggesting that they may not be all that satanic. As lives are examined and secrets are revealed, the question becomes whether the family will ever be able to come to terms with its shadowy past.
"Power, passion, and superbly crafted palaver stippled with blowdarts of wit - this is what Baitz does best." New York Magazine
Other Desert Cities opened at the beginning of 2011 Off-Broadway at Lincoln Center directed by Joe Mantello. By the end of that year it was a Broadway hit and nominated for a Best Play Tony Award.
PLAYWRIGHT
Jon Robin Baitz is the author of a number of plays including The Substance of Fire, A Fair Country, Ten Unknowns, Mizlansky/Zilinsky, Three Hotels, and The Paris Letter. He is a Pulitzer Prize finalist, Drama Desk winner, Humanitas winner, a Guggenheim and an NEA Fellow.
Mr. Baitz created the ABC drama Brothers & Sisters, and has written for The West Wing. He also adapted his play The Substance of Fire for the screen, as well as the screenplay for the Al Pacino movie, People I Know. He is currently writing and producing a mini-series for HBO, entitled Cheney's War, about the selling of the Iraq Invasion by the Bush administration. His new play, Vicuña, is opening at Center Theatre Group in October 2016. He is a founding member of Naked Angels Theatre Company, and on the faculty of the New School's graduate drama division.
THE CAST
Other Desert Cities will feature Tom Hinshaw, Stephanie Katers, E. Bonnie Lewis, Meredith McMinn and Justin Stark.
STEPHANIE KATERS (Brooke) received a MFA in Theatre from California Institute of the Arts and a BA in Music from University of Wisconsin. She wrote and directed numerous thirty minute one-acts which aired on local television in L.A. Favorite roles include Emilia from Shakespeare's Othello (for which she won Best Supporting Actress), title role in Strindberg's Miss Julie, Pegeen Mike in Playboy of the Western World, Cherry in Barnum and Amy in Company. She is a founding member of a Santa Barbara-based writers group.
E. BONNIE LEWIS (Silda) is the Co-Artistic Director of DramaDogs, a local theatre company that just presented the joyfully received world premiere of The Boondawgle Estate. Over the past year DramaDogs has created the highly acclaimed Tales of Woo & Woe: a Journey of the Heart based on the songs, sonnets, monologues and scenes from Shakespeare, aligned with the SB Public Library to present Tales of Woo & Woe and developed a theatrical presentation entitled The Qualities of Mercy inspired by the book Just Mercy by BRyan Stevenson. DramaDogs has also deepened their alignment with PlayFest Santa Barbara supporting their mission in the creation and development of new work. As an independent artist, E. Bonnie has worked with Opera Santa Barbara as a Movement Coach for Don Giovanni and performed in Los Angeles at Theatricum Botanicum as Miss Stephanie in To Kill a Mockingbird. She is an adjunct instructor at SBCC in Physical Education Dance & Athletics. Telling stories through characters and relationships and creating theatrical pieces while utilizing the wisdom of our bodies is her passion.
Tom Hinshaw (Lyman) is a member of the Genesis West ensemble, where he was honored with Independent Theatre Awards for Title and Deed and Endgame. He has also appeared in A Number, Curse of the Starving Class, The Lieutenant of Inishmore, The Designated Mourner, LaTerrasse, The Pillowman, The God of Hell, Blue Heart and The Goat, or Who is Sylvia. With The Theatre Group at SBCC he has appeared in Becky's New Car, The Beard of Avon, Fortinbras, The Heiress, and Solid Gold Cadillac. Tom is a regular with Speaking of Stories and was honored to play in Bob Potter's The Last Days of the Empire and The Space Between the Stars. Tom was in Bill Steinkellner's initial Improv class at SBCC.
MEREDITH MCMINN (Polly) has been a theatre professional for more than 35 years (actor, director, singer, teacher). At SBCC, she has been a student (summer improv); teacher; voice and dialect coach; and actor in five previous shows. She has recently originated two major roles: Mary Leakey in Footprints at Laetoli (On The Verge Festival, 2015) and Edna in The Boondawgle Estate last month at Center Stage (DramaDogs). She will be featured in Revels--Scottish edition-at the Lobero in December.
JUSTIN STARK (Trip) has been involved in theatre since the age of 14 and studied at The University of Colorado as well as Santa Barbara City College, and more recently with The Peter Frisch Studio. In the last few years he has been working with On The Verge Theatre Festival and was seen as Dwight in Dead Man's Cell Phone here with The Theatre Group at SBCC, and one of the Venticelli in Amadeus at Ensemble Theatre Company. He has worked with Elements Theatre Collective as Doug in Gruesome Playground Injuries. In addition, he played the dramatic role of Joe Clay in the classic The Days of Wine and Roses, the impeccable David Frost in Frost/Nixon at the Center Stage Theater and C.S. Lewis in Freud's Last Session. He has an extensive history of performing with The Theatre Group at SBCC, in such roles as Little Charles in August: Osage County, Brian in Laughter on the 23rd Floor and Froggie in The Foreigner.
PRODUCTION STAFF
R. MICHAEL GROS (Director) is a member of the professional theatre directors union (SDC) and currently serves as an associate professor and Co-Chair at Santa Barbara City College. He was a member of the graduate theatre faculty at Kansas State University. Michael served as Artistic Director for six seasons with PCPA Theaterfest. Michael is Co-Artistic Director of PlayFest Santa Barbara. Michael received a residency fellowship in non-profit arts leadership at Stanford University. He earned his MFA in directing from the University of California at Irvine, studying with Robert Cohen, Keith Fowler, Ian Bernard, William Needles (Stratford Shakespeare Festival) and Brewster Mason (Royal Shakespeare Company) among others. He earned his BA in theatre, Magna Cum Laude, at UCLA. Michael served on the Board of the United States Institute for Theatre Technology and is a past directing focus group representative for the Association of Theatre in Higher Education. Michael received an Indy Award for his direction of The Theatre Group production of Present Laughter. For Theatre Group at SBCC he also directed Proof, The Hound of the Baskervilles, The Music Man, Light Up the Sky, Ground, Bus Stop, The 25th Annual Putnam County Spelling Bee, and for SBCC Theatre Arts Department he directed A Midsummer Night's Dream, Almost, Maine, Tartuffe, Trojan Barbie, and Ten Red Kings, a world premiere.
Pamela Shaw (Costume Designer) is resident costume designer for The Theatre Group at SBCC, recently she designed Vanya and Sonia and Masha and Spike, and the 1880's costumes for In The Next Room or the vibrator play. Ms. Shaw was Costume Designer for the 2015 off Broadway show Lonesome Traveler, Assistant Costume Designer for TV sensation Vampire Diaries and The Artist, the 2011 Academy Award winner: Best Picture & Best Costume Design, designer Mark Bridges. Ms. Shaw served two terms as Vice President of the Costume Designers Guild, Local 892 and is currently a Trustee for the Western Region Board of United Scenic Artists, Local 829.
PATRICIA L. FRANK (Scenic/Lighting Designer) is the Director of Design and Technology for the Theatre Department and serves as the resident scenic and lighting designer for The Theatre Group at SBCC. She returns as the Scenic/Lighting Designer for Other Desert Cities after her critical success in the scenic and lighting design for Vanya and Sonia and Masha and Spike, In the Next Room or the vibrator play and Proof. Recently, she was the scenic and lighting designer for Musical (Senior) Moments at the Marjorie Luke Theatre. Pat has an MFA in Visual Arts and an MA in Dramatic Arts.
BEN CROP (Sound Designer) is the company's full-time Technical director and instructor of technical theatre. Ben comes to SBCC after being the ATD for Portland Center Stage and instructor of technical theatre and leadership at Chemeketa Community College in Oregon. Sound design credits include Proof, Hound of the Baskerville's, Ten Red Kings, Light Up The Sky, Bus Stop and Arsenic and Old Lace with The Theatre Group at SBCC, additional sound credits include Bill W. and Dr. Bob, The Ash Girl, and Confession in Wood. In addition to theatre, Ben has worked in the concert industry having been a light director and sound operator for such artists as Alice Cooper, Poison, Leanne Rimes, Wynona Judd, and Air Supply. Ben earned a BA in Theatre and Performance and his M.B.A in non-profit management from Willamette University in 2009.
PERFORMANCE INFORMATION
Performances will be October 12-29, 2016, Thursday through Saturday @ 7:30pm, Sundays @ 2pm. Previews on October 12 & 13 @ 7:30pm. The Sunday, October 16, 2pm performance will be live-captioned for the hearing-impaired. All performances have the assisted listening system available and the Garvin Theatre is wheelchair accessible. Ticket prices are: Previews $18 general/$15 seniors/$10 students, Thursday evening and Sunday matinees $24 general/$19 seniors/$14 students, Friday and Saturday evening $26 general/$21 seniors/$17 students. The Garvin Theatre is located on the West Campus of Santa Barbara City College in the 900 block of Cliff Dr. Parking is free and near the Theatre. For information or reservations call the Garvin Theatre Box Office at
805-965-5935 or purchase tickets online at www.theatregroupsbcc.com.
Photo credit: Ben Crop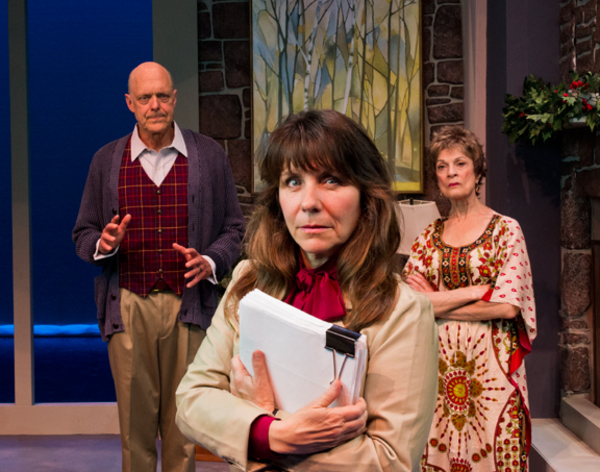 Tom Hinshaw, Stephanie Katers and Meredith McMinn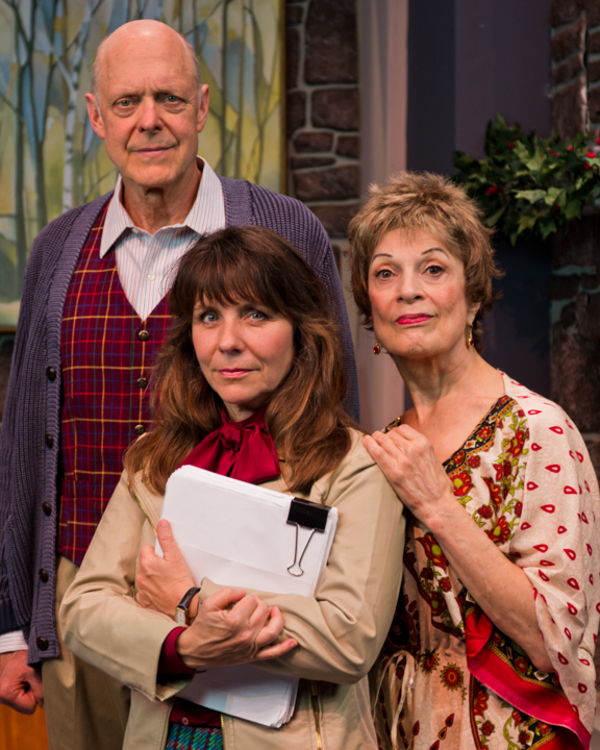 Tom Hinshaw, Stephanie Katers and Meredith McMinn

Tom Hinshaw and Stephanie Katers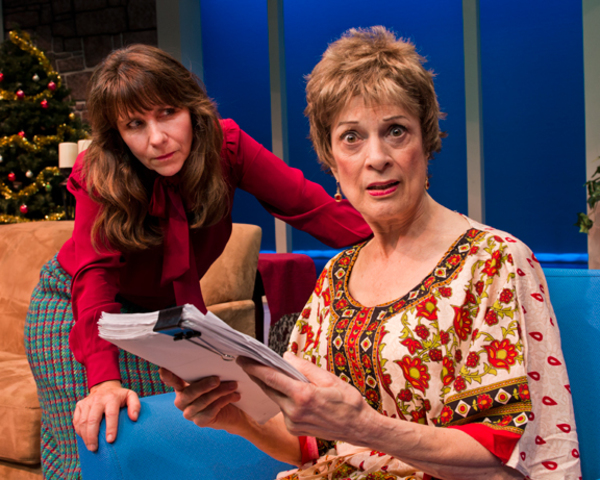 Stephanie Katers and Meredith McMinn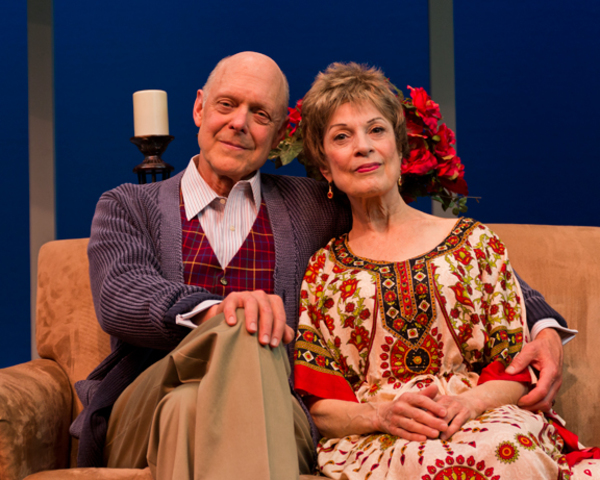 Tom Hinshaw and Meredith McMinn

Tom Hinshaw, Stephanie Katers and Meredith McMinn
Related Articles View More Santa Barbara

Stories

Shows
More Hot Stories For You