Photo Flash: Rubicon Theatre's World Premiere Show HELLO! MY BABY Transfers to Lobero Theatre in May
For the first time in the company's history, Ventura's RUBICON THEATRE is transferring a production to the legendary LOBERO THEATRE in Santa Barbara. On the heels of a critically acclaimed, sold-out run at Rubicon's home in Ventura's Downtown Cultural District, the world premiere musical HELLO! MY BABY will play at the Lobero Theatre for three performances only next weekend - May 5 and 6. Described as a "Tin-Pantastic New Tuner for all ages," the show is conceived and written by Emmy and Golden Globe Award winner and Tony Nominee Cheri Steinkellner, who is also a longtime Santa Barbara resident. See photos from the production below!
This historic event for Rubicon Theatre is a milestone for the burgeoning creative and business relationship between the arts communities of Ventura and Santa Barbara. Says Rubicon's Producing Artistic Director KARYL LYNN BURNS, "There has always been a very strong artistic connection between the two communities. About 12% of our audience currently comes from Santa Barbara County and I know a number of our local patrons regularly attend shows in Santa Barbara. In the days of Santa Barbara Civic Light Opera, about 50% of the attendees were from Ventura County."
"Artistic Director James O'Neil and I also have strong personal ties to Santa Barbara," says Burns.
"Jim is a third-generation Santa Barbaran," she continues. "His grandfather worked at Ott's Hardware. His mother retired from the County of Santa Barbara and his father was head of the retail clerk's union in Goleta."
O'Neil was born at Cottage Hospital and went to grade school and high school in Santa Barbara and Carpinteria. Before attending and graduating from Cal Arts, O'Neil was active in Santa Barbara Youth Theatre, along with Gary Goddard, Tony Christopher, Howard McGillin, the BOTTOMS' BROTHERS, Brad Hall, MARK DRISCOLL, ERIC STOLZ, ROD LATHIM, Ty Granaroli, Anthony Edwards, Clark Sayre, TONY MIRATTI, and many others who went on to have professional careers (including RICH HOAG, who appears in HELLO! MY BABY as Bert Coots).
O'Neil began his administrative and directing career while serving as Associate Producer of SBCC Theatre Group, working closely with POPE FREEMAN and RICK MOKLER.
Burns and O'Neil met in summer rep at SBCC Theatre Group and both worked as actors at Ensemble Theatre and Santa Barbara Civic Light Opera. Burns also worked at Center Stage Theatre in Santa Barbara. Burns and O'Neil (along with Barbara Burger of Santa Barbara Symphony) helped found what is now the Santa Barbara Arts Alliance.
Rubicon's first Santa Barbara production was Who's Afraid of Virginia Woolf?, which was presented by UCSB Arts and Lectures with Joe Spano and Burns a few years ago.
This production of HELLO! MY BABY, however, marks the first time Rubicon has sent a show to the Lobero, California's oldest, continuously operating theatre. Originally founded in 1873 and rebuilt in 1924, it is recognized as one of Santa Barbara's architectural jewels and a State and City landmark.
This partnership presents new opportunities for both the Lobero and Rubicon - for the Lobero, HELLO! MY BABY will introduce more theatre-lovers to the music-centric venue; for Rubicon, the 680-seat venue will give them the chance to share their work with thousands of new Santa Barbara arts patrons.
"As a result of our strategic planning process," says Burns, "we at Rubicon have been looking at ways to extend our runs and amortize the costs of productions over multiple cities. We have had great success doing that with shows like Daddy Long Legs (which has played 14 cities and will be at PCPA Theaterfest in Solvang and Santa Maria this summer) and Lonesome Traveler which recently had a successful run at Laguna Playhouse."
"Our strategic plan has also shifted our thinking in other ways," says Burns. "We are working to deepen our relationships with our local audiences and local community. At the same time, we have plans to broaden our reach geographically. We see Rubicon as a regional theatre based in Ventura."
"We have been in discussion with DAVID ASBELL and board members of the Lobero for some years," says Burns. "We were just looking for the right moment and the right project. We present a wide range of work and we wanted to be thoughtful about bringing a piece that would be complementary to the types of shows being offered by other theatres in Santa Barbara. Our goal is to add to an already vibrant scene. We thought a World Premiere musical, especially one created by a Santa Barbara professional, would be a perfect way to begin."
Burns sees this production as the beginning of a lasting connection between Rubicon and Santa Barbara's theatres, with HELLO! MY BABY opening the door for future run-outs of Rubicon productions to the Lobero.
Set in the early part of the last century on the sidewalks of New York, the story follows Mickey McKee, King of the Song-Pluggers, who dreams of writing the next Tin Pan Alley million-selling hit song. Only problem is Mickey can't write a note - until he meets Nelly Gold, a factory worker with a talent for tunes and moxie to spare. Mickey and Nelly make beautiful music together until she puts on the trousers she once sewed, calls herself Ned, and becomes the new King of the Pluggers and Mickey's arch-rival. These mismatched young lovers and their unlikely friends sing, dance, bicker, and coo from Debutante Balls to Delancey Street, confronting class struggles, social reform, gender-swapping, street-thugs, and a whole lot of ukuleles, as they sell the songs we're still humming a hundred years later. Dubbed a "new-fashioned musical romance," HELLO! MY BABY both embraces and gently satirizes Broadway and movie musicals, rebooting the songs of BERLIN, GERSHWIN, and a score of others, smartly weaving these updated hits into a fresh and funny farce for all ages.
HELLO! MY BABY boasts a cast full of young, fresh-faced talent like Ciaran McCarthy (National Tour of The Wedding Singer) and Evie Hutton (National Tour of Hairspray) starring as Mickey McKee and Nelly Gold, respectively. HELLO! MY BABY also features stage veterans like Rubicon Company Member and Ojai resident George Ball (Broadway's Jacques Brel..., Rubicon's Man of La Mancha) as ambitious industrialist Stanford Tierney; and as song publishing team Ethel and Bert Coots, Kristine Zbornik (Broadway's A Catered Affair) and Santa Barbara's own RICH HOAG (Indy-Award winner for Will Rogers' America). TAD MURROUGHS of Santa Barbara makes his professional debut as Artie Coots.
HELLO! MY BABY opened at Rubicon in Ventura on March 24, 2012 and played to standing ovations from the audience and praise from the critics.
HELLO! MY BABY is playing at the Lobero Theatre on May 5th and 6th, 2012, with performances at 2:30 PM on both days, and a gala opening at 7:30 PM on the 5th. Ticket prices range from $24-75. Tickets for the Lobero Theatre run of Hello! My Baby are available through the Lobero's box office at 33 E. Canon Perdido St. in Santa Barbara. They can be purchased in person, by phone at (805) 963-0761, or online at www.lobero.com.
Photo credit: Daniel G. Lam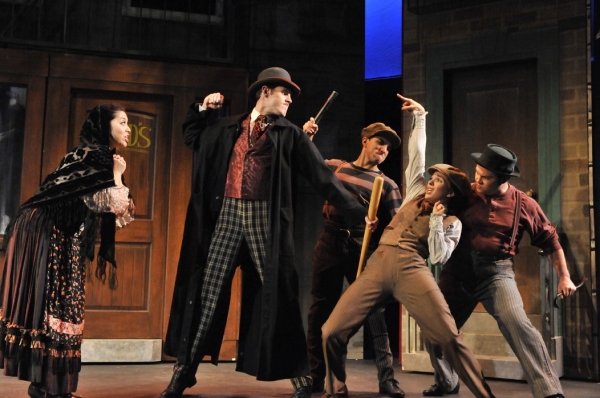 Ixchel Lopez, Harley Jay, Evie Hutton, Erick Paul, and Zach Johnson

Ciar¡n McCarthy and Evie Hutton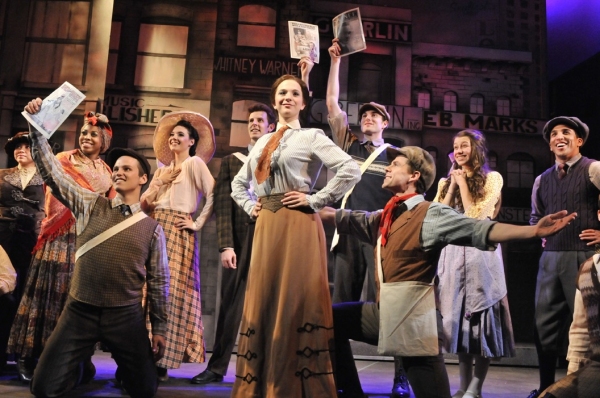 Evie Hutton and Ciarán McCarthy with the "Song-Pluggers"