San José Chamber Orchestra Presents SJCO CHAMBER MUSIC, February 12
Featuring SJCO string quartet and the Dallas-based Julius Quartet, featuring the famed Octet by Felix Mendelssohn.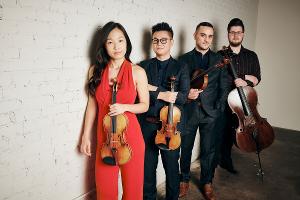 San José Chamber Orchestra (SJCO) presents "SJCO CHAMBER MUSIC" with SJCO string quartet and the Dallas-based Julius Quartet, featuring the famed Octet by Felix Mendelssohn, Sunday, February 12, 2023 at 7 pm at St Francis Episcopal, 1205 Avenue, San José 95125 (ample street parking)
The Julius Quartet has cultivated a distinguished voice since its formation in 2012. As passionate chamber musicians, the quartet strives to spread the values of chamber music to diverse communities in addition to presenting their unique expression within the music.
The Program:
· Fanny Mendelssohn: String Quartet in Eb Major
· Viktor Ullman: String Quartet String Quartet No. 3
· Felix Mendelssohn: String Octet in Eb Major
Maestra Barbara Day Turner is the founder and music director of the San José Chamber Orchestra. An ardent advocate for new music, she has premiered more than 200 new works with San José Chamber Orchestra alone, as well as leading the first performances of 5 American operas. Named a 2012 Silicon Valley Arts Council "On Stage" Artist Laureate, Maestra Day Turner completed 15 seasons as Music Administrator and Conductor of the Utah Festival Opera and Musical Theatre. She has conducted numerous musical theater works and operas in the US, and guest conducted in Germany and Mexico. Maestra Turner was head of music staff and resident conductor for Opera San José for 18 years. Maestra serves as a judge for the Irving M. Klein International String Competition, on the advisory board of the Delphi Trio, and on the board of directors for the National Women's Philharmonic Advocacy association.
The San José Chamber Orchestra, a professional string-based ensemble of 19+ players, presents a series of 7-9 programs per season. Many performances feature one or more commissions or world premieres by award-winning composers with critically acclaimed guest artists as featured soloists. San José Chamber Orchestra is the recipient of five ASCAP/League of American Orchestras Adventurous Programming Awards, has produced seven CDs of American music and commissioned and/or premiered over 200 new works in 30 seasons.
The San José Chamber Orchestra was founded in 1991 out of the desire of local musicians (at the time playing with Opera San José) for an opportunity to play chamber orchestra repertoire and explore music written by living composers. Its formation was sparked by a challenge in the METRO newspaper from the late drummer Sammy Cohen to music director Barbara Day Turner, announcing that an orchestra was forming (unbeknownst to her) and privately saying to stop being lazy and get started. The San José Chamber Music Society graciously sponsored the first concert and a board was formed shortly thereafter.
Ticket prices: $65 to $75
Senior $55 to $65 for ages 62 and above.
Age 22 and under $15/$25
Health Guidelines: Masks strongly recommended.
Tickets and information:
408 295-4416
Email: sjco@sbcglobal.net