SPAMALOT Tours to Folsom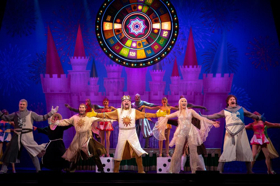 Flying cows. Killer rabbits. Taunting Frenchmen. The Tony Award-winning Best Musical, Monty Python's Spamalot is lovingly ripped off from the film classic Monty Python and the Holy Grail, with music and lyrics by the Grammy-winning team of Eric Idle and John Du Prez. Spamalot tells the tale of King Arthur and his Knights of the Round Table as they embark on their quest for the Holy Grail. The Harris Center welcomes the 15th Anniversary World Tour of Spamalot to Stage One!
The national tour of Spamalot comes to the Harris Center for seven performances, beginning Thursday, March 21, 2019 at 7:30 pm; Friday, March 22 at 2 and 7:30 pm; Saturday, March 23 at 2 and 7:30 pm; and Sunday, March 24 at 1 and 6:30 pm. Tickets are $48-72; Premium $82. A 10% discount is available for Friday matinee single tickets. Tickets are available online at www.harriscenter.net or from Harris Center Ticket Office at 916-608-6888 from 12 noon to 6 pm, Monday through Saturday, and two hours before show time. Parking is included in the price of the ticket. Harris Center is located on the west side of Folsom Lake College campus in Folsom, CA, facing East Bidwell Street.
The original Broadway production of Spamalot won three Tony Awards, including Best Musical, and was followed by two successful West End runs. During its initial run of 1,575 performances, it was seen by more than two million people and grossed over $175 million.
But Spamalot traces its history back to Monty Python's Flying Circus- a group of Englishmen (John Cleese, Graham Chapman, Terry Jones, Michael Palin and Eric Idle) and one American (Terry Gilliam) who "combined the anarchy of the Marx Brothers with a rarefied British spirit of absurdity and a straight-faced irreverence regarding all sacred cows." (New York Times). This year marks the 50th anniversary of Monty Python's Flying Circus.
Spamalot "lovingly ripped off" the very, very low-budget 1975 movie "Monty Python and the Holy Grail." The film was written by the Pythons and directed by Terry Gilliam and Terry Jones. In the film, creative measures were often used to save money. The Pythons were originally going to ride horses, but then they realized they didn't have the money to do so, the actors used techniques with roots in the early radio in Britain: they bashed together empty coconut halves to replicate the clopping sound of horse's hooves as they pranced through the countryside. (In 2006, to mark the first anniversary of the official Broadway opening, the "World's Largest Coconut Orchestra"-1,789 people clapping together half coconut shells--performed in Shubert Alley, outside the theatre. The claim was officially recognized by the Guinness Book of World Records.)
This brand-new production is directed and choreographed by Sam Viverito, musical supervision by Steven M. Bishop. Monty Python's Spamalot features a book by Eric Idle, based on the screenplay of Monty Python and the Holy Grail by Monty Python creators Graham Chapman, John Cleese, Terry Gilliam, Eric Idle, Terry Jones and Michael Palin, with music and lyrics by Eric Idle and John Du Prez. Meanwhile, Eric Idle has a new memoir, a "sortabiography" titled Always Look on the Bright Side of Life that was released on October 2018.
Monty Python's Spamalot is produced by IAm21 Entertainment (Nnamdi Asomugha and Jonathan Baker) in association with Schlip Schlap, LLC. Stephen Kane and Michael McFadden are the Executive Producers and the tour is presented through special arrangement with Theatrical Rights Worldwide www.theatricalrights.com.