Opera San Jose to Present Mozart's Dazzling COSI FAN TUTTE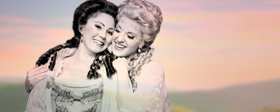 Thinking himself worldly and experienced, Don Alfonso decides to relieve his young friends, Ferrando and Gugliemo, of their faith in sexual fidelity. He challenges them to a bet, promising that within 24 hours their fiancées will prove unfaithful. Outraged, they accept, but find the challenge too painfully revealing and too difficult to withstand. Dressed in clown's clothes, these young men break their own hearts and the hearts of their fiancées. A comedy that is a tragedy underneath is the perfect stuff for the uncanny genius of Mozart, so clearly revealed in this dazzling score.
"Così fan tutte is one of the funniest and most bittersweet operas that Mozart ever composed," said director, Brad Dalton. "A whirlwind of fun and games revolving around passionate seduction, the opera ends with a joyous finale and celebration onstage. Set in the period of Mozart, the production is sumptuously beautiful with sets and costumes that are sure to thrill the audience!"
Così fan tutte will be sung in Italian with English supertitles. Runtime is approximately 2.5 hours. Opera San José presents six performances of this hilarious, provocative opera, opening in San José's California Theatre on September 9, 2017, closing September 24, 2017. The California Theatre is at 345 S. First Street in downtown San José.
Peter Grunberg will make his Opera San José debut as conductor for Mozart's Così fan tutte. He is currently the musical assistant to Michael Tilson Thomas, who is the music director of the San Francisco Symphony, and artistic director of The New World Symphony which is an American orchestral academy based in Miami Beach, Florida. Mr. Grunberg has appeared as a piano soloist with the San Francisco Symphony, performed at the Aix-en-Provence, Salzburg, and Tanglewood festivals, and has collaborated in recital with such artists as Frederica von Stade, Thomas Hampson, and Joshua Bell. He has conducted at the Moscow Conservatory, Grand Théâtre de Genève, and the Sydney Opera House. Previously, Mr. Grunberg was Head of Music Staff at the San Francisco Opera and also a principal collaborator on the Symphony's Keeping Score project.
Brad Dalton returns to Opera San José to direct Così fan tutte. Mr. Dalton most recently directed the company's 2015-16 productions of Puccini's Tosca and Previn's A Streetcar Named Desire, following his critically acclaimed Opera San José productions of Verdi's Rigoletto,Mozart's The Magic Flute, Puccini's Madama Butterfly, Verdi's Il trovatore, Mozart's Idomeneo, and the 2010 West Coast premiere of David Carlson's Anna Karenina. He has directed productions for opera companies throughout the United States and abroad, including San Francisco Opera, Metropolitan Opera, Washington Opera and the State Opera of South Australia.
Soprano Amanda Kingston, making her debut as a member of the 2017-18 resident company, will appear as Fiordiligi in Così fan tutte. Recent performances for Ms. Kingston include her professional debut as Josephine in Gilbert and Sullivan's H.M.S. Pinafore with Nevada Opera, Mimì in Puccini's La bohème, Helena in Britten's A Midsummer Night's Dream, Gilda in Verdi's Rigoletto, and Lucia in Donizetti's Lucia di Lammermoor. She has performed roles with Opera Columbus, Opera in the Heights, The Lakes Area Music Festival, Candid Concert Opera, The Ohio Light Opera, and Lone Star Lyric Theater Festival.
Trevor Neal, bass, also makes his Opera San José debut as a member of this season's resident company appearing as Don Alfonso. Mr. Neal recently performed the roles of Killian in Weber's Der Freischutz with Virginia Opera, Sciarrone in Puccini's Tosca with Opera North, and the Bonze in Puccini's Madame Butterfly with Ash Lawn Opera. He was a member of the Herndon Foundation Emerging Artist Program in the 2015-16 season where he covered Mars/Morpheus in Orpheus in the Underworld and the Dutchman in The Flying Dutchman.
Cassandra Zoé Velasco, mezzo-soprano, makes her company debut appearing as Dorabella. Recent engagements for Ms. Velasco included a return to the Metropolitan Opera for productions of Puccini's Madama Butterfly and Verdi's Simon Boccanegra. For Mexico's Teatro Degolldo, she made her debut as Suzuki in Madama Butterfly and appeared as Dorabella in Così fan tutte at Ash Lawn Festival.
Soprano, Maria Valdes, makes her Opera San José debut singing the role of Despina in Così fan tutte. Recent engagements for Ms. Valdes include Musetta in Puccini's La bohème, Papagena in Mozart's The Magic Flute, Clorinda in Rossini's La Cenerentola, and Barbarina in Mozart's The Marriage of Figaro, all while an Adler Fellow with San Francisco Opera. As a member of SFO's Merola Program, she performed the role of Susanna in The Marriage of Figaro.
Maya Kherani, soprano, makes her company debut as well, appearing as Despina in the September 24, 2017 performance. Recent engagements for Ms. Kherani include covering the role of Madame White Snake in the world premiere of Paola Prestini's Gilgamesh, part of a trilogy called Ouroboros with Beth Morrison Projects, appearances as Marie in Donizetti's The Daughter of the Regiment and Gilda in Verdi's Rigoletto with Pocket Opera.
A former member of the resident company during the 2016-17 season, bass-baritone Colin Ramsey, will appear as Guglielmo. Mr. Ramsey most recently appeared as Colline in La bohème last April and sang the roles of Father Palmer in Puts and Campbell's Silent Night, Basilio in Rossini's The Barber of Sevilleand Raimondo in Donizetti's Lucia di Lammermoor with Opera San José.
Tenor David Blalock makes his company debut appearing as Ferrando. Recent engagements for Mr. Blalock include an appearance with Skylark Opera Theatre as Don Ottavio for their performances of Mozart's Don Giovanni, and a return to the Minnesota Orchestra as the Second Jew in Strauss's Salome. Upcoming engagements include a return to Virginia Opera as Lysander in Britten's Midsummer Night's Dream and Handel's Messiah with Fairbanks Symphony Orchestra.
Malcolm MacKenzie, baritone, also makes his company debut appearing as Don Alfonso. Recent roles for Mr. MacKenzie include Tonio in Leoncavallo'sPagliacci with Dayton Opera; creating the role of Roger Chillingworth in Colorado Opera's world premiere of The Scarlet Letter by Lori Laitman, and returning to LA Opera as Stubb in Jake Heggie's Moby-Dick.
Opera San José's production of Così fan tutte includes set designs by Steven Kemp, costumes designed by Elizabeth Poindexter, lighting design by David Lee Cuthbert, and wig and makeup designs by ChrisTina Martin.
IF YOU GO:
COSI FAN TUTTE
Dates: Performances: September 9, 10m, 14, 17m, 22, 24m
Time: "m" indicates matinee at 3pm; all other performances are at 8pm
Location: California Theatre, 345 South 1st Street (between San Carlos and San Salvador), San José, CA
Così fan tutte Preview: August 29, 2017 from 12 - 1 p.m., California Theatre, 345 S. First Street in downtown San José; Free vocal preview with members of the cast. For information, call 408-437-4450.
Introduction to Opera: General Director Larry Hancock will present a free 45-minute talk to ticket holders about the opera at the California Theatre before each performance of Così fan tutte. The talk begins at 6:30pm prior to evening performances and at 1:30pm prior to Sunday matinees. No reservations required.
To learn more about Così fan tutte, visit operasj.org.
Opera San José, performing at the beautiful California Theatre in downtown San José, is a professional, regional opera company that is unique in the United States. Maintaining a resident company of principal artists, Opera San José specializes in showcasing the finest young professional singers in the nation. In addition to mainstage performances, Opera San José maintains extensive educational programs in schools and in the community at large, and offers preview lectures and "Introduction to Opera" talks for all mainstage productions.
Related Articles View More San Francisco

Stories

Shows
More Hot Stories For You