Hope Mohr Dance Announces 2019 Bridge Project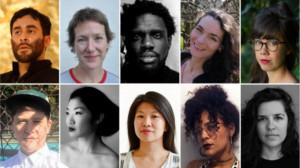 Hope Mohr Dance (HMD) today announced its 2019 Bridge Project, titled SIGNALS FROM THE WEST: BAY AREA ARTISTS IN CONVERSATION WITH MERCE CUNNINGHAM AT 100, a collaboration with the Merce Cunningham Trust, ODC Theater and San Francisco Museum of Modern Art (SFMOMA)'s Open Space as part of the international Merce Cunningham Centennial. Following a public workshop for dancers and residency for commissioned artists in August, the 2019 Bridge Project will culminate in two evenings of performance and installation, November 8 - 9, at ODC Theater in San Francisco.
HMD's Bridge Project has commissioned ten Bay Area artists from diverse disciplines and backgrounds to participate in a workshop, August 12 - 23, with former Cunningham dancers Rashaun Mitchell and Silas Riener and to create new works of art in response. In November, these works will be presented alongside excerpts of Cunningham repertory performed by Bay Area dancers. In conjunction with the workshops and performances, the program will include a series of public dialogues about issues of artistic lineage and cultural identity. SFMOMA's arts and culture platform Open Space will commission an online series to extend the conversation around the live programming.
In celebration of the Merce Cunningham Centennial, the 2019 Bridge Project is one of more than 100 events presented this year, from Los Angeles to Havana to New Plymouth, New Zealand. Cunningham is widely considered to be one of the most influential choreographers of all time. "Throughout his 70-year career, he continued to innovate, helping to drive the evolution of the American avant-garde and expanding the frontiers of contemporary visual and performance arts," said Ken Tabachnick, Executive Director of the Merce Cunningham Trust. "His collaborations with artists from every creative discipline yielded an unparalleled body of American dance, music and visual art."
Throughout the Merce Cunningham Centennial, the Trust is supporting new talent and creativity through a series called "In Conversation with Merce." HMD's Bridge Project is one of a select group of organizations the Trust has authorized to curate work in this series. Other organizations include the Skirball Center for the Performing Arts at New York University and the National Center for Choreography.
Signals from the West will provide a springboard for new work informed by principles shared by Cunningham and his collaborators. Commissioned artists will receive instruction in Cunningham's signature choreographic tool, "chance operations," among other structures and ideas from the Cunningham repertory.
In recognition of Cunningham's enormous impact on artistic fields outside of dance, and in keeping with the Bridge Project's mission to convene interdisciplinary conversations, co-curators Hope Mohr (HMD), Julie Potter (ODC Theater) and Claudia La Rocco (SFMOMA) have commissioned artists from a diversity of disciplines, perspectives and ways of working. Commissioned artists include people with no dance background as well as trained movers. They intentionally did not select anyone who has ever danced with the Cunningham company.
Commissioned artists receive a $2000 award and the opportunity to work on a daily basis with all of the other participants, as well as Mitchell, Riener and additional selected dancers in a collaborative, open studio environment. The 2019 Bridge Project artists are: Sofia Cordova, Maxe Crandall, Alex Escalante, Christy Funsch, Julie Moon, Jenny Odell, Nicole Peisl, Danishta Rivero, Dazaun Soleyn and Sophia Wang.
"Cunningham and his work was my point of departure as an artist," said Mohr. "I moved to New York in 1997 specifically to study on scholarship at the Cunningham studio. I studied religiously for almost two years with former and current Cunningham company dancers and with Merce himself. From that formative environment, I landed positions with the Lucinda Childs Dance Company and the Trisha Brown Dance Company."
"The 2019 Bridge Project takes Cunningham's work as a starting point for dialogue, collaboration and the authorship of new work," added Mohr. "Signals from the West continues HMD's commitment to facilitating meaningful exchange among artists and audiences about culture and identity."
"ODC Theater is committed to the creation of new performance and to transmissions of dance, and we are proud to partner with HMD and Open Space in providing space and resources for this project," said Potter. "The artist residency will serve as a place of deliberation between Cunningham and living artists who are immersed in the conditions and particularities of this moment."
"Advocacy for the continued vitality of the Bay Area's diverse mix of artistic expression is central to the mission of Open Space," said La Rocco. "We're interested in what it means to speak of and from this place, in this time - and we believe that this conversation happens not in a vacuum but in relation to other places and other times. We are therefore delighted to be collaborating with the Merce Cunningham Trust, HMD's Bridge Project and ODC Theater to present Signals from the West: Bay Area Artists in Conversation with Merce Cunningham at 100."
A public workshop and audition for dancers will take place at ODC Theater on August 10 and 11. Although the workshop is a prerequisite for those who wish to audition, all are welcome to participate regardless of their interest in auditioning. To register, visit artful.ly/store/events/16621. The residency for commissioned artists will follow August 12 - 23. For more information visit hopemohr.org/bridge-project-upcoming.
HMD's 2019 Bridge Project is a Merce Cunningham Centennial Community Program, supported by a generous grant from the Doris Duke Charitable Foundation. The Merce Cunningham Centennial and its programs are generously supported with major funding from the Merce Cunningham Trust, the Paul L. Wattis Foundation, the American Express Foundation and Judith Pisar. HMD's 2019 Bridge Project has received additional support from ODC Theater, SFMOMA's Open Space, the Kenneth Rainin Foundation, San Francisco's Grants for the Arts and generous individual donors.
Since 2010 Rashaun Mitchell and Silas Riener have created dance in response to complex and active spatial environments, often merging elements of fantasy, absurdity, and quiet contemplation into challenging multifaceted performance. After working together in the Merce Cunningham Dance Company, Mitchell and Riener developed a keen interest in the way abstraction and representation coincide in the body. Their collaborative work takes many forms, from site-specific installations, improvisational dances, and traditional proscenium pieces to highly crafted and intimate, immersive experiences. Historical influences and aesthetic forms collapse into a visually charged hybrid physical language. Together they have been part of Lower Manhattan Cultural Council's Extended Life Dance Development program, the New York City Center Choreographic Fellowship, and have been artists in residence at EMPAC, Mount Tremper Arts, Wellesley College, Jacob's Pillow and Pieter. Their work has been presented at MOMA PS1 as part of Greater NY, The Chocolate Factory, New York Live Arts, Danspace Project, REDCAT, ICA Boston and Summer Stages Dance, the Walker Art Center, the Museum of Contemporary Art Chicago, On the Boards and the Brooklyn Academy Of Music, among many others.
The mission of Hope Mohr Dance is to create, present and foster outstanding art at the intersection of the body and the brain. HMD's Bridge Project approaches curating as community organizing to convene equity-driven cultural conversations. "Creating spaces for debate, dissent, connection and collaboration, HMD's Bridge Project offers a model for how to build arts community" (Columbia University's Jack Halberstam). The Bridge Project has produced several programs exploring artistic lineage, including Have We Come a Long Way, Baby (2014), featuring Anna Halprin and Simone Forti, and the Ten Artists Respond to Locus (2016), a multidisciplinary exchange with dance history inspired by the work of dance pioneer Trisha Brown in collaboration with the Trisha Brown Dance Company. In addition to producing multidisciplinary performance, Bridge Project programming includes a Community Engagement Residency, which provides long-term support for marginalized artists.
The Bridge Project's track record of presenting high-caliber artists has raised HMD's profile as a company that does more than present the work of one artistic director, but rather serves as a hub for artistic exchange. "The Bridge Project fills a critical gap in the artistic and intellectual life of the Bay Area dance community by honoring the past and giving context to the present through its remarkable annual series of guest artists and events" (Stanford University's Janice Ross). More information at hopemohr.org.
The mission of the Merce Cunningham Trust is to carry Cunningham's legacy into the future. The Trust preserves the recorded and physical works of Merce Cunningham and the Merce Cunningham Dance Company and offers classes and workshops in Cunningham's technique, repertory and choreographic methods to dancers and the public, keeping interest and practice alive. More information at mercecunningham.org.
ODC Theater exists to empower and develop innovative artists. It participates in the creation of new works through commissioning, presenting, mentorship and space access; it develops informed, engaged and committed audiences; and advocates for the performing arts as an essential component to the economic and cultural development of our community. This 170-seat venue is the site of over 150 performances a year involving nearly 1,000 local, regional, national and International Artists. More information at odc.dance.
Housed within SFMOMA's Department of Community Engagement, Open Space is a W.A.G.E. Certified, interdisciplinary arts and culture platform. Open Space is committed to diversity and collaboration, and dedicated to explorations by living artists. Anchored in the Bay Area, Open Space commissions and supports critical + experimental + poetic ruminations by artists, writers, and thinkers from all over the world, as well as hosting parties, performances, and other live events. More information at openspace.sfmoma.org.
Related Articles View More San Francisco

Stories

Shows
More Hot Stories For You