Click Here for More Articles on SHAKESPEARE SPOTLIGHT
Carnival-Set A MIDSUMMER NIGHT'S DREAM Opens This Week at African-American Shakespeare Company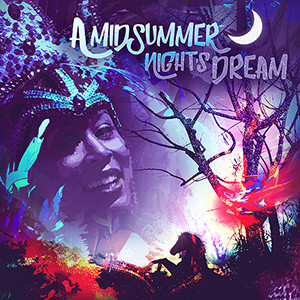 Following the most well attended season in the company's history, African-American Shakespeare Company (AASC) will expand back to four productions this season, beginning with A Midsummer Night's Dream (fittingly for San Francisco, coming in mid-September when the city's weather is at its warmest and most benevolent), set in the twin-island country of Tobago and Trinidad during Carnival.
This all new production is the first since the company's initial production in the late 90s. A Midsummer Night's Dream runs September 16-October 1 at the Taube Atrium.
This ambitious production, complete with lovers, Amazon women, and mystical fairies takes one of Shakespeare's most beloved plays and sets it in the twin island nation of Trinidad & Tobago during Carnival.
"A Midsummer Night's Dream has always been my personal Shakespeare favorite," says Sherri Young, Executive Director of the company who is directing the production. "I wanted this to be a a culturally vibrant production. One that incorporates the richness of Shakespeare's language but places it within the cultural rhythms of the West Indies."
With puppets designed by Scott Ludwig, costumes by Rachael Heiman and lighting by Kevin Myrick, the production has been designed to put the audience "in the middle of the action," says Young. "If anyone is a shrinking violet, I would suggest taking a seat as far from the stage as possible."
This production is also a personal homage by Young to Artistic Director L. Peter Callender. "Many people think of Mr. Callender as this stern and intense Shakespearean actor. What many people don't see is the man behind the image: funny, lively, vibrant, full of energy, and extremely creative. Almost each character in the production is an extension of Peter's personality, especially Bottom. This Midsummer Night's Dream is my gift to Mr. Callender who has made magic for our company for all these years."
IF YOU GO:
A Midsummer Night's Dream
When: September 16 - October 1st
Where: Taube Atrium (401 Van Ness Avenue, 4th Floor, San Francisco, CA 94102)
Tickets: $30.00 at www.african-americanshakes.org/productions/a-midsummer-nights-dream
CAST:
THESEUS: Jourdán Olivier-Verdé
HIPPOLYTA: Emily T. Phillips
EGEUS:J arrett Holley
HERMIA: Antonette Bracks
LYSANDER: Ryan Marchand
DEMETRIUS: Jon-David Randle
HELENA: Paige Mayes
OBERON: Jourdán Olivier-Verdé
TITANIA: Emily T. Phillips
PETER QUINCE: Jarrett Holley
BOTTOM: ShawnJ West
SNUG: Charlotte Christien
FLUTE/THISBY: Gabriel A. Ross
ROBIN GOODFELLOW (PUCK): Charles Lewis III
PRODUCTION TEAM:
DIRECTOR: Sherri Young
PRODUCTION MANAGER: Leontyne Mbele-Mbong
STAGE MANAGER: Lila Mullins
SET DESIGNER: Kevin August Landesman
LIGHTING DESIGNER: Kevin Myrick
SOUND DESIGNER: True Siller
COSTUME DESIGNER: Rachael Heiman
FIGHT CHOREOGRAPHER: Durand Garcia
PUPPET DESIGNER: Scott Ludwig
The award-winning African-American Shakespeare Company (AASC) was established in 1994 by professional theater artists from The American Conservatory Theatre as an alternative answer to the "Color Blind Casting" initiative that began in the early 90s. While this initiative temporarily changed the diversity on stage, African-American Shakespeare Company noticed color blind casting was ignoring these artists' rich cultural heritage and not making the most of their dynamic, cultural vibrancy that actors of color could bring to classical works. Moreover, "mainstream" classical theaters seem to lack the ability to truly attract diverse audiences. African-American Shakespeare Company inspired to highlight artist of color's dynamic cultural vibrancy within classical productions.
African-American Shakespeare Company's work has received honorary acknowledgement from San Francisco's City and County's former Mayor Gavin Newsome (now serving as Lieutenant Governor); recently awarded The Paine Knickerbocker Award in 2014 for Outstanding Achievement for a Theater Company by the San Francisco Bay Area Theatre Critics Circle; and a Community Partner Award from University of San Francisco's Leo T. McCarthy Center for outstanding collaboration in providing quality Service-Learning program.
The African-American Shakespeare Company is funded in part by Shakespeare for a New Generation, a national program of the National Endowment for the Arts in cooperation with Arts Midwest; San Francisco Arts Commission, Grants for the Arts, California Arts Council, The San Francisco Foundation, Columbia Foundation, Fleishhacker Foundation, Zellerbach Family Foundation, Macy's, The Wallace Alexander Gerbode Foundation, The Hewlett Foundation, University of San Francisco Engage Program, and Silicon Valley Foundation.
About Sherri Young, Founder & Executive Director: An M.F.A. graduate from The American Conservatory Theatre; and former Commissioner for the San Francisco Art Commission proudly serving for Mayor Gavin Newsom, Young founded The African-American Shakespeare in 1993 and has been its Executive Director since. She has directed sixteen productions, produced and executed four programs for the organization and speaks at various colleges, universities, and conferences across the nation. Young manages the approximately 60 company members and volunteers for the organization's programs. Some career highlights includes the creation of the company's signature holiday performance Cinderella, effectively building and stabilizing the organization over the past five years, increase audience attendance by 30%, and increase new funding support by foundations and individual donors within the past two years.
About L Peter Callender, Artistic Director: In addition to being Artistic Director of AASC, L. Peter Callender is a Visiting Professor of Theatre Arts and Performance Studies at Stanford University, teaching Acting Shakespeare and Fundamentals of Directing. He is also a teaching artist at Waterfront Conservatory Theater in Berkeley, and, for over 20years, an Associate Artist at California Shakespeare Theater. He is an award-winning actor, performing in over 25 Shakespeare plays throughout his career, and voted "Mentor of the Year" and "Most Valuable Player in the Bay Area Theater Scene" by Robert Hurwitt (formerly) of the SF Chronicle! Mr Callender has performed On and Off-Broadway, and in over 15 regional theaters across the country, including NY Shakespeare Festival, Cincinnati Playhouse in the Park, Syracuse Stage, Milwaukee Rep, Pennsylvania Stage Company, American Conservatory Theater, Berkeley Rep, Marin Theater Company and Aurora Theater Company. Some favorite roles: Simon in The Whipping Man, Richard in Richard III, Sam in Master Harold ... and the Boys, Leontes in The Winter's Tale, Antony in Anthony and Cleopatra, Mr M in My Children! My Africa! Walter in Swimmers, Robert Mugabe in Breakfast With Mugabe, Sterling North in Permanent Collection, Dr Treves in The Elephant Man, Tom/Jamaican Waiter in Prelude to a Kiss (Broadway), Caliban in The Tempest (directed by Julie Taymor) and several others. More information on his work and career can be seen on his website: www.lpetercallender.com.
Related Articles
More Hot Stories For You