Review: FAIRVIEW Tears It Down For Good At Berkeley Repertory Theatre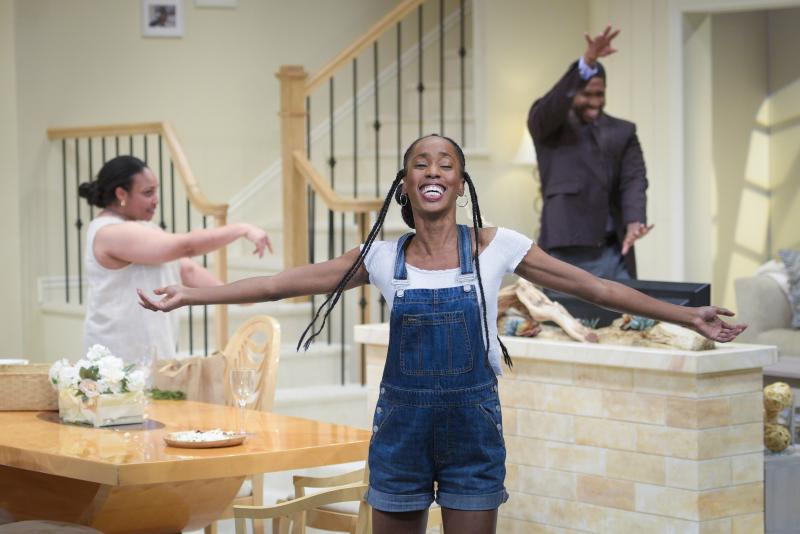 The Berkeley Repertory Theatre production of fairview is disturbing. That's good. If you are white and liberal and experiencing mild to major discomfort by the end of the performance, that's even better. The play by Jackie Sibblies Drury, author of the equally provocative We Are Proud to Present a Presentation About the Herero of Namibia, Formerly Known as Southwest Africa, From the German Sudwestafrika, Between the Years 1884-1915 (2012), takes on a form of domestic colonialism, of white over black, that is just as insidious and damaging as that committed by Europe on Africa.
What at first seems to be a safe, amusing evening with an affable and affluent Huxtable-ish clan swerves into a sort of instant-replay theatre of the absurd voice-over narrated with increasingly trite (and/or annoying and/or embarrassing) white liberal clichés about living while black. In its third movement, all hell-no breaks loose and things become a bit too absurd and, honestly, a bit tiresome. Where is this going? Then you are there, and the mirror is help up to the audience to consider the play, itself, and where we are in terms of justice, equity, and inclusion.
The brilliance of the piece is that it finds a way to knock presumptions off-kilter in the most unreal way possible in order to shake the mind loose of preconceived notions and biases. Thus, in that moment of disorientation and unsure footing are some in the audience able to consider the very critical and, to many, threatening question asked at the end of the play in the simplest and most unthreatening of ways: "Can you make room?"
Sarah Benson, artistic director of Soho Rep in New York, directs a fearless ensemble of actors through Tyler Perry sitcomic set-up of well-to-do black folk - the wise but long-suffering mother, the earnest and bumbling father, the polite over-achieving teen, and the sassy -oh-no-you din't aunt - touching the tropes without mocking them. With choreography by Raja Feather Kelly and expert fight direction by J. David Brimmer, the company then moves through the same steps, inviting you to turn off their sound and look at their picture. Except that there is still sound, but it is bleeding in from another channel. Sound that comments on the action like some omniscient tribunal, sometimes in close alignment with the actors as if the characters you see are speaking new, absurd dialogue badly overdubbed. Then - Snap! - and you are in a new world that literally breaks down the set (a vision of suburban, upwardly mobile elegance by Mimi Lien), building in fury and intensity until the protective fourth wall collapses.
The superb company includes Natalie Venetia Belcon and Charles Browning as parental units Beverly and Dayton, Monique Robinson as dutiful daughter Keisha, Chantal Jean-Pierre as the self-absorbed aunt Jasmine, and Brooke Bloom, Natalia Payne, Jed Resnick and Luke Robertson as invaders to their perfectly groomed universe. Each of them is outstanding in executing the balancing of realism and insanity the script demands. Special recognition must go to Robinson, who in an extended monologue must cross the line from their world to ours and, without a safety net, traverse the tightrope of convincing the audience that her gentle but firm questioning and calls to action are real and not just some theatrical artifice.
Go. See. Now.
fairview runs through 11.04.18 at Berkeley Repertory Theatre.
TICKETS | Images: Kevin Berne